Review: Pioneer AVH-W4400NEX receiver proves wireless CarPlay is the way to go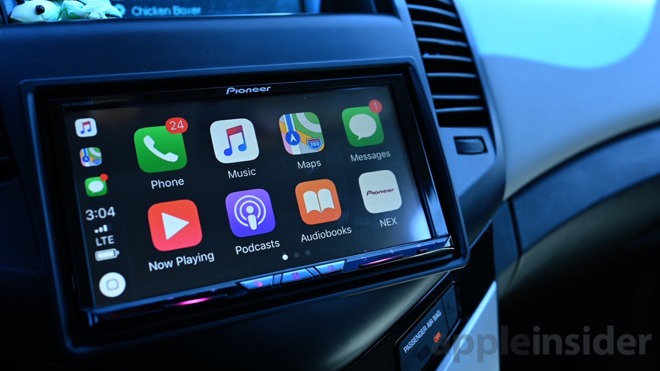 Pioneer AVH-W4400NEX
4.0 / 5
---
AppleInsider may earn an affiliate commission on purchases made through links on our site.
The Pioneer AVH-W4400NEX is a phenomenal aftermarket car stereo head unit that bakes in wireless CarPlay and much more. AppleInsider takes you for a ride to check it out.
We've waited eagerly for wireless CarPlay to catch on amongst auto manufacturers, but they've continued to release new vehicles with a physical tether. This led us to pursue aftermarket solutions to this issue, of which there are now several.
The Pioneer AVH-W4400NEX was our first head unit of choice and we quickly had it installed in our Chevy Cruze. The installation didn't take long — though easily outside our scope of car knowledge. Our vehicle wasn't particularly new, which means not all features of the unit were able to be taken advantage of, such as the dual camera inputs.
A great head unit
This receiver is a double-din unit with a 7-inch resistive touchscreen with a matte finish and a resolution of 800 by 400. It supports both wireless CarPlay and wireless Android Auto. There is a wealth of configurable options such as backgrounds, color schemes, and immense audio EQ adjustments.
There are a few physical controls along the bottom of the unit to navigate to the splash screen as well as to control volume and other minor controls. From the splash screen, you can jump into any number of different functions. The shortcut bar on the bottom can be customized with several of your favorite shortcuts such as for Sirius XM, USB audio, and others.
In our Chevy Cruze, much vehicle information was also readily available on this head unit. We could view our climate control, tire pressures, and which doors were open. Gauges also displayed our speed, RPM, fuel, and much more. Different vehicles will have different car stats available.
Some prefer capacitive displays rather than the resistive found here, but we had no qualms with its responsiveness. Each touch was always recognized and the matte finish reduces the glare from the sun while driving. We also didn't have to press the screen with any amount of notable force in order for it to register.
CarPlay
Our biggest reason for picking up the AVH-W4400NEX was for the wireless CarPlay abilities.
Our iPhone automatically found the receiver and paired on first setup. Once set up, each time we got in the vehicle it would connect and resume our audio where we left off previously. Occasionally, our iPhone did seem to be slightly confused when the vehicle shut off and we were on a phone call and took a few moments to correctly route the audio back to the earpiece — a problem our wired CarPlay system hasn't encountered.
For us, we have two different iPhones we use with CarPlay and luckily it is easy to move between the two. From the main splash screen, our device can be tapped which opens the CarPlay menu. Here we can see both connected phones and choose which one is broadcasting to the unit. My phone was first on the list, so when both devices are in the car it is the one that connects by default.
Inside of the CarPlay interface, everything looks great. Which is, of course, the part designed by Apple. The rest of the UI though does feel a bit dated and clunky. You only have to rarely use it luckily, but when you do the experience is slightly jarring from the clean lines of Apple's design.
When using CarPlay, we saw next to no issues being wireless over wired. The CarPlay interface itself had no lag while navigating or responding to us opening/closing apps.
There was about a one second delay when controlling audio, however. When we would tap play/pause on our iPhone, the screen would recognize the change immediately and show it as such on the display, but the audio would be just a hair behind the visual change. It wasn't bothersome but it was noticable. That is the only "issue" we really experienced and find the wireless capabilities far outweigh that minor niggle.
By going with wireless CarPlay, we were finally able to go with a wireless car charger as well. We love using something like the iOttie iTap to charge our phone just by placing it down rather than having to hook up any cable. Going wireless does drain battery compared to being wired, but by coupling it with a Qi car charger you get the best of both worlds.
If you are picking up a new car, you may not have an option for wireless CarPlay. If you have an existing vehicle that can be outfitted with a new head unit, the convenience makes it an easy choice.
Rating: 4 out of 5
You can grab the Pioneer AVH-W4400NEX from Amazon for just under $500, though you will still need to have it installed on your vehicle. Be sure your vehicle can support it, and you have a trained mechanic available for the install or to give advice on any other wiring or dash kits you may need.