No, Adobe did not cancel its popular $10 Creative Cloud Photography plan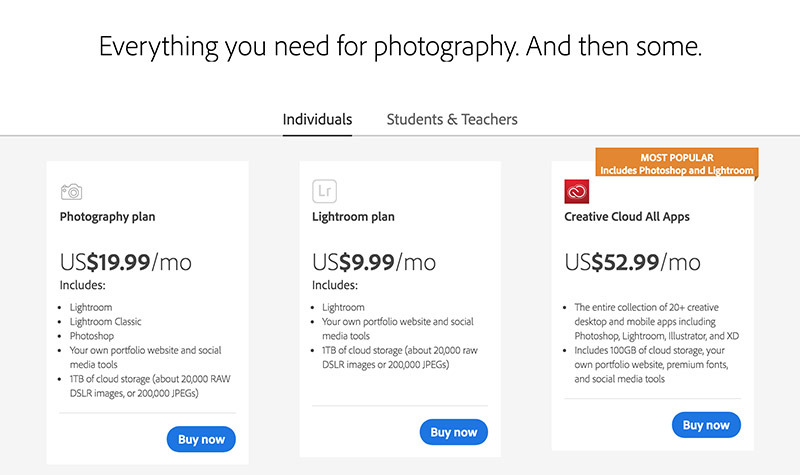 A number of visitors to Adobe's website recently noticed the popular $9.99 a month Creative Cloud Photography plan replaced by a $19.99 option, but the company says the change only impacts some customers and is not permanent. At least not yet.
The removal of Adobe's cheapest CC Photography plan, which includes Lightroom CC, Lightroom CC Classic, Photoshop CC and 20GB of cloud storage, was spotted by PetaPixel on Thursday.
Without an announcement from Adobe, it was speculated that the popular photography toolkit subscription option was no longer available for purchase, leaving customers with a $19.99 per month replacement that covers the same applications and 1TB of cloud storage. Some users are being presented with both the $19.99 a month Photography plan and a $9.99 per month Lightroom-only plan, the latter of which comes with the app, a dedicated website to display user work, social media tools and 1TB of storage.
Confusingly, the changes do not apply to all Adobe.com shoppers, as some are presented the new $19.99 Photography plan, while others still have access to the legacy $9.99 choice.
Clarifying the situation, Adobe in a statement to AppleInsider said it is evaluating a modification of product pricing.
"From time to time, we run tests on Adobe.com which cover a range of items, including plan options that may or may not be presented to all visitors to Adobe.com," an Adobe spokesperson said. "We are currently running a number of tests on Adobe.com. The plan can be purchased at http://www.adobe.com/go/photo18sptst, via phone at 1-800-585-0774 or via major retailers."
Adobe first launched the $9.99 a month Photography plan in 2013 as a limited time promotional deal, but has kept the tier active. Reflected pricing affords photographers access to the latest Lightroom and Photoshop technologies for approximately $120 a year, a substantial savings over Adobe's $20.99 per month single-app rate.
Adobe did not specify when the current testing period s scheduled to expire, or whether the $9.99 plan will be reinstated at that time. Users concerned about a potential rate hike can guarantee cheaper pricing for at least another year by prepaying through Adobe's special site. Alternatively, customers can lock in three years of access by purchasing multiple 12-month product keys from an authorized reseller like Adorama.