Comparing Apple's iPhone XR versus Google's Pixel 3a XL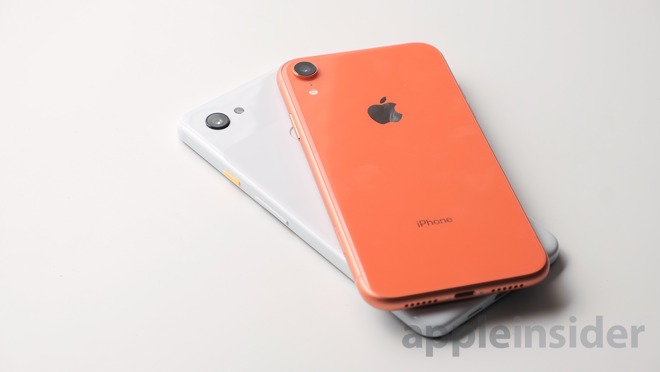 AppleInsider may earn an affiliate commission on purchases made through links on our site.
Google I/O 2019 saw Google introduce a pair of mid-range Android-based smartphones, the Pixel 3a and Pixel 3a XL. We wanted to compare it to Apple's more affordable iPhone XR, and see how well Google's newest mid-range device can compete with Apple's iPhone XR.
What's inside?
Google recently released its mid-range Pixel 3a and it starts at just $399. It packs a Qualcomm Snapdragon 670 processor, with the Adreno 615 graphics, 4GB of RAM, and 64GB of internal storage. The Pixel 3a XL packs a 6-inch OLED display and a resolution of 2160-by-1080 which translates to 402 pixels per inch.
Unlike its bigger flagship brother though, the Pixel 3 XL, the Pixel 3a XL doesn't have a notch and it only packs a single selfie camera instead of two. The Pixel 3a doesn't offer true stereo speakers like the Pixel 3, it doesn't have wireless charging, and also lacks IP-rated water resistance — but it does have a 3.5mm headphone jack.
It comes in three different colors, Just Black, Clearly White, and Purple-ish.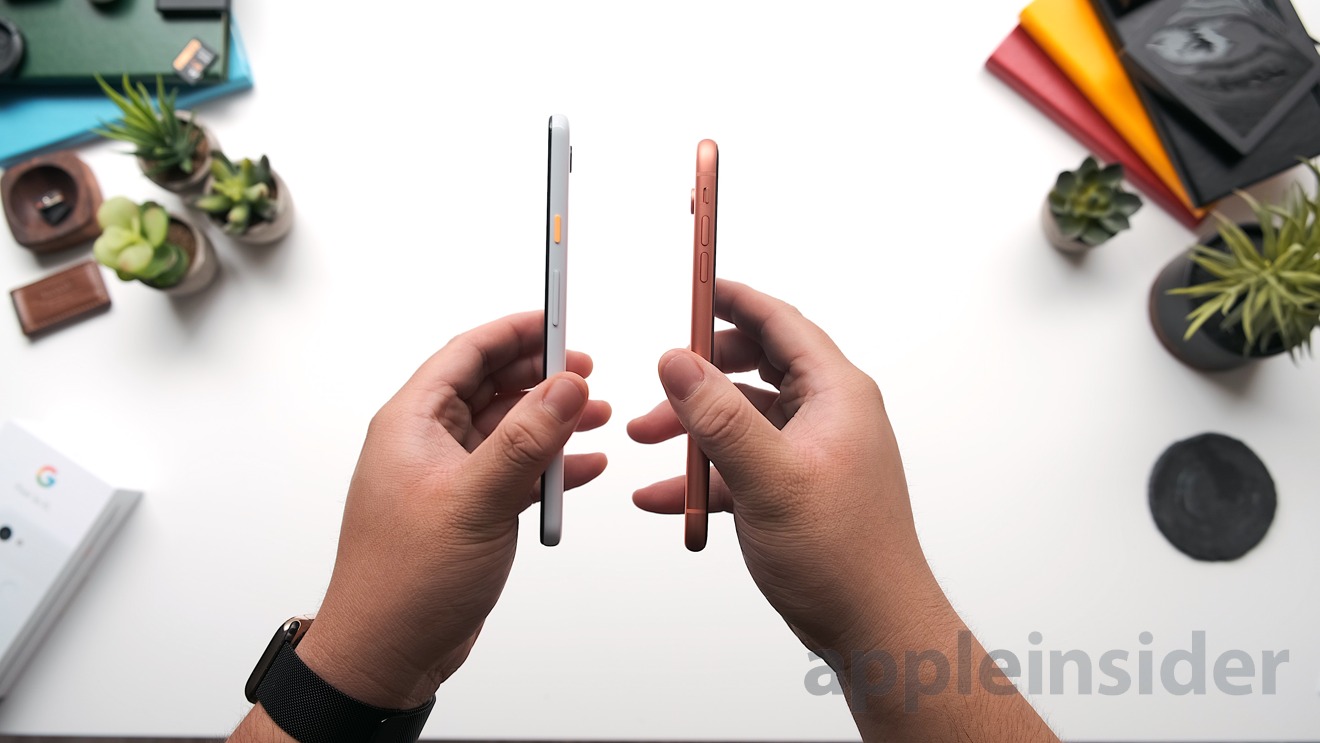 Apple's budget-friendly smartphone, the iPhone XR starts at $749, and inside it packs Apple's latest A12 Bionic chip, 3GB of RAM, and offers multiple storage options from 64GB all the way up to 256GB. The iPhone XR also has a 6.1-inch Liquid Retina Display and a resolution of 1792-by-828 at 326 ppi.
The iPhone XR does have a notch which houses all the FaceID sensors. It also offers wireless charging, is IP67 certified, and offers much louder stereo speakers. It comes in a variety of colors such as Red, Yellow, White, Coral, Black, and Blue.
Performance is everything
In terms of overall raw performance, the iPhone XR blows the Pixel 3a out of the water with its A12 Bionic processor. The Qualcomm Snapdragon 670 on the Pixel 3a is more comparable — but still slower overall — to something like the iPhone 7 with its A10 processor which is a three-year-old phone.
In Geekbench we got a single core score of 1603, and a multi-core score of 5173 for the Pixel 3a XL, and the iPhone XR received a single core score of 4816, and a multi-core score of 11463. That's a pretty big difference between the two phones, and you can feel it in day-to-day operation.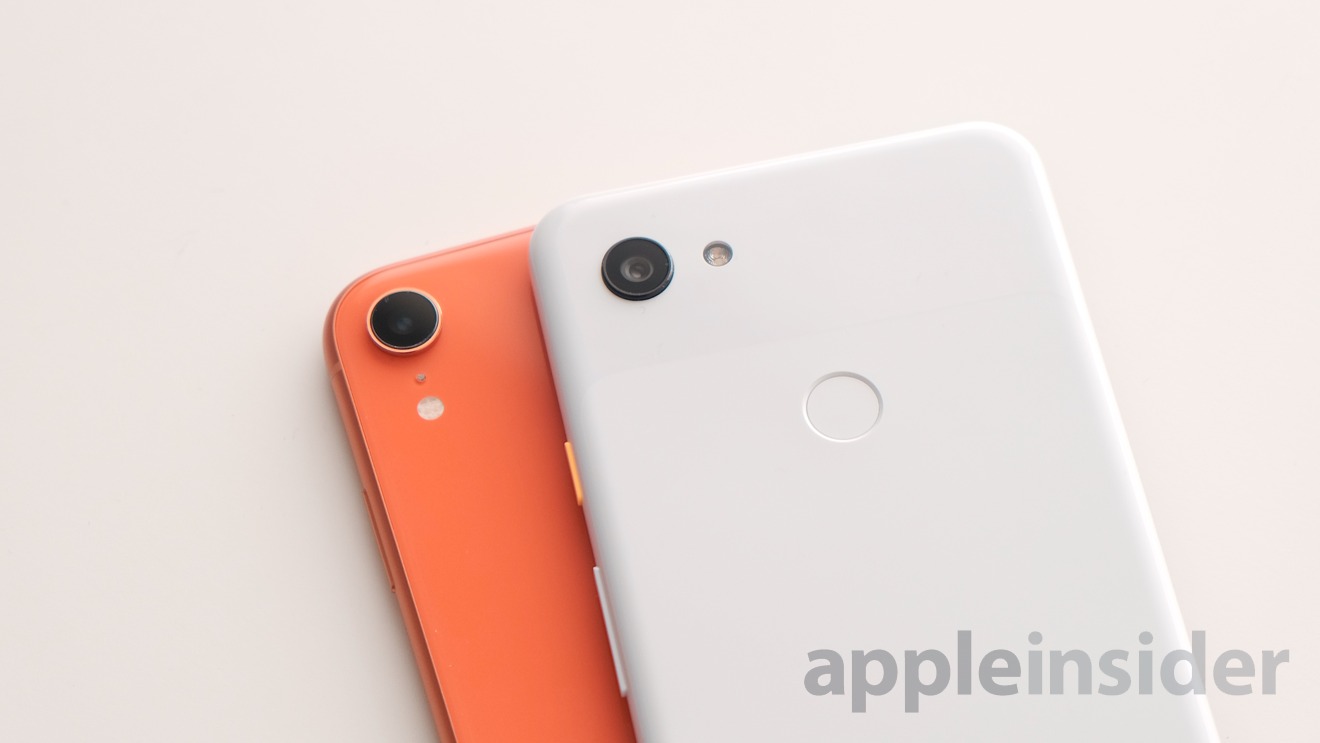 We haven't had enough time with the Pixel 3a to say confidently how it'll perform over a long period of time, but other than optimizations in Android Q as it progresses, it isn't going to get faster. The Pixel 3 has been suffering from progressive slowdowns since release with Google's efforts to fix the problem not working that well, so we'll be watching to see if this manifests on the Pixel 3a in months to come.
The iPhone XR has been out for several months and we haven't had any performance issues.
Lights, camera, action!
Both of these devices have a single 12-megapixel camera in the back, and both do incredibly well in daylight scenarios. The iPhone XR produces a more subtle, and neutral looking photos, while the Pixel 3a offers a much more contrasty, sharper image.
For this high-level overview similar to what Google is pushing in its own advertising materials for the Pixel 3a, we prefer the image quality on the Pixel 3a. The Pixel 3a also features Night Sight which allows you to capture incredible low light photos.
We'll be doing more of an in-depth comparison between the Pixel 3a and the iPhone XR's camera in the next few days, comparing low light photography, color reproduction, and how it processes the images.
For video, the iPhone XR can shoot up to 4K at 60p, while the Pixel 3a is capped at 30p. This is a big gap, and phones going back to the iPhone SE can capture 4K30 video.
Given the OLED, Blacks are inky black on the Pixel 3a, the colors are richer, and the viewing angles are a hair better. That's not to say that the iPhone XR's display is bad — it's just that OLED has superior performance characteristics than the LCD display in the iPhone XR.
However, we prefer the iPhone's more immersive display with its notch over the Pixel 3a. Since there's no secondary front firing speaker on the Pixel 3a, we wish that Google had slimmed down the bezels a bit to give the Pixel a more modern look.
Overall build and design
The speakers on the iPhone XR are loud, and doesn't distort or lose its signature characteristics at higher volumes. The Pixel 3a gets loud, but it lacks bass in some areas and it's not as full as the iPhone XR — it sounds tinny at higher volumes.
The overall footprint of the iPhone XR is smaller than the Pixel 3a XL. But, the XR is a little bit thicker than the Pixel 3a XL.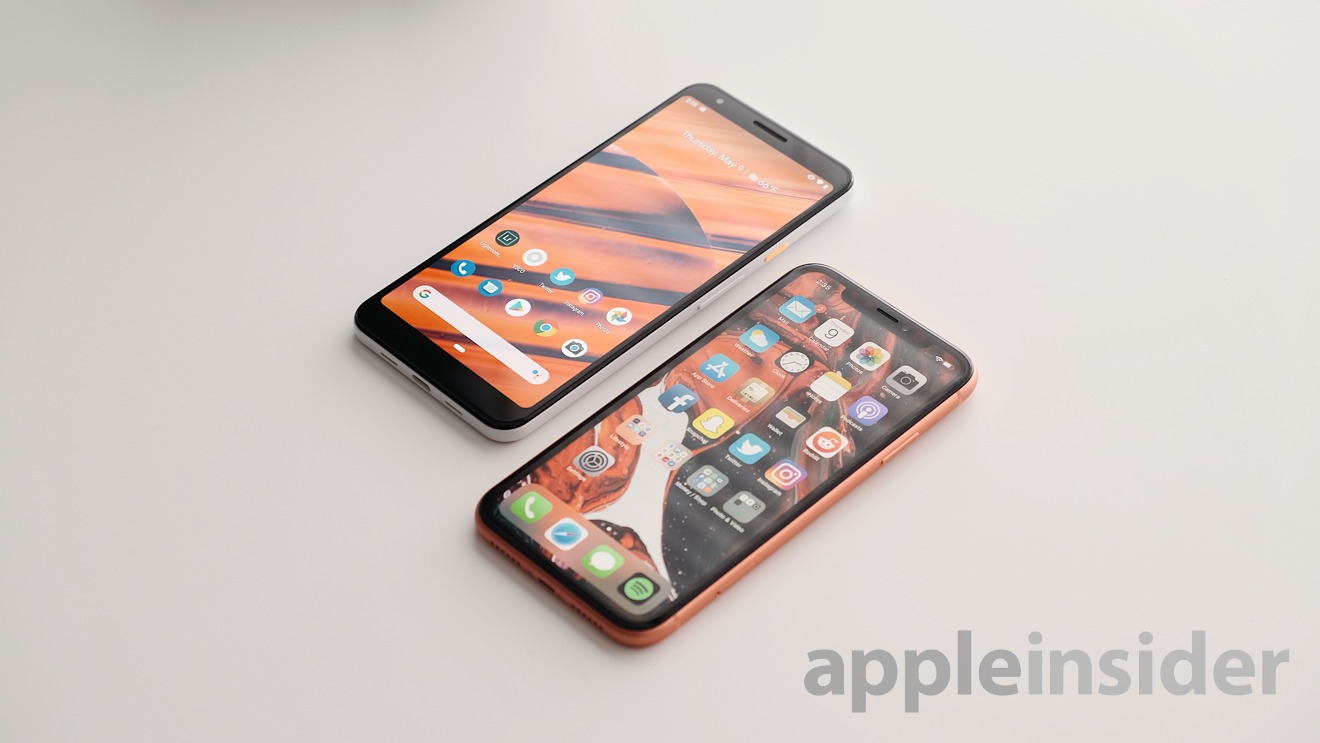 The XR is enclosed in an all-glass front and back with aluminum sides. This is far above and beyond the polycarbonate housing on the Pixel 3a. The Pixel 3a doesn't feel cheap, and feels similar to the iPhone 5c enclosure. We prefer the XR's more premium build over the polycarbonate on the Pixel 3a XL.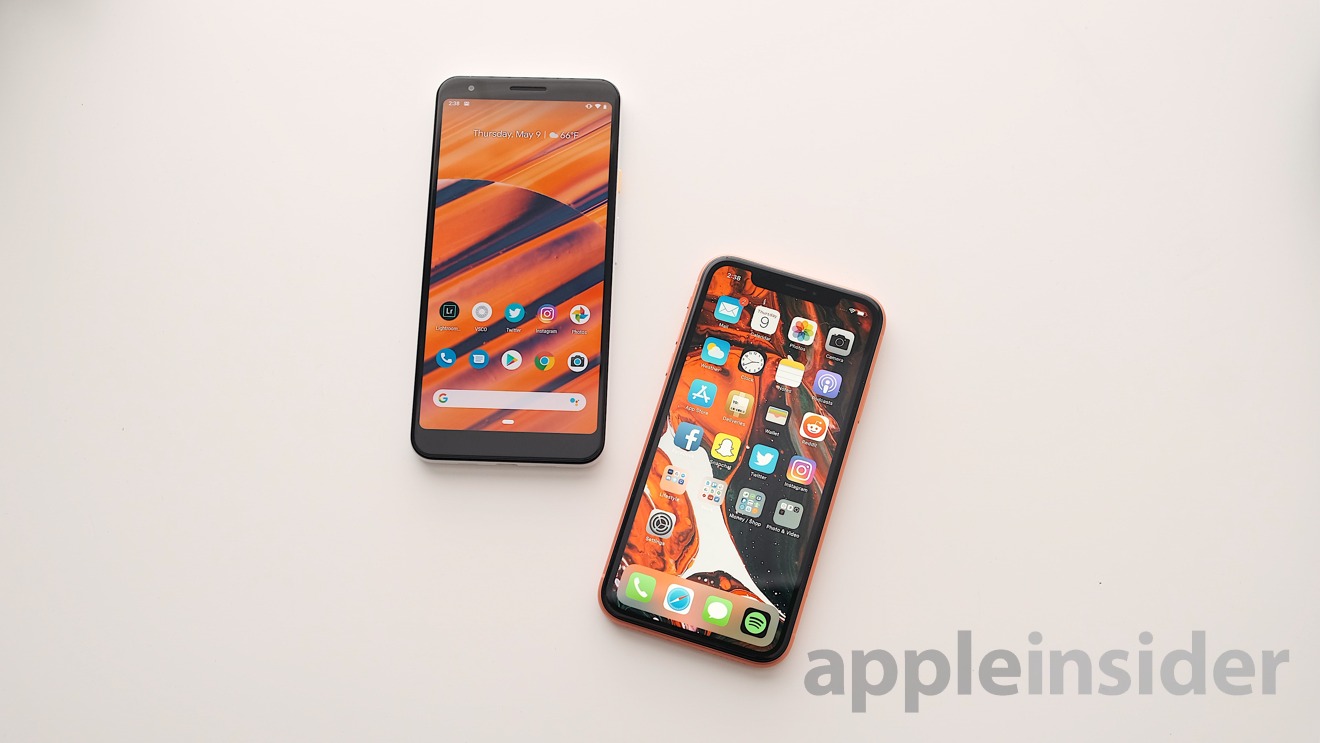 Price and compromise
The $479 Pixel 3a XL is not a bad phone for its price, it runs Android 9.0 Pie, and since it's a Pixel device it will receive the first updates first.
It has a great camera that offers amazing low light photos, but given that the performance is charitably the same as a three-year-old iPhone, and worst case a five year old one, and it comes in a polycarbonate shell, there are some compromises.
The $749 iPhone XR is not Apple's highest-end device, nor is it mid-range phone. It doesn't have an OLED display, Force Touch, or a two-lens camera system, but it uses the same fast processor as the iPhone XS and iPhone XS Max. Its speakers are really loud and clear, it has wireless charging, it's IP67 certified, so if we were to choose between the two phones, we'd spend the extra money on the iPhone XR.
But, considering that the Pixel 3e XL is nearly identical in price to the iPhone 7 Plus, which Apple stills sells, we'll be comparing those two models very soon.
Where to buy
Meanwhile, wireless carriers Verizon and AT&T are offering buy one, get one free offers on Apple's iPhone XR.