Support for AirPlay 2, Apple TV app on Samsung televisions rolling out now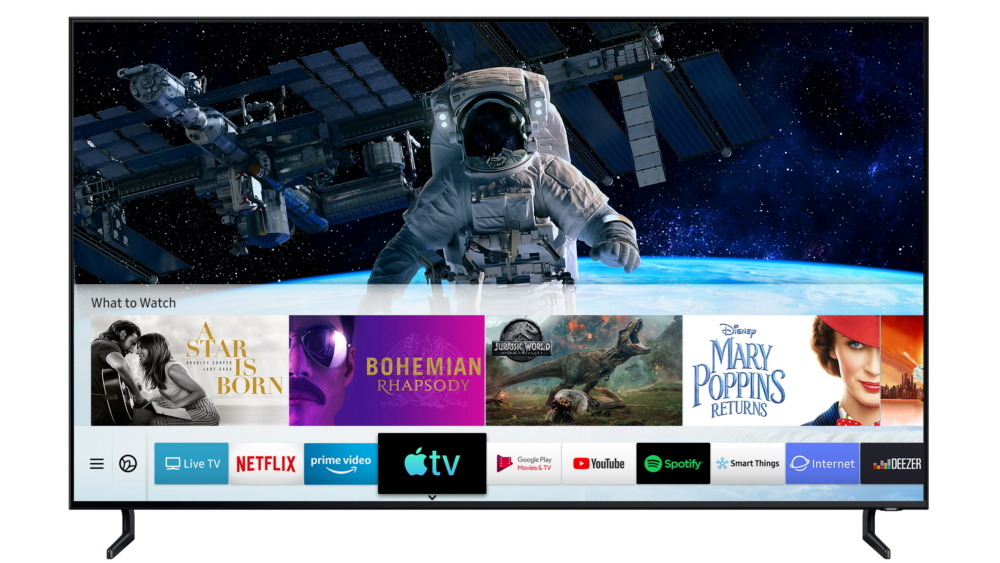 Samsung Electronics announced that beginning on Monday, all 2019 Samsung Smart TVs and select 2018 TV models will recieve a firmware update will feature the all-new Apple TV app, and add AirPlay 2.
The Apple TV app works the same way that it does on an Apple TV. Users select the Apple TV app icon to access all of their iTunes movies and TV show purchases and browse more than 100,000 iTunes movies and TV shows to buy or rent. The Apple TV app works with Samsung's Smart TV Services, such as Universal Guide, Bixby and Search
"For the last decade, Samsung has been at the forefront of offering the broadest selection of content available to consumers on our Smart TV platform." said Won-Jin Lee, Executive Vice President, Visual Display Business at Samsung Electronics. "As the first TV manufacturer to integrate the Apple TV app on a Smart TV platform, Samsung continues to offer our customers incredible value and access to the Apple TV app experience on the largest screens available today."
The select compatible Samsung televisions will also be compatible with AirPlay 2. Unlike other models from Vizio and others, HomeKit support is not included.
With Monday's iOS and tvOS updates, Apple has expanded the availability of the Apple TV app to over 100 countries, up from the current roster of just ten.