Former Apple retail chief Ahrendts says 'mission accomplished,' denies reported criticisms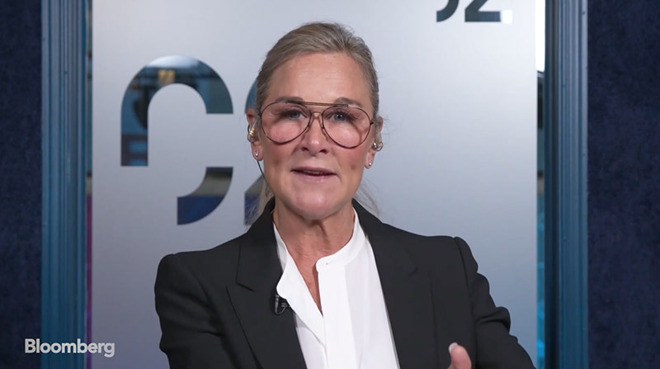 AppleInsider may earn an affiliate commission on purchases made through links on our site.
Speaking publicly for the first time since leaving Apple in April, Angela Ahrendts in an interview Friday reflected on her tenure as the company's head of retail, calling it "mission accomplished."
In a remote with Bloomberg from the C2 Montreal international business conference, Ahrendts recapped her time at Apple, which saw the introduction of new initiatives like Today at Apple sessions.
"Steve's [Jobs] original vision was to enrich lives and he told the teams to always do it through education," Ahrendts said. "Our goal was really to put programs together that could help re-skill the current generation and help the next generation learn a lot of the liberal arts skills that I think Steve always envisioned that they would need and his products could provide."
The former executive considers the learning programs one of her greatest achievements at Apple, along with the rollout of flagship stores.
"There are incredible flagships in the pipeline for the next four years," Ahrendts revealed.
Apple's retail operation expanded under Ahrendts, with brick-and-mortar locations undergoing a so-called "Apple Store 2.0" revamp that involved a major design overhaul. An important element of the reworking is Today at Apple, a program that necessitated a new in-store section and created job openings for "Creatives."
When asked about a recent report detailing complaints about poor customer service due to aggressive brand expansion, Ahrendts demurred.
"I don't read any of it and none of it is based on fact, it's everyone trying to find stories, et cetera" Ahrendts said. "When I left, retention rates were at an all-time high, up over 20 points in the five years and NPS [Net Promoter Score] scores were at historic highs. Again, I know the facts and there's a lot of things that are written... didn't give any stories to anyone because it was just not how I am."
She went on to discuss iPhone, saying Apple's retail stores are "one of the smallest" sellers of the device due in part to a "very wide" distribution channel. The company's outlets are, however, the largest seller of Mac, Apple Watch, AirPods and other product categories.
Ahrendts summarized her stint at Apple as "mission accomplished," saying her team had a five-year plan that was executed with a "tremendous amount in the pipeline."
A video of Ahrendts' full interview can be viewed on Bloomberg's website.