Review: Creative's Sound BlasterX Katana brings a punch to the desktop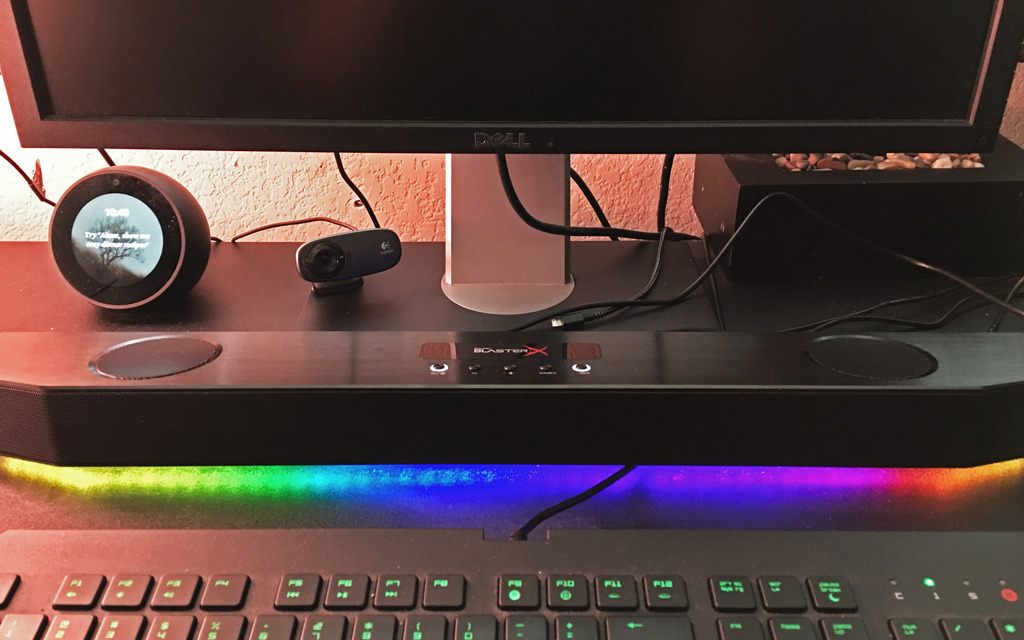 Creative's Sound BlasterX Katana might be overkill for desktop audio, especially on Macs, but it's impressive nevertheless.
Desktop speakers are still a must-have for a lot of Mac and Windows users. It's hard to find a set of headphones comfortable enough to wear all day, especially here in Texas, where air conditioning often struggles against 100-degree temperatures.
I had the idea recently that AppleInsider should test out some of the better Mac-compatible desktop speakers, and that led us to the Katana. It's not a new product by any means but seems to have flown under the radar in the Mac world.
The centerpiece of the Katana system is its soundbar, shaped vaguely like its namesake sword, which houses two high-excursion tweeters and two upfiring midbass drivers. Thanks to a 24-bit DAC and a multi-core DSP it can simulate 5.1-channel surround sound, including Dolby Digital. The ".1" comes from a tall floor-standing subwoofer.
The bar has several connection options: optical, 3.5mm, Bluetooth, micro USB-to-USB-A, and even a USB-A slot meant for playing files directly from a flash drive. You can switch between these at will using top-facing buttons, a bundled remote, or the Sound Blaster Connect iOS app. If you need headphones for whatever reason there are two jacks, one of them for mic input.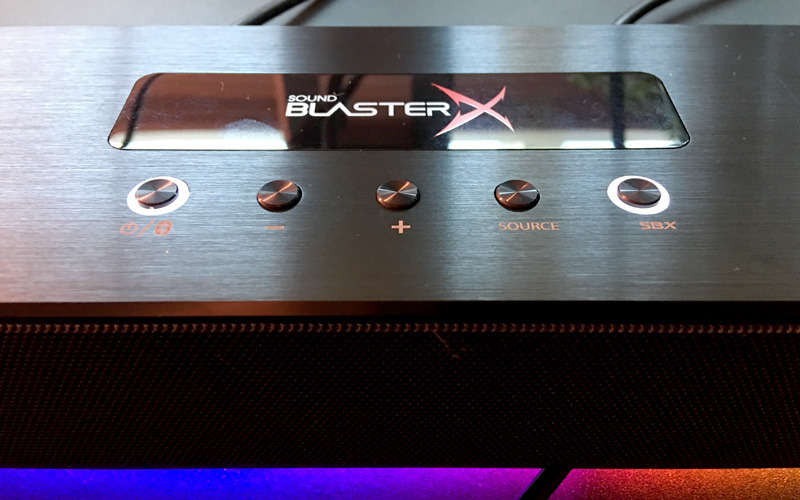 Mac functionality is somewhat limited versus Windows. While the system should work, there's no native Mac client for controlling profiles, the EQ, or LED lighting. Windows users can also boost vocals, adjust the depth of surround effects, and enable 7.1-channel surround, since the Katana doubles as a sound card for that OS when connected via USB. The only other iOS control option involves downloading profiles.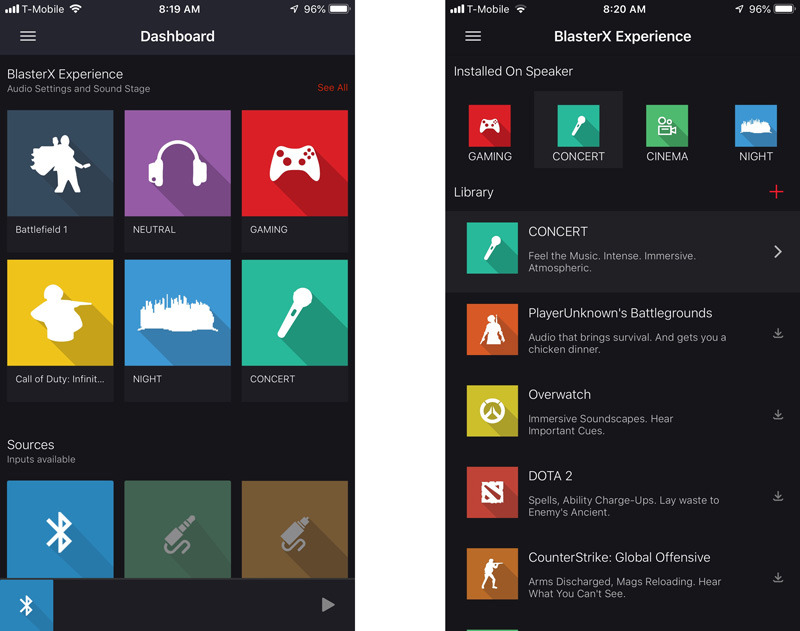 For the most part however that doesn't matter. Multiple profiles are preinstalled on the Katana — Neutral, Gaming, Concert, Cinema, and Night — that should cover most circumstances you can think of. You can cycle both profiles and LED lighting via the remote, along with bass levels.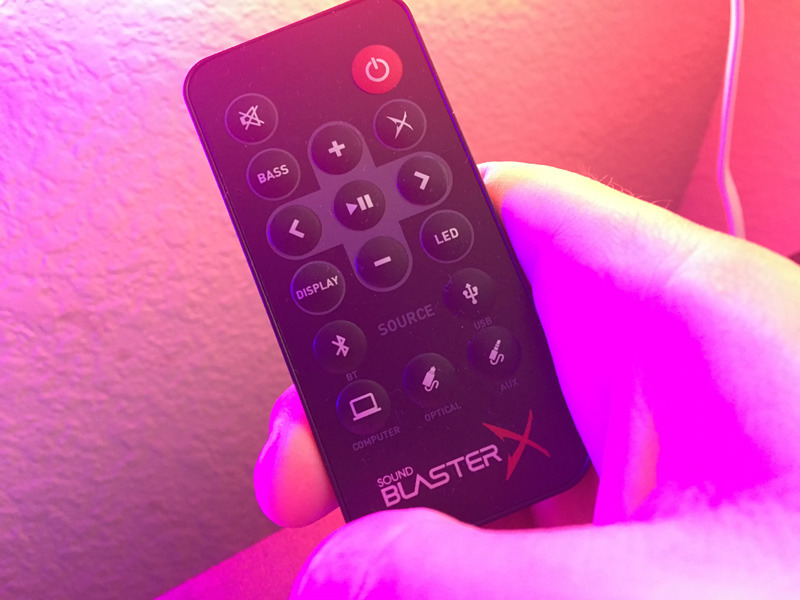 I tested the Katana under a variety of circumstances, including just about any genre of music you could think of, ranging from ambient, folk, and soul through to techno, power metal, and power electronics. Overall it passed with flying colors, delivering hard beats where needed while maintaining crystal-clear vocals and instruments. You do have to bump up the volume to get full the effect though, and it can be a little disconcerting that only the mids and highs are hitting you directly if you're used to all-in-one speakers.
I tried the Katana with three games, the latter two being Windows-only titles: "Superhot," "Titanfall 2," and "PlayerUnknown's Battlegrounds" (PUBG). "Titanfall" was by far the best showcase, surrounding me in a cacophony of war. Even in "PUBG," though, the simulated surround effects were comparable to dedicated gaming headphones.
Speaking of which however, I did encounter oddities when using the Katana as a passthrough for a HyperX Cloud Mix headset. This tended to slash volume and drown out vocals, though it's hard to gauge whether it's Creative's fault or simply an unholy combination of hardware and/or software.
Be warned that the Katana is not subtle. It's rated at 75 watts RMS, 150 watts peak, and while some of that is going to power low-end frequencies, it can still get incredibly loud — especially if it's sitting just a few inches away. In fact it might make for a great TV soundbar, though it's probably wiser to get a dedicated model like a Vizio or the Polk Command Bar, both of which are cheaper.
Arguably what you're paying Creative for is high-quality sound in an ultra-compact package. The Katana's soundbar is small enough to fit under a monitor or an iMac, and while its sub is tall, its footprint is such that you could fit it on a desk if you had to.
You're also paying for the fancy LED package, something that may split potential buyers. It's not as obnoxious as a lot of gaming-oriented hardware and you can simply shut it off, but not everyone wants to pay for the privilege.
Conclusions
I've been very happy with the Katana so far, headphone issues notwithstanding. I like my computer audio loud and immersive. No, you don't need to spend what Creative is asking to enjoy quality sound on a Mac, but I doubt many people will be disappointed either.
Score: 4 out of 5
Where to buy
Normally retailing for $299, Amazon has the Creative Sound BlasterX Katana soundbar on sale for $289.42 with free shipping.