Review: Microsoft's Surface Pro is the best Windows tablet to get, if you need one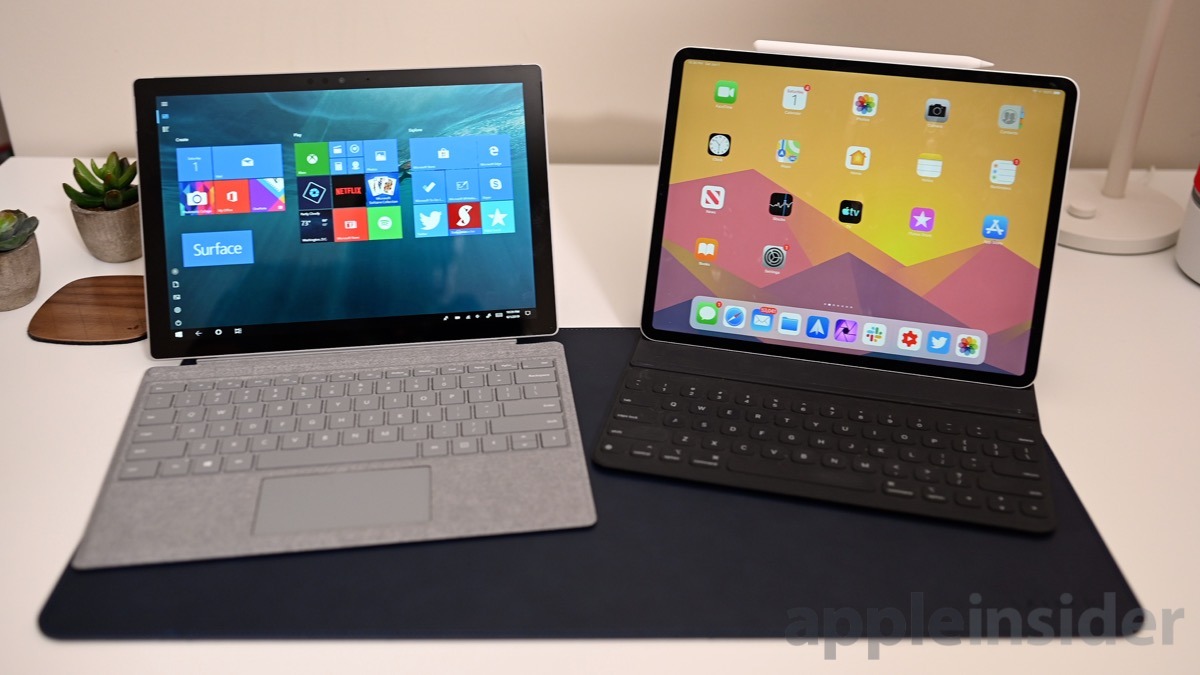 AppleInsider is supported by its audience and may earn commission as an Amazon Associate and affiliate partner on qualifying purchases. These affiliate partnerships do not influence our editorial content.
Microsoft's Surface Pro is the ideal Windows tablet, and is the one you should buy if you're looking for that kind of thing, but is a missed opportunity for Microsoft to demonstrate with Windows that it can do what Apple does for complete operating system and hardware integration.
Microsoft's Surface line is the company's first-party attempt at its own hardware, that it tried to pioneer in the beginning of the century. Yes, that far back.
Microsoft's vision at the time was hampered by bulkier hardware, with tablet PCs weighing as much as a laptop — six pounds or more. That wasn't exactly great for what the company had in mind.
And then, Steve Jobs announced the iPad, and things suddenly changed. It took Microsoft until 2012 to roll out a tablet with a crippled version of Windows, and 2013 for the first, real, implementation of Windows to arrive.
Now, here we are, nine years after the iPad. Microsoft wants you to believe that the Surface Pro line is the best of both the iPad and MacBook, MacBook Pro, or MacBook Air.
Compared against any individual Apple product, it excels here and falls behind there. Like any hardware, it is a mixture of compromises and triumphs.
What it is
The Surface Pro we're talking about is from October 2018. It has an Intel Core i7 four-core processor with a 2.1GHz base speed, 256GB of storage, and 8GB of RAM. We're also using it in conjunction with Microsoft's keyboard cover, which back to the days of the dancing teens espousing the platform, has always been Microsoft's preferred venue of input.
The screen on the Surface Pro is 2736 x 1824, and is a touchscreen. In comparison, the 15-inch MacBook Pro has a resolution of 2880X1680 P3 display with 500 nits of brightness, and the 11-inch iPad Pro has a 2388 x 1668 Wide Color (P3) display with the same. The new MacBook Air has a 1680x1050 display.
The Surface Pro has a rear 8MP camera, and a front 5MP one at 2560x1960. The rear-shooter you won't use much, so that's okay here, and we'd argue not necessary for most users outside of enterprise at all.
As far as ports go, Microsoft has not as of yet shifted to USB-C or Thunderbolt 3, but it appears that at least USB 3.1 type C is coming for the next model at some point in the future. At present, though, it has one USB 3.0 port, a DisplayPort, the Surface Connect port, a microSD slot, and a headphone jack.
Our Surface Pro configuration retails for $1499, without the keyboard. If you want more ports, you can use Microsoft's proprietary Surface Connect Port and a $199 breakout box for more — but we don't recommend it.
But, these are just numbers, and not straight-across comparison points. Let's run some tests.
Hot silicon
We can run most of the test suite that we run when we review the Mac, on the Surface Pro. That's the point of benchmarks, after all.
We use the Geekbench suite a lot. While it isn't a universal measure, and simulates general use the best, it is useful to assess real-world, general use computing. And general use computing is the specific market that the Surface is aimed at.
Our Surface Pro scored 3323 single-core, and 11068 multi-core. Looking at about the same retail price, for comparison, the latest iPad Pro line scores around 5000 single-core, and 17622 multicore. The new 13-inch MacBook Pro gleans 4993 single-core, and 18283 in multi-core.
Cinebench R20 on the Surface Pro gleans 1144. For comparison, the 13-inch MacBook Pro scores 1779 on the test.
Day-to-day use
Windows is both the biggest feature of the Surface Pro, and the largest detriment. There's that immense software library on Windows — but after all these years, does it matter if you're picking from 20-word processors or 200?
The Windows lineage shows, for instance, when you rotate the device. Instead of a pivot animation like in the iPad, the screen blacks out, and redraws in the proper orientation — clearly the same effect as if you pivot a display, and tell Windows that your 3840 x 2160 monitor is now a 2160 x 3840 display.
A Surface Pro can casually game with Intel's UHD 620 graphics and is a pretty effective tool for that given the volume of the Windows library. But, an iPad Pro has a deep library too — and has a faster graphics implementation. And, don't forget, the Mac can run Windows too, if you're so inclined.
Microsoft's Surface Pro Type Cover is adequate, and at $129, we'd like it to be more than adequate. Key travel is good, but because of how the keyboard attaches to the Surface Pro, the experience is bouncier than we want overall. The more spread out keys in the newest version are better than the older model, though, so that's an improvement.
Yes, we've used older Surface keyboards. More on that in a bit.
The Fingerprint ID in the keyboard is good, and quick — but not fully implemented across everything that TouchID is on the Mac.
But, that trackpad on the keyboard case is terrible if you're accustomed to the Mac's implementations. Just use the touchscreen instead.
Audio is clear from two front-facing speakers. But, the four speakers on the iPad Pro and the two on the MacBook Pro are better.
Battery life is decent. We're seeing the same as we do on our 15-inch 2018 i9 MacBook Pro at about nine hours of life, compared to over 10 on our 11-inch iPad Pro.
The platform wars rage on
The common refrain for a long time about AppleInsider staffers was, that if you cut us, we would bleed in six colors. While we do vastly prefer macOS and iOS to Windows, there is a benefit to Microsoft's platform as well — one that many of us partake in.
And, this writer has had a Surface Pro of one variety or another for a long time. At launch, it was the best Windows tablet to buy, and remains so, above all others.
But that's the thing — Windows. If you need or want Windows hardware and have no particular need for macOS or iOS, you generally buy Windows. If you need macOS, then that's what you buy.
Microsoft also wants to compare the Surface to something with a MacBook in the name when the Surface comes out on top, and the iPad when it is superior to that. Complicating that with the Surface, is there is no "Apple Tax" to speak of in this regard.
When promoting the Surface, Microsoft wants you to believe that the hardware is the most important thing and the platform is the ultimate solution to all computing devices. But, hardware hasn't been the only answer for about 15 years for nearly everybody, and a device tailor-made to how you personally compute is better than one that vaguely waves at a few different markets.
The MacBook, regardless of suffix, is a well-engineered piece of hardware that runs macOS. The iPad benefits from that same engineering, and great integration. And, Microsoft's Surface Pro hardware is just as well engineered as the pair.
Folks use Apple gear, macOS and iOS side by side because of the OS-level integration. Apple controls the entire hardware and software stack, allowing for integrations that are second to none.
Microsoft blew it with the surface in one regard. The Surface line gave the company the opportunity to control that entire stack, given that they produce Windows. Instead of using this integration to make synergies like iOS and macOS, they just slapped Windows on it, and called it a day — and that's a shame. It could be much more of a tool had they done that.
But, as long as you know what you're getting into when you buy at whatever price-point you settle on, you can get the job done, integrations or no. What tools you use for that job depends on your own toolbox, and what you like to use.
The Surface Pro is nice but not perfect. Surface users are getting cheated with the lack of a truly high-speed interface in and out of the machine. Ditch the DisplayPort, go to Thunderbolt 3, and it will be better for everybody.
What is is not, is an iPad killer, nor a MacBook whatever killer. It sits in its own little niche, and Microsoft is doing it no favors with how it promotes it, and why it doesn't do more on the software side, specifically for the Surface ecosystem, is beyond us.
Score: 4 out of 5
Where to buy
Instant savings on Apple's latest iPad Pros, as well as Microsoft's Surface Pro 6, can be found below. Plus, check out B&H's new Payboo Card to save on tax in eligible states.
11-inch iPad Pros (current models)
12.9-inch iPad Pros (latest models)