Review: Razer's Nommo Pro speakers are beautiful overkill, but need better Mac support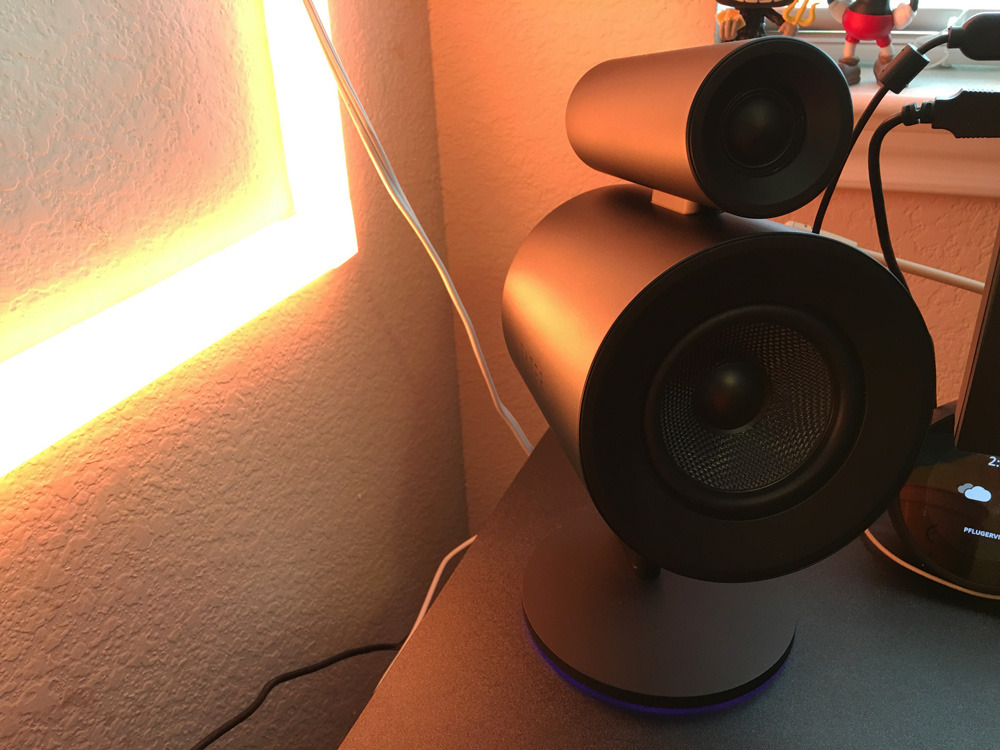 Even though Razer could stand to improve its Apple support, the Nommo Pro may still be the one of the best 2.1 speaker systems for your Mac short of professional or extreme audiophile options.
Apple fans tend not to have much to do with Razer. The Razer aesthetic is often the opposite of Macs and iPhones — loud, colorful, sometimes angular. But above all Razer caters mostly to hardcore gamers, and that means focusing on Windows, since Apple doesn't build Macs with gaming specs at reasonable prices.
In fact I was reminded of the Nommo Pro by accident — in continuing our tests of high-end Mac-compatible desktop speakers, it was originally Razer's older Leviathan soundbar I wanted to try.
Both in person and on paper the Pro is a beast. Razer is oddly secretive about wattage, but each satellite has a 0.8-inch silk dome tweeter paired with a Kevlar-coated 3-inch driver. The system as a whole has frequency response ranging from 20 hertz to 20 kilohertz, backed up by a massive, downward-firing subwoofer.
Seriously, the subwoofer is gigantic. It's 10.6 inches wide and 15.4 inches tall, so those without a lot of space around their desk need not apply.
Even the satellites are huge. They're 5.1 inches wide and 10.5 inches tall, with cannon-style cylinders — the saving grace for your desk is that most of this bulk is elevated in the air.
Believe it or not, the Pro does show evidence of Razer's trend towards (relatively) subdued designs. The satellites use a black-on-black text logo, and sport the company's signature Chroma lighting only on their bases. There's no lighting whatsoever on the sub.
Connection options include USB, optical, 3.5mm, and Bluetooth 4.2. Control is typically handled via a control puck, which has a volume dial, subtle LEDs, and convenient power and input buttons. It also includes headphone and aux-in jacks, so you'll rarely be reaching behind the sub or your Mac.
Here's where the Mac limitations crop up, however. When the Pro is connected to a Windows PC via USB, it can be controlled using Synapse 3, Razer's latest software. This includes not just audio tools but hooks for game profiles, external apps, and the creation of elaborate custom Chroma effects. Synapse 3 simply doesn't exist for Macs. There is a Synapse 2, but it's outdated and irrelevant to the Pro.
Instead you'll have to turn to the Nommo Pro iPhone app, which connects via Bluetooth. To Razer's credit this handles plenty: you can tweak volume and bass levels, adjust lighting, switch inputs, and flip between THX, Dolby, and custom EQ settings. Both the Dolby and custom menus have presets for movies, music, and games, so you can tailor settings to activity without too much trouble. The app still pales next to Synapse 3, mind.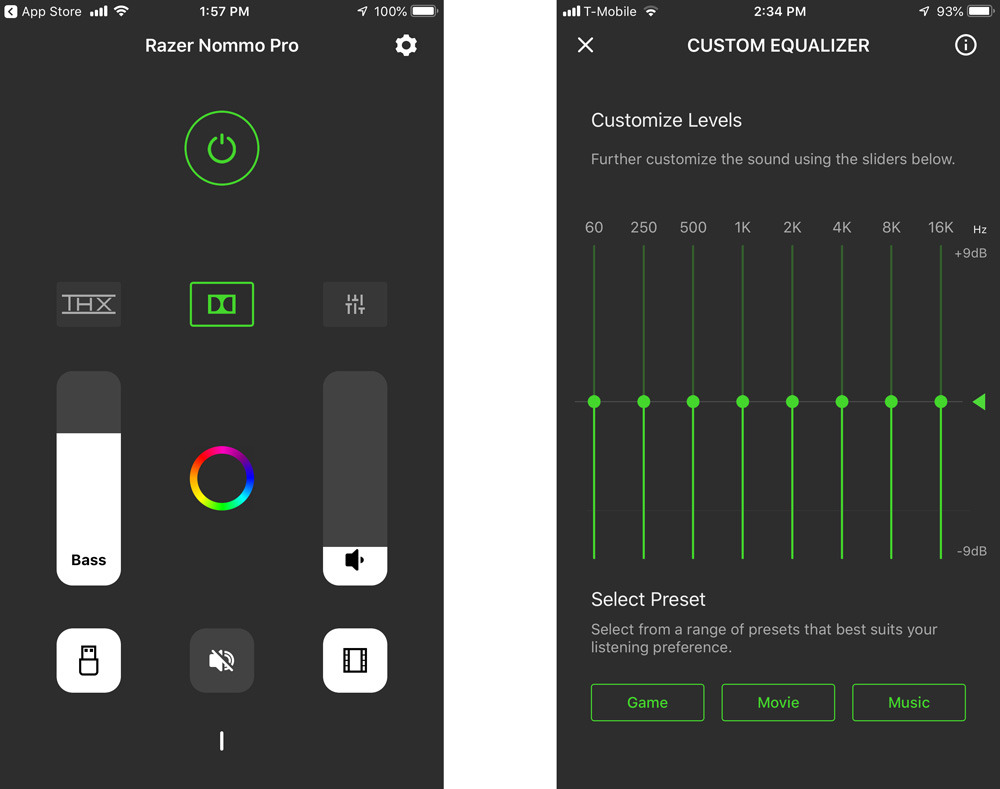 Thankfully the Pro excels at the thing that matters most: sound. It's absurdly powerful. Sitting in front of it I found I couldn't have the volume any higher than 4, and even then there were moments approaching hearing damage. 2 or 3 is a more plausible setting.
The sub, meanwhile, is an earthshaker. Cranked up to higher levels, it will rattle a desk and everything on it — if you turn up the volume, possibly the entire room. It delivers a punch that most so-called gaming speakers wish they had. If you have downstairs neighbors, they will hate you.
The real beauty though is that the bass doesn't overwhelm the highs and mids. I found the speakers as adept at handling folk and ambient electronic as metal, industrial, and techno, and fully able to bring out small details in games and movies. Stereo separation is excellent, something that proved especially handy in first-person shooters.
Conclusions
Most people don't need the Nommo Pro. It's utter overkill if your Mac usage boils down to a couple of hours browsing the Web, checking email, and putting on the occasional song or YouTube video.
If you spend most of your day in front of a machine like I do, though, or a Mac is your entertainment centerpiece, you might want to give it a shot. In fact it's good enough that I could easily recommend pairing it with an Apple TV.
The tipping point will likely be Razer's pricetag: $499.99. That's a lot to spend, especially without direct Mac support. The power and fidelity may well be worth it.
Score: 4.5 out of 5
Where to buy
Razer's Nommo Pro speakers are available at Amazon with free shipping.