How-to easily pair your AirPods with Nintendo Switch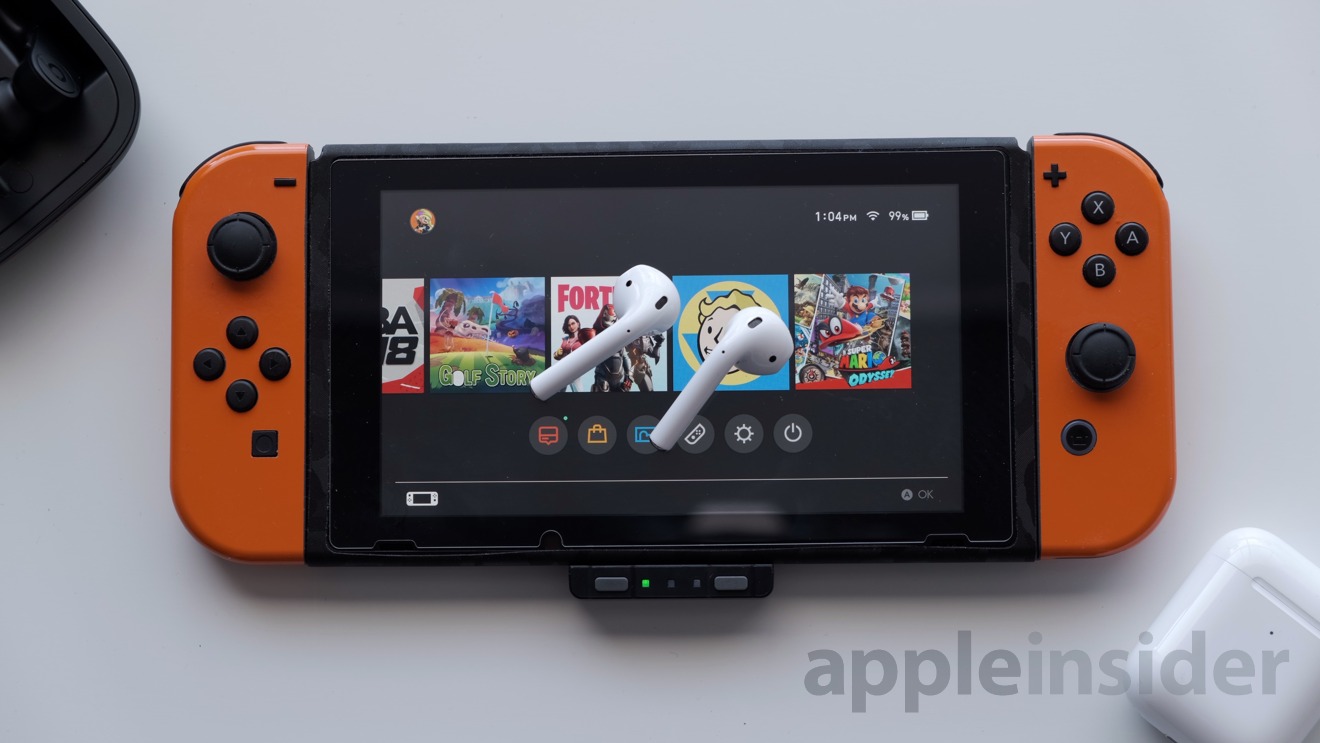 AppleInsider is supported by its audience and may earn commission as an Amazon Associate and affiliate partner on qualifying purchases. These affiliate partnerships do not influence our editorial content.
Get the most out of your AirPods — and your Nintendo Switch — by pairing them together for the best gaming experience on the go. AppleInsider walks you through how.
Apple's AirPods 2 are without a doubt the best wireless headphones to pair with your iOS device. It's small, compact, and great for taking phone calls, or listening to podcasts on the go. The Nintendo Switch, is the best handheld console in the past several years, but there's one big problem. You can't use AirPods, or any Bluetooth headphones at all. But we found a solution that fixes that.
Simplicity is key
If you're a casual Nintendo Switch user, you know that using the 3.5mm headphone jack at the top of the device is quite annoying, and not all that convenient. Unfortunately, Nintendo doesn't allow for Bluetooth headphones to work out of the box, which means you can't use AirPods, Powerbeats Pro, or any wireless headphones for that matter.
This is where the HomeSpot USB-C transmitter comes in. The compact device is essentially a Bluetooth transmitter made specifically for the Nintendo Switch. It's designed to fit the rest of the Switch's design, and plugs directly to the Switch's USB-C port at the bottom.
Meet your new best friend
Inside the box, you also get a USB-A to USB-C adapter so that you can use the transmitter even if your Nintendo Switch is docked, and you also get this mini microphone that plugs in using the 3.5mm headphone jack on your Nintendo Switch.
The transmitter itself uses Bluetooth 5.0 and Qualcomm's aptX codecs to help with latency, but it also supports SBC which is what non aptX headphones use when streaming over Bluetooth.
Using this with your AirPods is simple. Just plug the adapter to the Switch's USB-C hub. Grab your AirPods and make sure that it's still in its case, press and hold the pairing button on the back of the AirPods, and press and hold the left button on the HomeSpot adapter, bring the two closer to each other and wait a few seconds.
A green light should stay solid once it establishes a connection, and when you see that light, you should now be connected.
Seamless connection and functionality
Adjusting the volume works directly on the Switch, and there's little to no latency after using this adapter for a couple of days. We don't really play any games that requires us to use headphones, but it is great to have if you're traveling or you don't want to disturb someone in the same room.
Where to buy