Review: Microsoft's Surface Book 2 is expensive with mediocre performance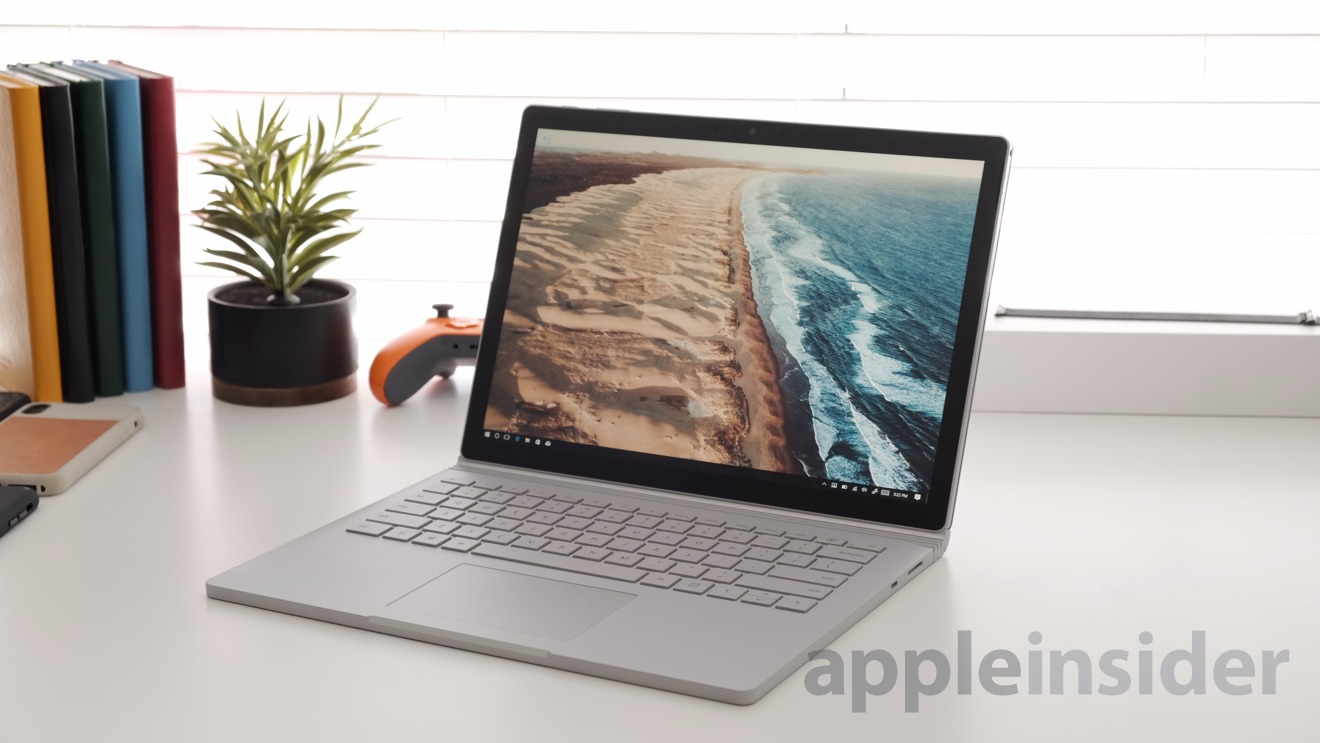 The Microsoft Surface Book 2 is a hybrid 2-in-1 laptop that can be used as a tablet or a full blown laptop. But, given the performance, is it worth the money?
The Surface Book is essentially parallel to the MacBook Pro lineup for Microsoft. There are 15-inch and 13.5-inch variants, and even though Microsoft has its own Surface Pro lineup, its specifications are not as powerful or as feature packed as the Book.
Top of the line Surface Book 2
The model under review is the top-of-the-line 13.5-inch Surface Book 2 with an 8th-generation i7 processor, 16GB of RAM, 1TB of SSD, and it has Intel's UHD 620 GPU coupled with the discrete Nvidia GTX 1050. Our configuration sells for $3,000.
The Surface Book 2 is a little bit big for a 13-inch laptop at 12.3 x 9.1 x 0.9 inches versus the 13-inch MacBook Pro coming in at 12 x 8.4 x 0.6 inches. On paper it may not look all that drastic, but in reality it's a noticeable difference.
The 13.5-inch PixelSense display on the Surface Book is stunning to look at, equipped with a 3000 x 2000 resolution which results in a taller display, making it perfect for browsing the web or creating documents. While the display looks beautiful in its own right, it's just not as nice as the MacBook Pro's version due to the fact it doesn't have a P3 Wide Color Gamut, so colors aren't as vibrant and color accurate. It's still a good display, and it's one of the best displays on a Windows laptop.
You can also disconnect the display from the keyboard and use the Surface Book 2 as a tablet — which you obviously can't do with anything from Apple. Disconnecting it is super easy thanks to the dedicated button on the keyboard, and connecting it back to the keyboard is plug and play.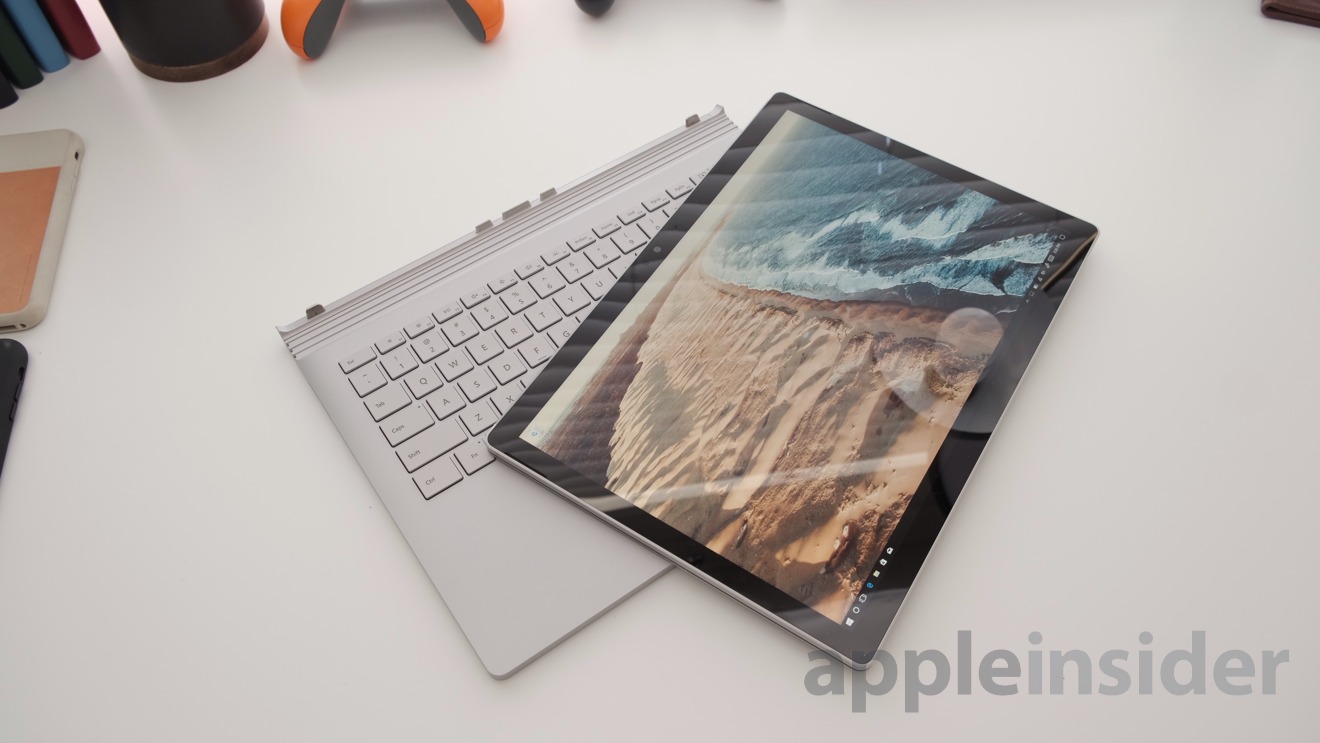 The Surface Book 2 also features 10-point multi-touch and is compatible with the Surface Pen, and Surface Dial which Apple doesn't offer for any of their laptops. We unfortunately don't have the Surface Pen or Dial to review alongside the Surface Book, but it is nice to have the option to use accessories to help get more out of the laptop.
The Surface Book 2 looks similar to its predecessor, using the same gray magnesium with a reflective Windows logo stamped on the back of the device. It's a sturdy device, and a laptop that looks like it cost a lot of money.
The keyboard on the Surface Book 2 is great, it offers plenty of key travel, and it's well spaced out for a 13-inch laptop. It's a nice refreshing change from Apple's butterfly keyboard which may end up breaking months after purchase.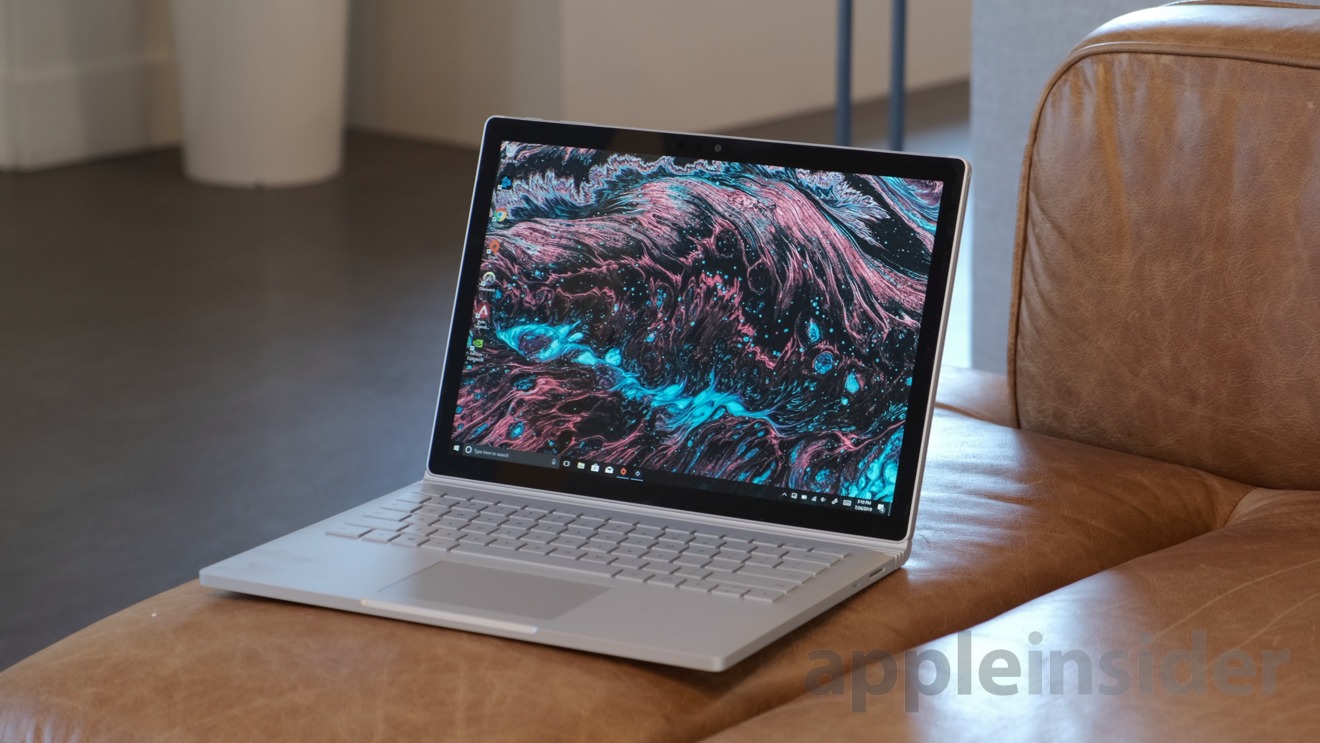 Battery life on the Surface Book 2 is rated for 13 hours, and during our two weeks of testing the laptop, it exceeded our expectations. From web browsing to 30-minute game sessions and watching videos, we never felt like we needed to be by a wall outlet and charge the laptop.
Can't have everything
The trackpad is one of the best I've used on a Windows laptop, and as a daily MacBook Pro user, I appreciate having multi-touch gestures on the trackpad which allows me to use similar gestures as my MacBook Pro. Whether it's pinch to zoom or showing all my open windows at once, it's nice to have these features on a premium laptop.
What I'm not a fan of though are the speakers on the Surface Book 2, offering a mediocre experience at best. It distorts at high volume and lacks bass, and it doesn't get very loud. The 12-inch MacBook sounds louder and clearer than the Surface Book 2, which is a huge disappointment for such a jam packed hybrid laptop.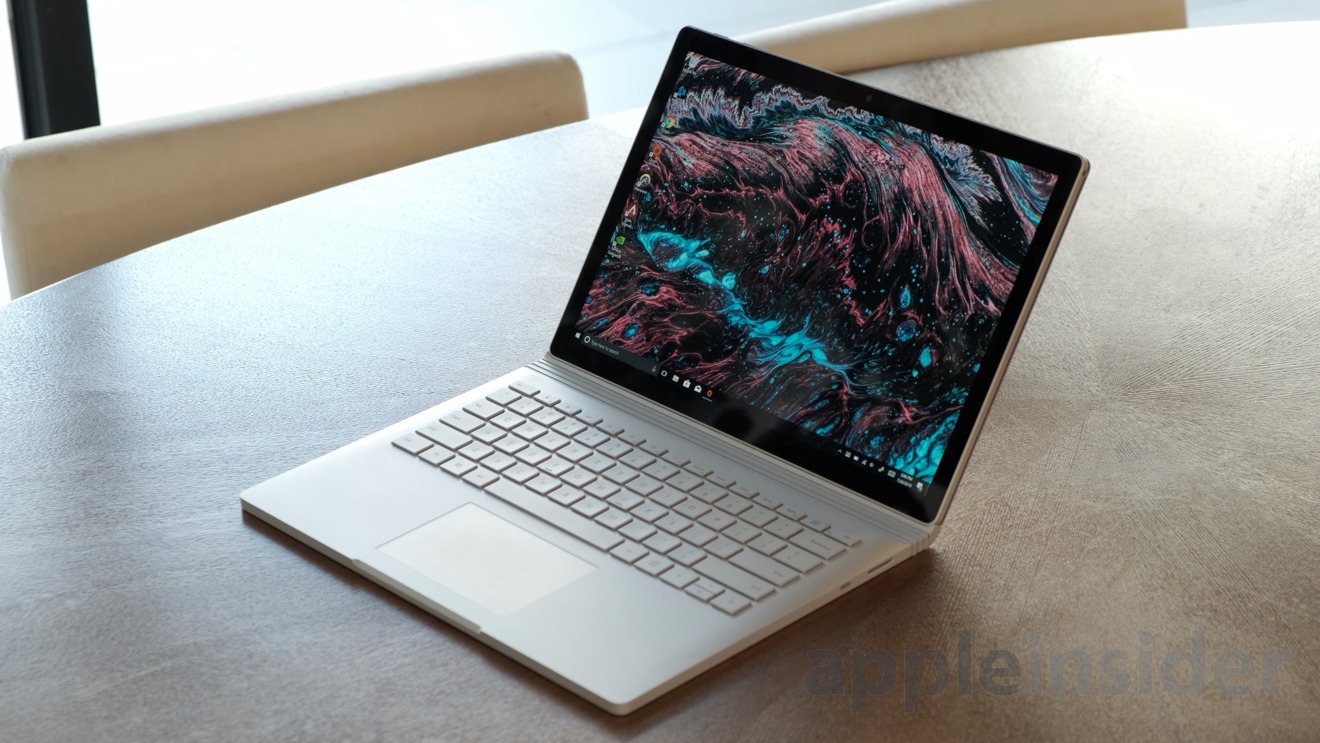 In terms of inputs and outputs, we have plenty of ports on the Surface Book 2 including two USB A ports, a full sized SDXC card reader, a USB-C 5-gigabit-per-second port and the Surface Book's charging port. The charging port is magnetic, which is similar to Apple's old MagSafe technology which I really like, but it really needs another USB-C port, or even better, a 40 gigabit-per-second Thunderbolt 3 port.
Performance is concerning
So when it comes to performance, the 8th generation quad-core i7 processor on this top of the line Surface Book 2 works really well in everyday tasks and some casual gaming.
In Geekbench 4 the Surface Book 2 scored 5,081 in single core, and 15,595 in multi-core which is in line with the base model 13-inch MacBook Pro that retails for just $1,299. Apple's top-of-the-line 15-inch MacBook Pro scored 5,879 and 29,976 in single and multi-core tests, respectively, which is clearly a much faster device.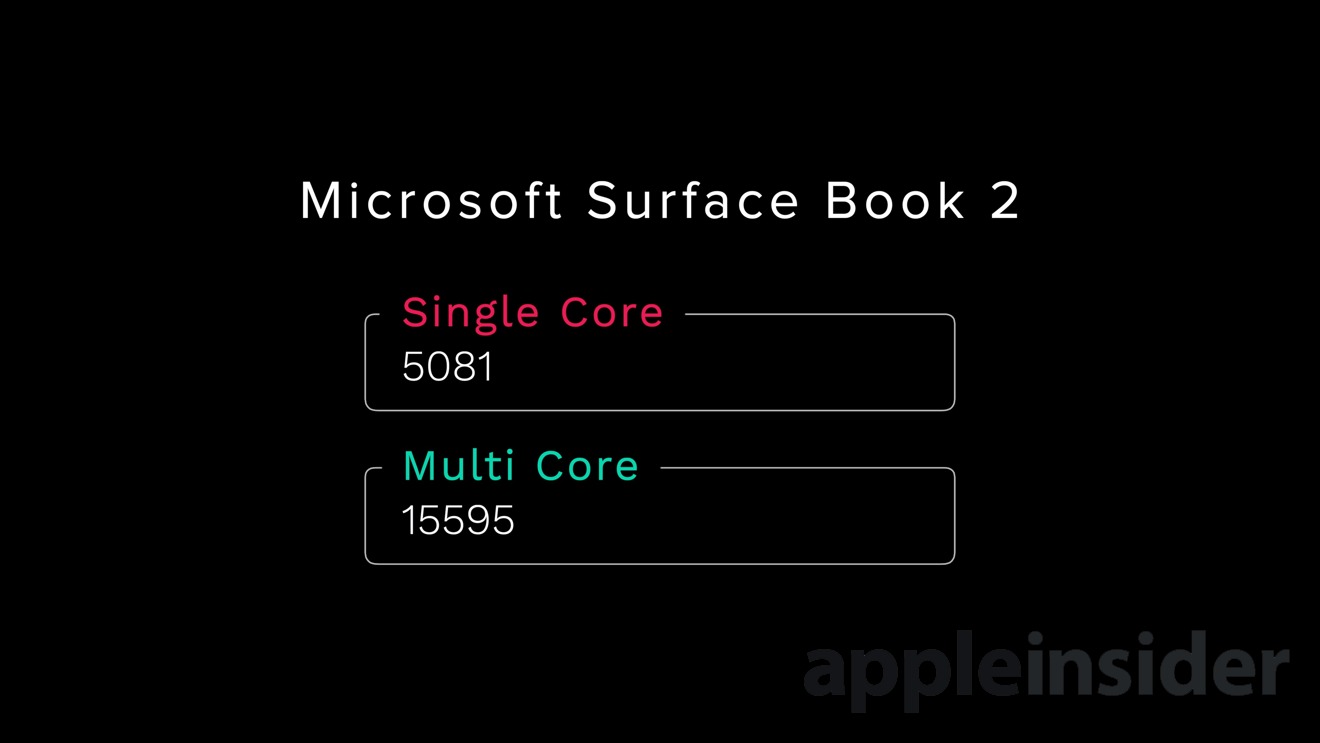 In Cinebench R20 we received a CPU score of 942 which is way below than the base model 13-inch MacBook Pro which posted a CPU score of 1,583 in Cinebench R20.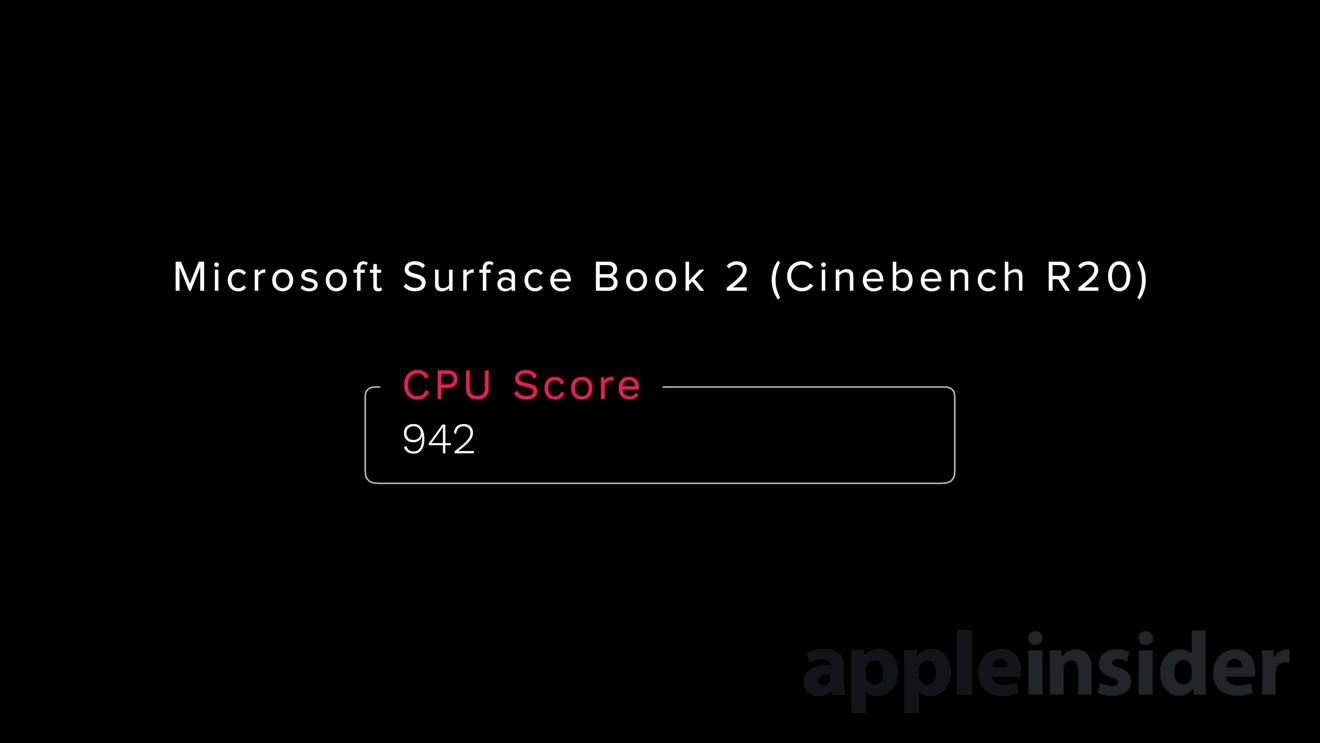 When it comes to its drive speeds we averaged a 2,500MB/s for its read speeds, and 1,200MB/s for its write speeds which is really fast for everyday operation, and gaming. The $1,299 base model 13-inch MacBook Pro tops out at around 495MB/s for its write speeds and around 1,350MB/s for its read speeds., while the top of the line 15-inch MacBook Pro tops out at 2,600MB/s for both its read and write speeds.
Gaming isn't the Surface Book 2's strong suit
In Unigine Heaven we received a score of 529, an average frames per second of 21, and a max frames per second of 48.3. Comparing that to Apple's 13-inch and 15-inch MacBook Pro. The base model 13-inch MacBook Pro received a score of 784, and an average frames per second of 31.1 with a max frames per second of 66.7, while the top-spec 15-inch MacBook Pro with Vega 20 graphics pulled in a max FPS of 147.4 and an average of 82.3 with an overall score of 2072.
When it comes to gaming, we installed some of the games we play occasionally on PC, and that's Overwatch, Apex Legends, and Black Ops 4. We weren't very optimistic about gaming on the GTX 1050, and with Overwatch we were able to play at a constant 60fps in 1080p with settings in Medium.
With Apex Legends and Black Ops 4, we were able to get 50 to 60fps in its lowest settings in 1080p, which isn't terrible, but the game doesn't look as good versus a laptop with a much higher-end graphics card. Gaming isn't the Surface Book's strong suit, and while it can run some popular titles in low to medium settings at 1080p, serious gamers may want to look elsewhere.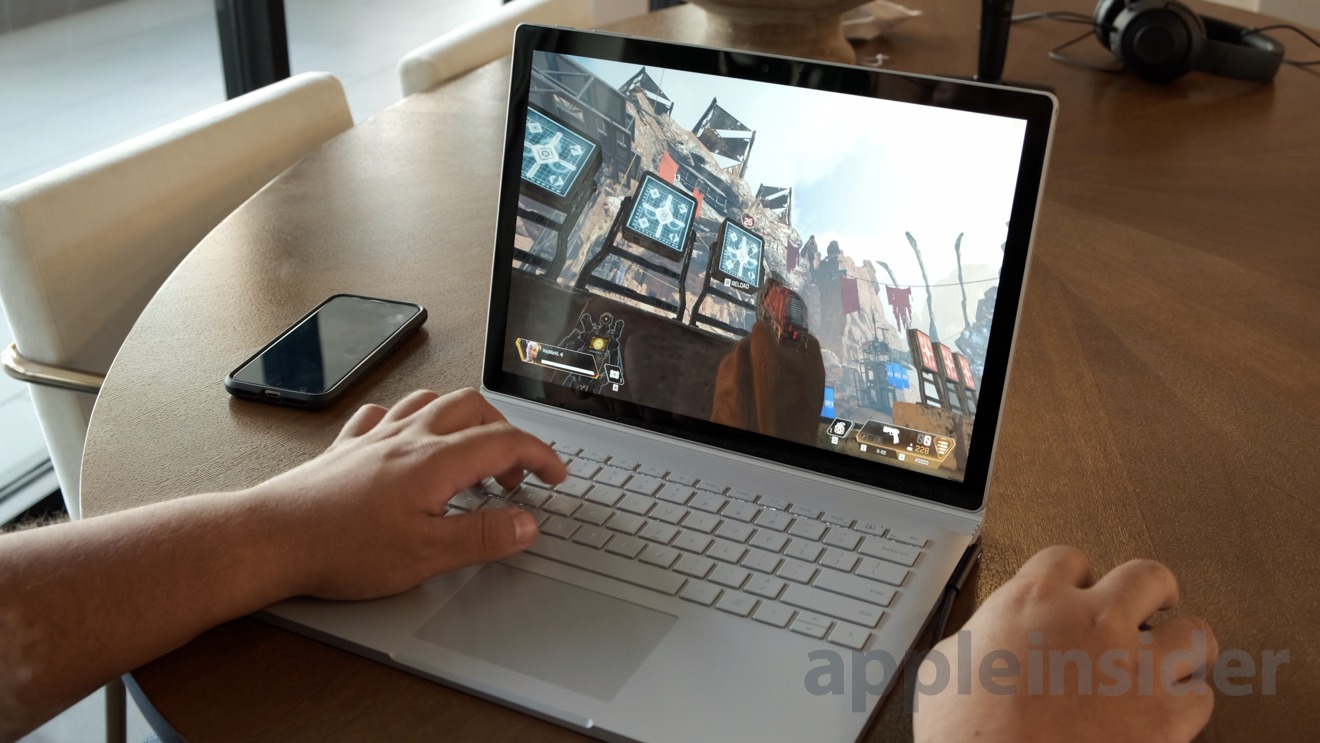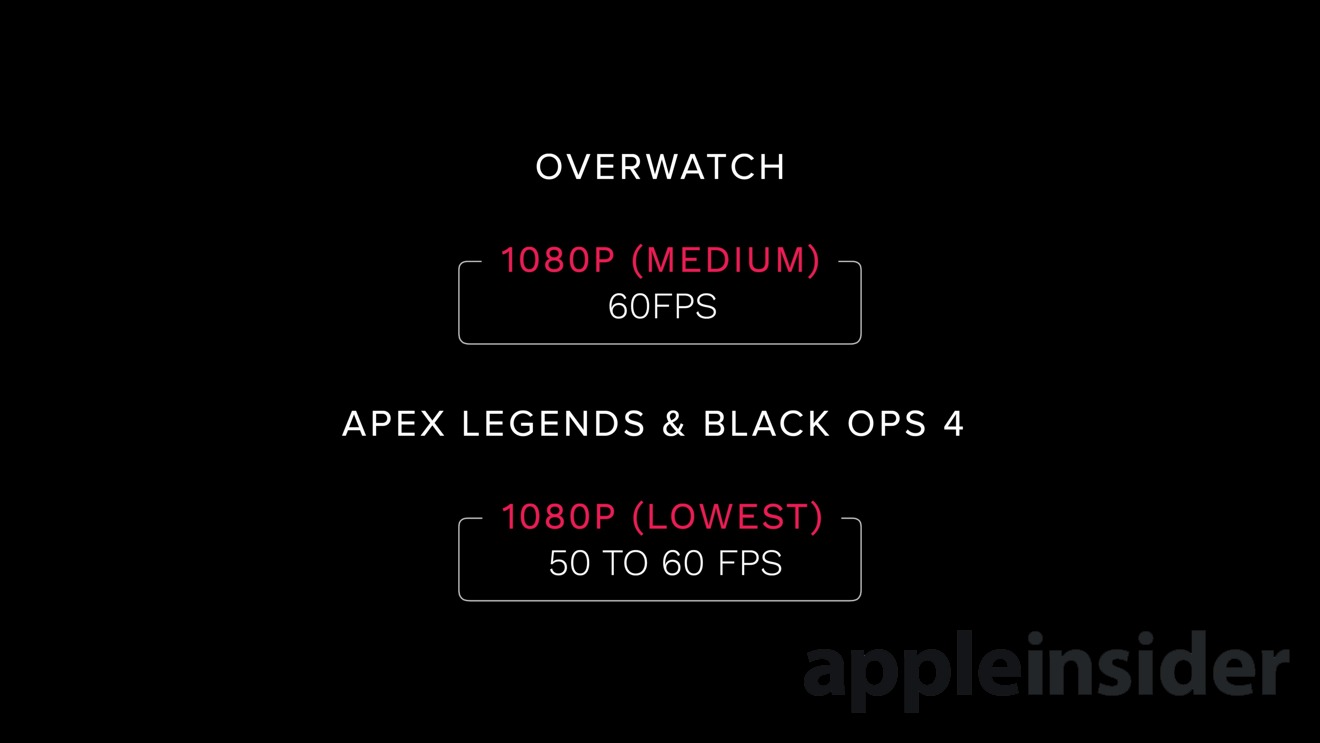 Overall, the Surface Book 2 is a solid device for everyday tasks, and the best Windows two-in-one you can buy, but the hefty price tag of $3,000 is a bit concerning given the performance is similar to a $1300 MacBook Pro. The unique design, beautiful display, and 2-in-1 functionality is a refreshing change from a traditional laptop, but it's hard to recommend the Surface Book 2 in 2019.
We think it's best to wait for the next generation Surface Book or pick up the much more affordable base model 13-inch MacBook Pro.
Rating 3.5 out of 5
How to save on Microsoft's Surface Book 2
Shoppers looking for bonus perks can also take advantage of no interest financing offers at the above retailers or even a sales tax refund in eligible states at B&H with the Payboo Card.
Those in the market for a Mac can also save on Apple's MacBook Pro with instant and exclusive promo code savings in the AppleInsider Apple Price Guides.