Changes in iOS 13 may force major redesign of VoIP apps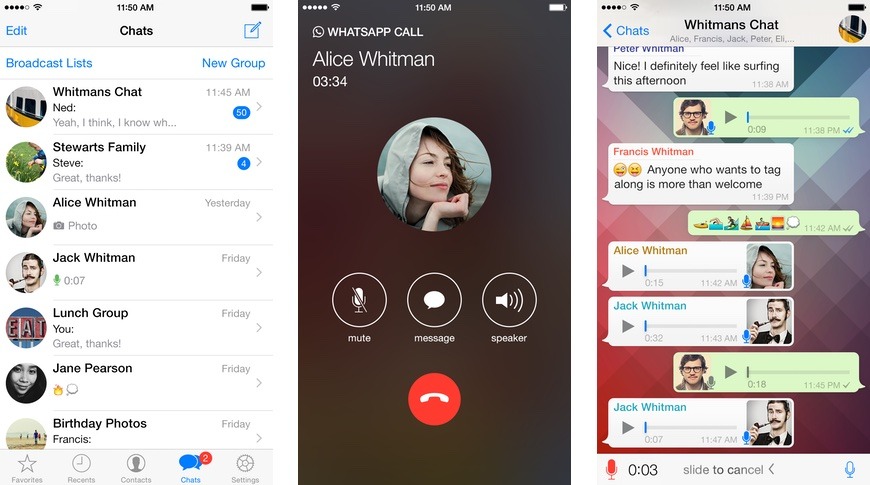 Major messaging app services that offer calls, such as Facebook's Messenger and WhatsApp, will have to make major changes to their code base to work properly in iOS 13, a report claims, due to fears from Apple that existing methods used by the apps could be used for data collection purposes.
Announced as part of a session on the background execution of apps during WWDC 2019, Apple is forcing apps that perform background processing when not in use to cut down on what they do, for the purposes of saving battery power and improving performance. Rather than keeping apps running, Apple instead wants to restrict the background processing as much as possible.
For apps with a VoIP component, like WhatsApp and Facebook Messenger, they attempt to keep running in the background as much as possible to allow calls to connect quickly. Under Apple's updated system, such apps will have to rely on a new "VoIP push notifications," a type of low-data push to a device that can open the relevant app and perform functions to open the call up.
Developers have until April 2020 to make their apps comply with the requirements.
Citing sources familiar with the matter, The Information claims that both the named apps will force a major redesign, as the background app technique performs a number of functions. Specifically named as a feature needing mass alteration is how WhatsApp handles end-to-end encryption.
The change may also prompt other refinements, as apps were able to take advantage of the background task for internet calls to keep the app in memory, allowing it to launch quicker than entirely from scratch. By switching to VoIP push notifications, this eliminates the benefit of having the app poised and ready to run.
Aside from power and performance, another reason Apple may be closing the function is due to the possibility of the background app collecting data about the user, something which may be seen as a privacy issue.
A Facebook spokesperson insisted to the report it was not using the calling feature to collect data. "To be clear - we are using the PushKit VoIP API to deliver a world-class, private messaging experience, not for the purpose of collecting data."
Facebook also advised the changes are "not insignificant, but we are in conversations with Apple on how best to address" the alterations.
The background processing for VoIP calls in relation to Facebook's apps has been an issue for some time, with former Apple app review team chief Phillip Shoemaker noting Facebook's splintering of Messenger into a standalone app in 2014 didn't end Facebook's use of the feature in the main social network app. While Shoemaker advises Facebook was stopped from using the system in its main app, the VoIP background mode is still actively used in both Messenger and WhatsApp.
"Messenger can still use [VoIP background] mode, and does," Shoemaker said. "What they do in the background, whether it be accept calls, listen in all the time or update the content of the main app, it's all unclear to Apple, but could be happening."
Facebook is not the only app producer to be using the technique, with Snapchat and WeChat cited as using it to run in the background for reasons other than voice calling. The lack of knowledge of what the apps are explicitly doing during those periods has been a potential cause for alarm.
The social network has been caught in a number of compromising situations relating to user privacy over the last few years. Aside from the Cambridge Analytica scandal that cost it $5 billion, the company has also used its now-banned Research VPN app to acquire data on 187,000 users since 2016, which led to Apple temporarily pulling Facebook's enterprise certificate.