Review: The Doxie Go SE portable scanner will help you organize your life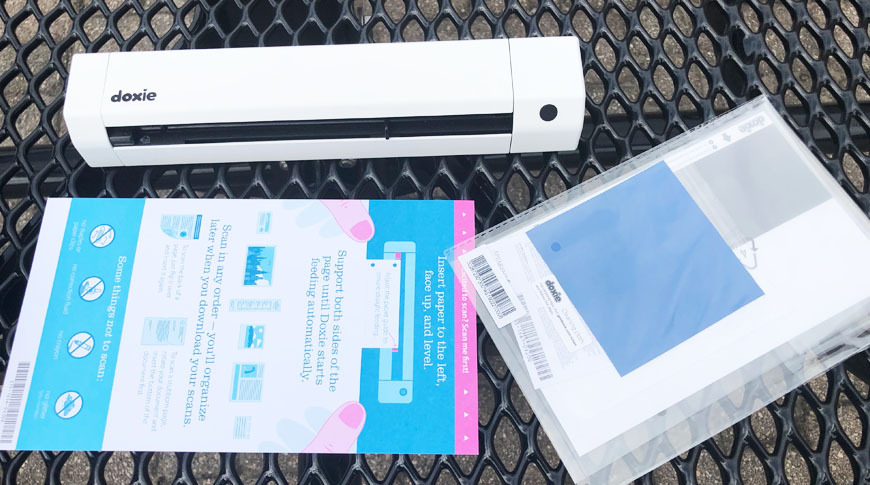 AppleInsider is supported by its audience and may earn commission as an Amazon Associate and affiliate partner on qualifying purchases. These affiliate partnerships do not influence our editorial content.
The Doxie Go SE is an ultraportable scanner that doesn't require a computer in order to use it. It's great for those last straggling bits of old paperwork, photos, and artwork that you haven't converted to digital formats yet.
We're living in an increasingly digital world— we take our pictures with our phones and store them in the cloud, we fill out and submit forms digitally, and email has nearly eradicated the need for the humble fax machine. However, that doesn't change the fact that many of us have spent decades in the pre-digital era.
The Doxie Go SE can help bring years of physical bits into the digital age without taking up too much time or space. And, since it doesn't have to be tethered to a desk, it can travel with you wherever you need it to.
Form factor
The Doxie Go SE is an upgraded version of the original DoxieGo, which I'd also had the pleasure of using many years ago. It's an ultra-portable, "bedless" scanner. Doxie says it's a great solution for on-the-go scanning, but I posit that it's a great scanner for every day use.
The new Doxie Go SE can be stored where traditional scanners can't, including desk drawers, shelves, cubbies, and more. It doesn't take up precious desk space, either.
Perhaps most importantly, the Doxie Go SE isn't part of a scanner-printer combo. There's no chance of you needing to keep a broken printer just to scan in any documents.
And, yes— the Doxie Go SE is portable. If you've got a relative who is trying to go paperless, grabbing the Doxie and heading to their house is an extremely easy task.
What can you scan with Doxie?
The Doxie Go SE is fairly versatile, and for most people will be able to scan most of the things they're going to want scanned. Perhaps most obvious would be receipts and photos, but I found that it worked well for standard 8.5-inch by 11-inch paper, business cards, collectible card game cards— pretty much any flat object that was as thin or thinner than standard cardstock.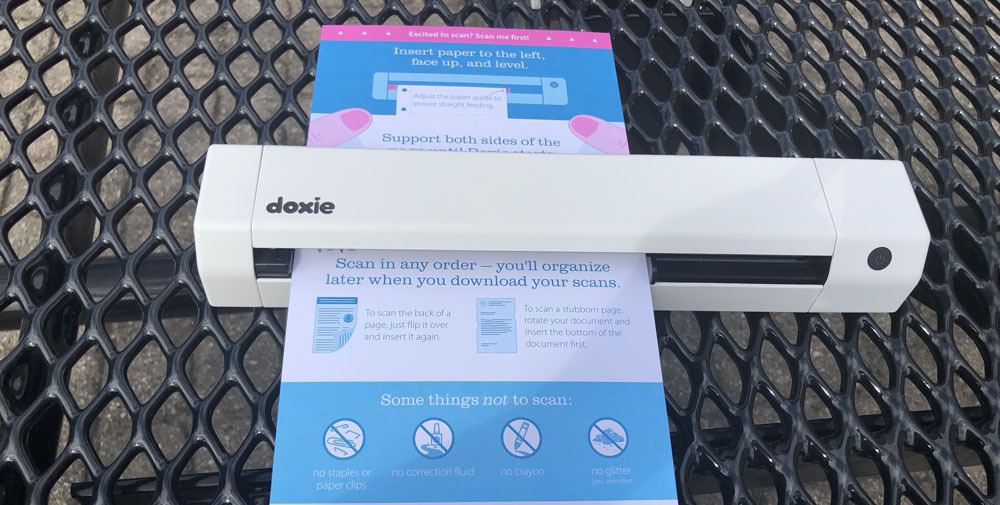 Ease of use
Using a scanner that doesn't have a bed takes a little bit of practice to get used to. It's easy to accidentally scan something terrifyingly askew, especially if it's a larger item. However, once you get used feeding items into the scanner, it's extremely quick.
When scanning, it works best to use two hands to make sure you're keeping the item at least relatively level. You'll feed the image in on the left, where a small switch will tell the Doxie Go SE to start the auto-feed. There's also a lever that can be moved across the opening of the scanner to help keep scanned items from feeding crooked as they enter the scanner.
By default, Doxie scans at 300 dots per inch, which is more than enough for most uses. Pressing the power button a second time will turn the light to orange, showing that Doxie is now in 600 dots per inch mode, giving you a much higher resolution scan which some users may want for photos.
Scanning an 8.5 by 11 inch page takes a little over seven seconds when scanning at 300 dots per inch, and about 11 seconds at 600 dots per inch. When scanned, images are automatically straightened — within reason — and cropped. Unless you're retouching, there's very little image editing needed following the scan.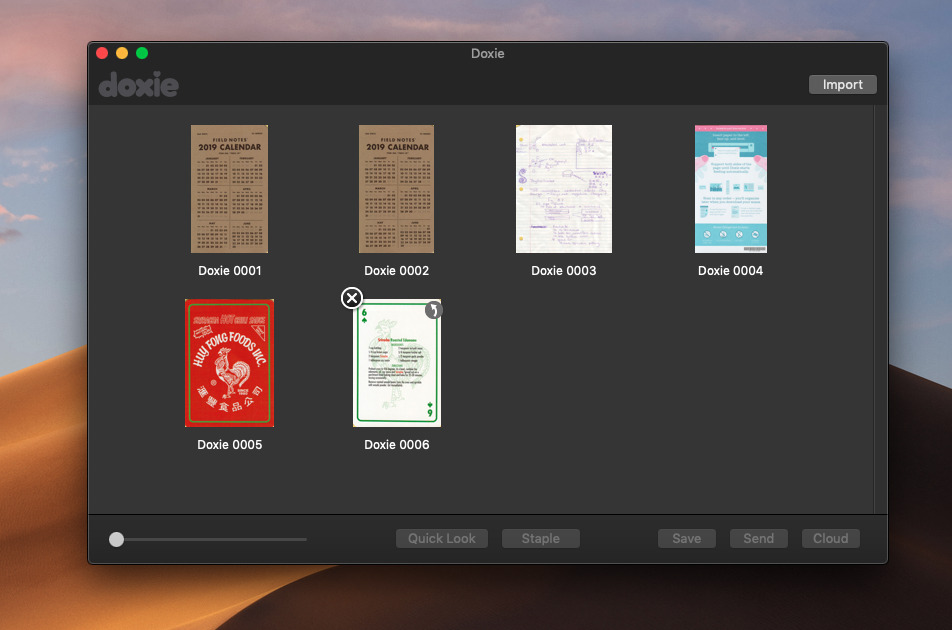 The Doxie Go SE has an internal battery that can be charged with the included cable, and will be able to scan about 400 scans at 300 dots per inch before it needs charging. However, if you have USB power available, the Doxie does work while plugged in and charging.
Storage and transfer
Doxie scans directly to its included 8GB SD card, which will hold roughly 4000 scans at 300 dots per inch. This means that you'll be able to leave your computer at home if you're away from your home base. In order to transfer the scans to a computer, you can either pop out the SD card and put it into a card reader, or you can connect the Doxie via the included microUSB cable.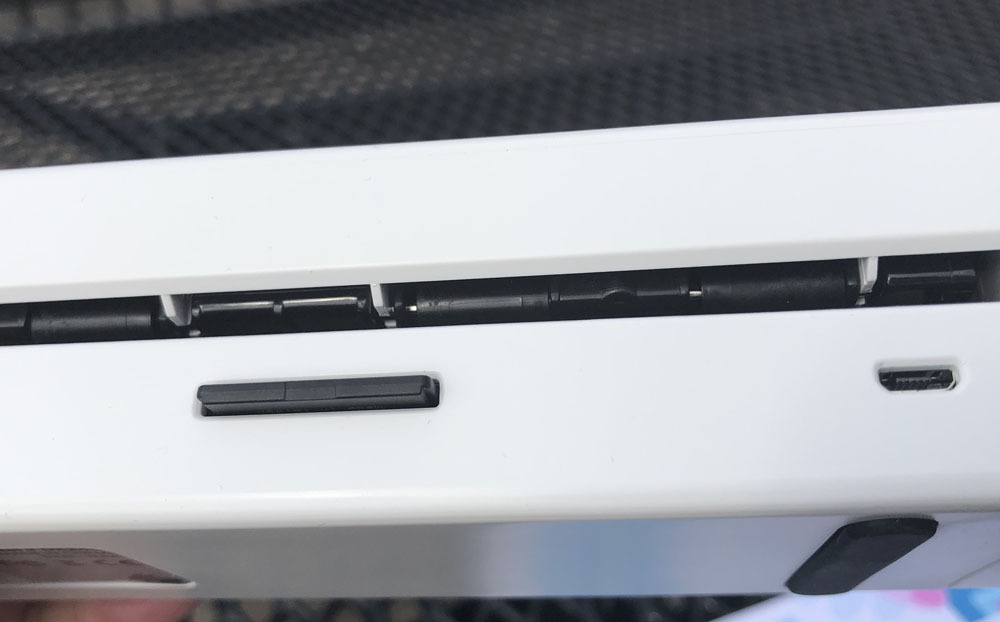 And yes, we want it to be USB-C instead of microUSB.
Software
Doxie's included software is surprisingly intuitive. The suite includes a built in basic image editor, the ability to "staple" pages together into a single document, and perhaps most importantly the ability to export multiple scans into a single PDF. This is especially useful if you're a freelancer who may want to keep multiple documents combined together for tax purposes, or a student looking to digitize notes into a PDF for later reference.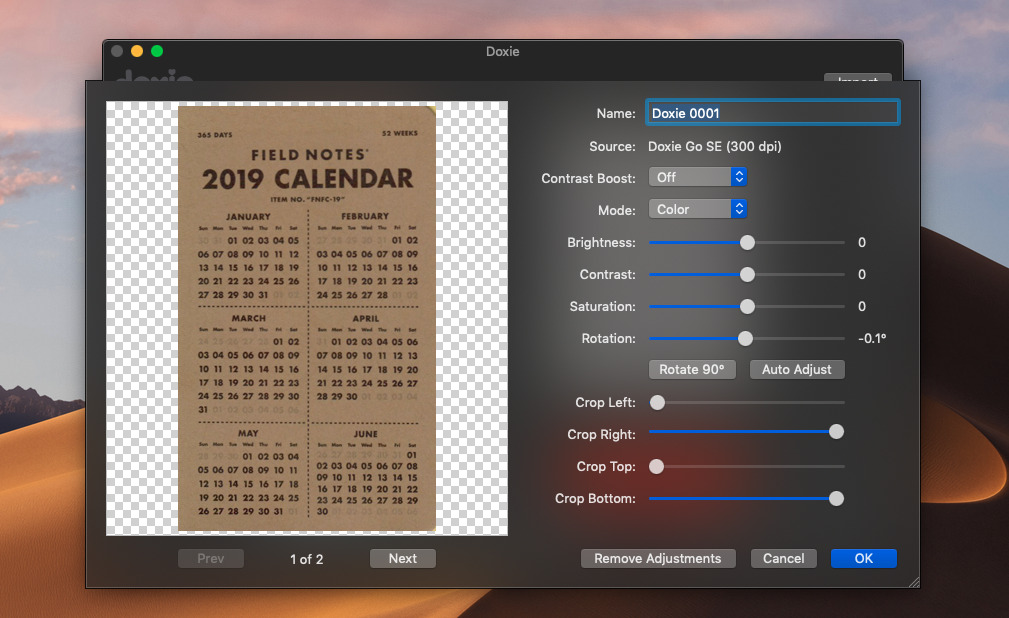 We're reviewing the original Doxie Go SE which does not have Wi-Fi. There is a higher-end Doxie Go SE with Wi-Fi, and for that model, there is an iOS app that is available as a companion to the scanner.
The downsides
There are very few downsides to using the Doxie Go SE, but it's worth making note of them. The most obvious downside is that you can't scan books or anything that is thicker than a piece of standard cardstock. This means that for artists who prefer to sketch in books, or those looking to digitize physical copies of books or magazines, you'd be better off finding another scanner to use.
Doxie also recommends that you don't run any paper that has glitter, white-out/correctional fluid, or crayon through it. I'd extend this warning to charcoal, acrylic paint, and gauche as well, as I could only assume that they would leave residue on the scanning surface. I believe that as long as the paper is completely dry, watercolor paint and artist's inks should be fine.
Overall impressions
The scanning functionality included in iOS is pretty good. However, it isn't a substitute for a lot of scans at once, which the Doxie Go SE can handle with aplomb.
The Doxie is an excellent home-use scanner, or for those who have a small home office and primarily scan looseleaf documents. If you're in the process of going paperless and are looking to compile years of documents in a short amount of time, it's the exact scanner you're going to want.
However, if you're planning on scanning cook books, sketchbooks, or anything larger than 8.5-inch by 11-inch paper, you're going to want to invest in a more traditional flatbed.
Rating: 4.5 out of 5 stars
Where to buy
The Doxie Go SE can be purchased from Amazon or B&H Photo for $178.00 and the Doxie Go SE Wi-Fi can be purchased for $198.95 at B&H and Amazon. Both scanners come with the Doxie scanner, a cleaning kit, a microUSB, and a quick-start guide.