Apple makes iOS 13.1, iPadOS 13.1 developer betas available for testing [u]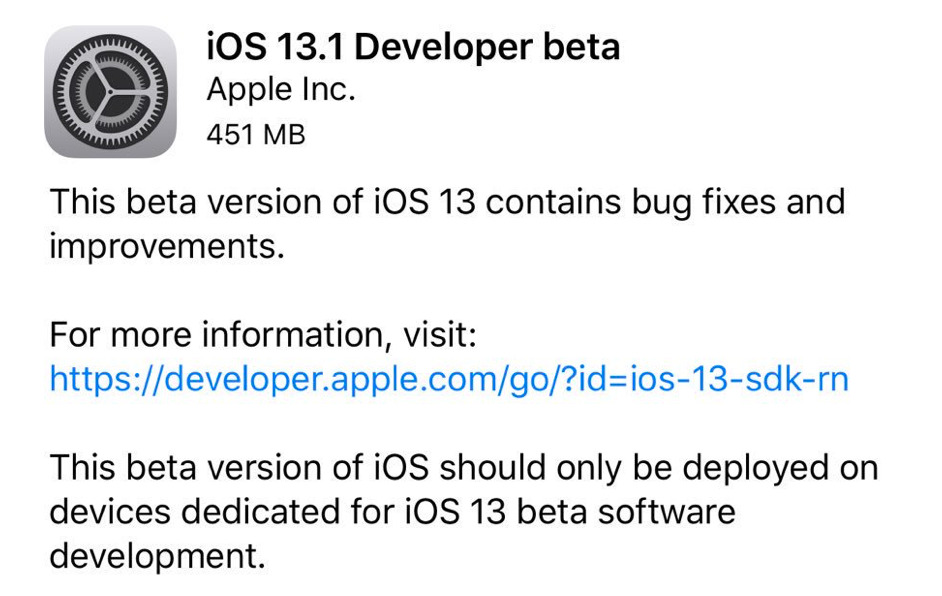 Apple has made available iOS 13.1 and iPadOS 13.1 betas, releasing point update beta test versions prior to a full version release for the first time.
The release was first spotted by Federico Viticci. Downloads were available for a few minutes, then stalled for about six minutes — but have since resumed.
A more likely scenario is the binary is in actuality the ninth developer beta of iOS 13, just mislabeled. Apple's download page was updated to reflect the iOS 13.1 beta later than it normally does following a beta release.
The developer download page retains versions of iOS 13 and iPadOS 13 restore images.
An associated link for the beta redirects to Apple's main developer portal page in Safari. A different page for the brief release talks about features for the release including Audio sharing compatible with AirPods and PowerBeats Pro, and some continuing issues with the "Find My" app.
AppleInsider has reached out for Apple for comment. If this is labeled correctly, it is the first time that Apple has released a point update beta to developers for testing prior to the initial release.
Update 1:31 P.M. Eastern Time: The betas are continuing to download after a five-minute stall.
Update 1:41 P.M. Eastern Time: Apple's developer page hosting profile downloads for the betas was updated, reflecting the iOS 13.1 and iPadOS 13.1 betas.