Apple TV Channels adds IFC Films Unlimited, goes live in Latin America [u]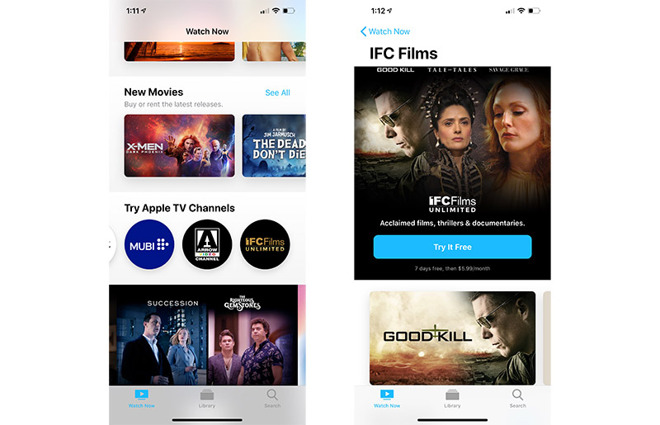 AppleInsider may earn an affiliate commission on purchases made through links on our site.
Timed to coincide with the Toronto Film Festival this week, IFC Films on Wednesday announced its over-the-top streaming service, IFC Films Unlimited, has expanded to Apple TV Channels. Apple's streaming services solution also went live in a number of countries in Latin America.
With Apple TV Channels integration, users in the U.S. and Canada can subscribe and watch IFC Films programming directly in the Apple TV app for $5.99 a month.
The standalone service launched in the U.S. in May with more than 400 films from IFC Films, Sundance Selects and IFC Midnight, reports Deadline. Apple TV Channels support will deliver IFC Film's streaming option to customers in Canada for the first time.
"Since launching in May, IFC Films Unlimited has outperformed our expectations, attracting specialty film fans who are looking for high-quality independent film across a variety of genres," said IFC Films co-president Lisa Schwartz. "It's fitting that our first launch in Canada coincides with TIFF, where we've been proud to showcase so many of the festival's top-tier films including this year, with IFC Films' The Truth. The film will debut on IFC Films Unlimited on Apple TV channels."
Schwartz went on to note IFC Films Unlimited customers in Canada will get streaming access to "The Truth" immediately following its theatrical run. That will be a change from the typical U.S. release schedule, which sees IFC Films content move through premium cable channels like Showtime and third-party services like Hulu before hitting IFC Films Unlimited.
In honor of TIFF, a special section in the IFC Films Unlimited channel, titled "Toronto International Film Festival Rewind," throws a spotlight on movies that debuted at the festival. Included among the titles are "Clouds Of Sils Maria," "After the Wedding," "Born To Be Blue," "Phoenix," "Byzantium," "Valhalla Risin," "Enter the Void," and more.
Other notable films, like "The Babadook," "The Thin Blue Line" and "Y Tu Mama Tambien," are arranged by genre, while IFC Midnight Thrillers nets its own browsable subcategory.
The arrival of IFC Films Unlimited on Apple TV Channels comes about a little over a month after Apple added a number of new services to the platform in August. Notable additions at the time included CBS All Access and Mubi.
In addition to the IFC Films debut, reports Apple TV app users are reporting Apple TV Channels is now live in Latin America. An AppleInsider reader from the Dominican Republic noted the addition of Channels in a tweet late Wednesday. For now, the feature appears limited to Smithsonian Channel Plus. Another user found the same channel available in Brazil.
Apple TV Channels now boasts 21 "channels" to which customers can subscribe. Apple's solution to an integrated streaming service hub, Apple TV Channels hosts content on Apple servers and lets users process subscription payments without leaving the Apple TV app. The streamlined experience is a major improvement over the previous setup that required users to open dedicated third-party apps to conduct transactions and view programming.
Updated to note Apple TV Channels expansion into Latin America.