Hands on: Sonos Move fits in the home as well as outdoors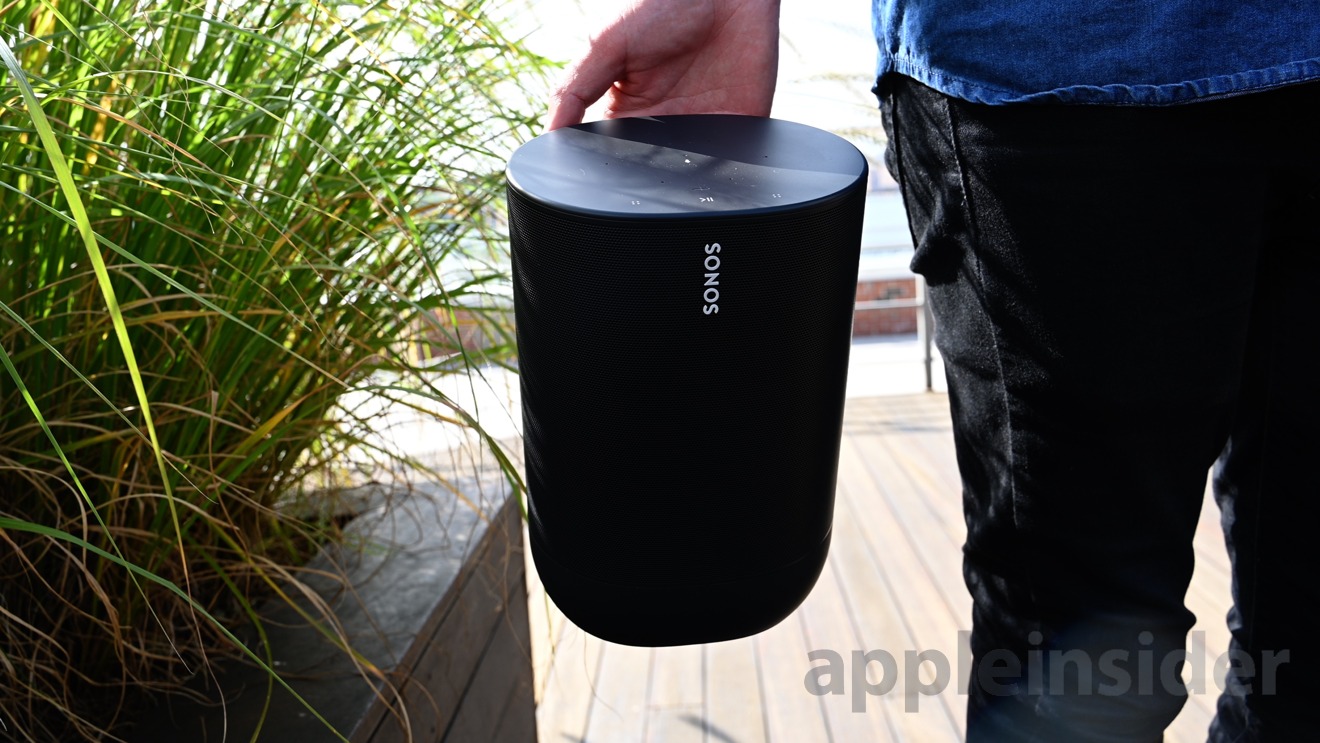 Sonos has just made its new portable Wi-Fi and Bluetooth speaker official with the announcement of the Sonos Move, alongside the Port and the One SL. AppleInsider was in New York City with Sonos to try the speakers.
Recently, Sonos held a press event in New York's legendary Milk studio, where its CEO unveiled a trio of new devices to a mass of onlooking journalists. AppleInsider was in attendance and got the opportunity to try out the new devices, including the Move — Sonos's first portable speaker.
Today, the Sonos Move, Port, and One SL are official, ending a long trickle of high-profile leaks.
The first Sonos portable speaker
The most exciting of the new products is the Sonos Move. Sonos Move is, as the company describes, a culmination of all its work to date. Outdoor speakers, especially Wi-Fi connected ones, are much more difficult than indoor speakers to execute well, and the company thinks that it has it all figured out.
Outdoor speakers need to be durable, have long-lasting batteries, good connectivity, and loud. That is exactly what Sonos has done with the Move.
The Sonos Move is weighty — over six pounds — and had a solid, premium feel to it when we hoisted it. Compared to other portable speakers, Move seemed to be on the large size but once we heard the sound it was capable of, and its list of features we understood.
The Sonos Move isn't a mass-appeal Bluetooth speaker that can be clipped to a backpack. Instead, it is marketed as a home speaker that can also be taken outside the home.
To that end, Move can operate entirely the same as any other Sonos speaker. It can connect over Wi-Fi, be grouped with others in the home, and even work with AirPlay 2. A simple dock gives it a place to rest when in your home, whether in the kitchen or on a desk.
What separates Move, is that it can then be picked up, separated from the dock, and taken anywhere, wire-free. If near your home — say out on the patio — the speaker can continue to stream over Wi-Fi. If away from the home, a button press on the back switches the speaker to Bluetooth mode.
Wirelessly, Move can jam on for ten hours. It can also be recharged on the go with a USB-C battery pack. Unfortunately, there is no USB output for charger other devices from the Move.
Sonos also touts Move as the most impressive wireless performance of any of its devices. It supports 802.11b/g/n at 2.4 and 5GHz and Bluetooth version 4.2. We will have to test the wireless range for ourselves, but Sonos assures us we will be impressed with the range.
One thing we were particularly impressed by with the Move was standby mode. After a period of inactivity, Move drops into a low-power suspend mode to conserve battery. Even while in this mode, it is instantly reachable whenever playback is to resume, including over AirPlay 2.
Sonos says that standby mode can be maintained for 120 hours on one charge.
On top of the Move are four far-field microphones. They are used for a user's assistant of choice — either Amazon Alexa or Google Assistant, no Siri here. A chime alerts users when the assistant is listening and it can also be muted.
Those microphones also serve another purpose. Sonos has adapted its Trueplay tuning technology to happen on-device.
With other Sonos speakers, to use Trueplay, users must walk around the room moving their iPhone around. With Move, since it isn't always guaranteed to be in one place, it needed to be able to tune itself.
A gyroscope is inside Move so that whenever it is relocated, it will use the four microphones to automatically adjust playback to its new location. This is very similar to how Apple tunes HomePod. Sonos said it was able to crowdsource a significant amount of data from users' manual tuning to allow Move to do it on its own.
Taking an indoor speaker outside is usually not a worthy endeavor. The speakers aren't loud enough and have narrow sound spaces. Move, is designed to be outdoors, and is much more powerful. We listened to Move — however briefly — indoors and outdoors and came away impressed with how loud the Move could get. It easily will fill small to medium gatherings.
Sonos did, purposefully, design the Move with directional sound, rather than omnidirectional like the Libratone Zipp 2 or HomePod. They met in the middle by creating a very wide soundstage, so even though it only comes out one side, it is enough to cast a wall of sound. This is something we will continue to test in our full review.
There was a substantial amount of bass with the Sonos Move, something Sonos also focused heavily on with countless iterations on the cabinet design, many of which were on display at its press event.
There were two clear messages out of our time with the Sonos team. Sonos says that this speaker is multi-purpose for in and outside the home, and they claim to have focused on the fine details that make or break a product.
We heard many, many times how the speaker is designed to last, so Sonos engineered a battery that could be swapped after around three years of use and software updates. We heard how Sonos worked on powerful antennas to keep Wi-Fi reliable. We heard about the iterations of colors until they found one that had the most appeal, could withstand UV rays, and wouldn't look dirty.
That includes the dock itself which is used to charge the Move. Sonos said without a dock, users would set the speaker down right next to the charger but wouldn't go the extra step of plugging it in unless necessary. The dock was also designed to automatically align the speaker so that when it was placed, even haphazardly, it would settle correctly and charge.
Sonos also spent substantial time on protecting the Move. During the demo, journalists were invited to torture several different Moves with various scenarios such as a dust chamber, a water chamber, and a drop test. As far as ratings go, the Move has earned an IP56 designation which means it can keep out most dust and can withstand water jets from any direction though it can't be submerged underwater.
We were told that users could inadvertently leave Move outside overnight in the rain and it would still be undamaged by morning.
Sonos Move is a big step for the speaker maker, finally venturing outside the home. It has built upon its roots and expertise creating a powerful, portable speaker. We are eager to further test the Move for ourselves in our environment, but what we saw — and heard — left us eager to listen more.
Sonos Port
The second product announced is the new Sonos Port, the successor to the Sonos Connect.
It was upgraded with AirPlay 2 support and will allow users to play their favorite audio to their existing amplified audio equipment.
There is line-in to connect CD or vinyl players to the Sonos system as well. The new design allows it to be rack-mounted, beneficial for commercial installations. An added 12V trigger can also be used to turn on an external amplifier.
Sonos One SL
Lastly, we have the Sonos One SL. It looks and sounds exactly like the Sonos One, just without the array of microphones on top. There are no microphones on this device, which also means no smart assistant. For privacy-focused individuals, this is an option that gives you Sonos sound without the compromise.
Otherwise, it is the same as the Sonos One with dual class-D amps, a tweeter, and a mid-range woofer. Controls are on the top and a 10/100 ethernet port is around back.
Availabiilty
Sonos Move will be available starting September 24 for $399. Sonos One SL is available starting September 12 for $179, and Sonos Port is available September 12 for $399.