Seventh-generation iPad teardown reveals 3GB RAM, same battery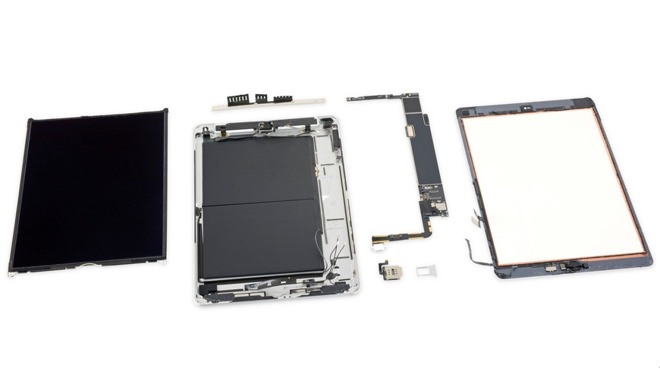 AppleInsider may earn an affiliate commission on purchases made through links on our site.
The seventh-generation iPad has 3 gigabytes of memory, a teardown of the latest model of the tablet reveals, but despite being physically larger than its predecessor to accommodate the larger 10.2-inch display, the iPad uses the same-capacity battery as the previous version.
Launched on September 10 and just shipping to stores, the 10.2-inch iPad boasts a larger display and an A10 Fusion processor with Apple Pencil support. However, the customary teardown by iFixit suggests the construction of the device doesn't have any major changes from earlier variants.
Opening up the iPad offers no major surprises, with glue used to hold the display in place with the rest of the casing. The glass does separate cleanly from the rest of the display, which means that a repair of that component will be cheaper than those using laminated panels — but with an air gap. The digitizer panel does consolidate some cables, making it easier to take out with a lower chance of damaging connections.
The battery is labeled A1484, and is said to have a capacity of 32.9Wh, which the firm claims is the same battery as the last two iPad generations. Even though the case is physically larger, the iPad's battery has not been sized up to take advantage of any extra space.
The new smart connector is glued in place to the casing, though due to its functionality and lack of moving parts, a replacement is deemed unlikely.
The seventh-generation iPad has been given a "repairability" score of 2 out of a possible 10. While it is praised for using a non-laminated and separately-replaceable cover glass and LCD, the use of a Lightning port soldered to the logic board and the high use of a strong adhesive works against the score.