Review: Anova Nano sous vide stick is a great iPhone-connected cooking gadget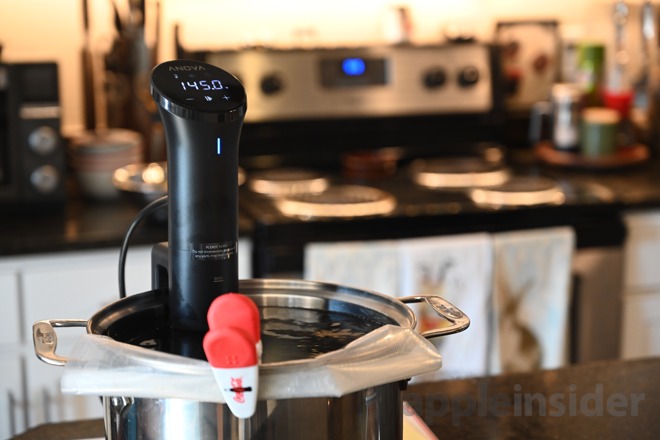 Anova Precision Cooker Nano
4.0 / 5
---
AppleInsider may earn an affiliate commission on purchases made through links on our site.
The Anova Precision Cooker Nano is a fun, techy, and precise way took cook everything from creme brulee to steaks with your iPhone as your sous chef.
Sous-vide?
Sous-vide for the uninitiated, is a style of cooking where the food is immersed in a very precisely controlled water bath for between one and seven hours. The food is put into a vacuum-sealed bag, with its name being the french for "under vacuum."
The logic behind it is when a piece of meat is tossed on a grill or other high heat, by the time the dead center is cooked to the temperature you want, much of the rest is overcooked.

When a steak is cooked sous-vide, the entire steak will be a perfect 135-degrees from edge to edge. It can then be very quickly seared off in a flaming hot pan just to give the outside a char, as usually meat emerges from the water bath without the dark brown exterior, and relatively unappetizing without the extra step.
Other items, such as fish or creme brulee, can be difficult to cook on their own, while techniques like tempering chocolate can be tricky for the home cook. Sous-vide makes them all more approachable.
Previously, it used to be quite cost prohibitive for the amateur chef, but companies — such as Anova — have pioneered bringing it the technique to the domestic kitchen.
A newer iteration
The original Anova precision sous-vide machine was pricier and larger than the Nano, which has improved on both drastically. Nano is finally small enough to easily fit into a kitchen drawer without taking up much space.
Also, since we originally used the initial Anova machine, the app has improved significantly, making it much easier to use and having a more modern appearance.
Anova has recently taken the wraps off a new high-end machine, designed for professional kitchens, but the Nano is squarely focused on the entry-level market.
Getting started
The Anova Precision Nano is a pretty simple device. It plugs into a power outlet, then clips right to the side of a pot or other large temperature-approved container. It often is used with a metal stock pot, though more insulated options are out there.
A slight line on the front identifies the maximum amount of water that can be in the container and a blue LED identifies its power state. Controls consist of a trio of touch-sensitive buttons that reside just below the display which provides the current and target temperature.
Needless to say, this can also be controlled via your smartphone.
Cooking with your iPhone
Using Bluetooth, the Anova Precision Nano can connect to your iPhone to make using the device even easier.
Say you are cooking dinner. In the Anova Culinary app, just choose the chicken breast and the app will let you know what the target temp should be and how long that will take.
Choosing one of the recipes, it also walks you through the entire process of making that dish, including integrating your Bluetooth sous-vide along the way.
Piece of meat such as steak are great because you can visually see the cook you are looking for — such as that mid-rare filet.
Within the app you can also add your own recipes, add favorites, and view your profile which has a history of your cooks, private, and public recipes.
Get cooking
We've been sous-vide fans for many years — before it got popular — and we've tried our fair-share of sous-vide devices. The Anova Precision Nano is a big step forward for the culinary device maker.
It is smaller, more efficient, and easy to use. The only complaint we have is that it is limited to only Bluetooth and to 750W, which means it is going to take a bit longer to get to temperature without adding hot water manually. The new pricier Anova Precision Cooker and the Precision Cooker Pro both offer higher wattages, as well as connecting over Wi-Fi, which effectively eliminates the Bluetooth range issue.
Rating: 4 out of 5
Pros
Entry-level price.
Easy to use
Better way to cook certain foods
Smaller than the original
Cons
Where to buy