Editorial: Following Fold fiasco, Samsung fields a flexible flip-phone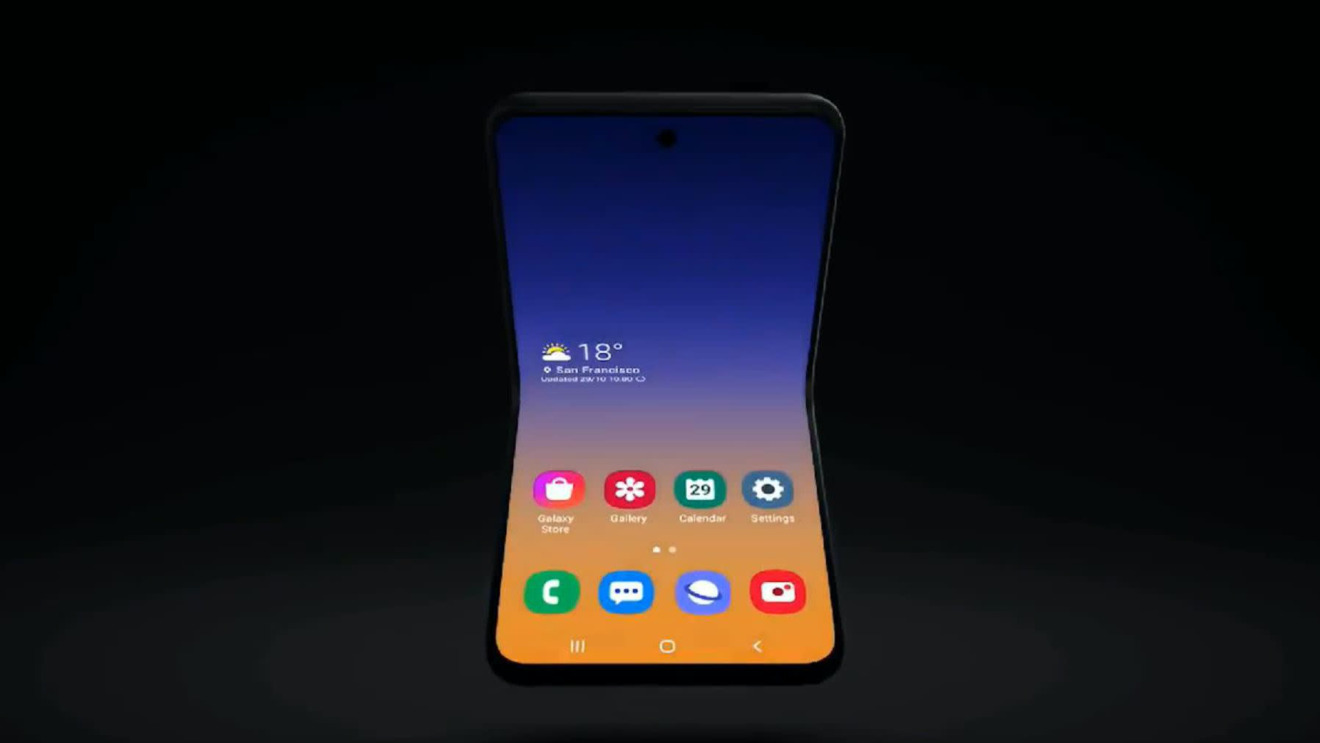 At its annual Samsung Developer Conference, Google's leading Android licensee is working hard to be taken seriously as a software platform vendor on its own, highlighting Bixby, SmartThings, a closer copying of Apple's iOS appearance, and new plans to license Tizen OS to other TV makers. Yet most of its attention is centered on a few seconds of a video depicting the concept of a flip-phone.
Given that Bixby and Tizen don't exactly get people excited, Samsung has sought to spice up its SDC press release with the tease that, "as promised at SDC last year, Samsung will continue to explore a range of new form factors in the foldable category."
This year's "exploration" isn't a new product unveiling, but rather takes the form of a Microsoft's Courier: an image of a prototype concept intended to distract from the lack of anything tangible to show. That's a bold strategy in competing with companies like Apple for the attention of third-party developers.
Apple set the bar rather high this summer at its own Worldwide Developer Conference with the introduction of Mac Pro, a workstation-class machine it demonstrated running real professional workflows in video, music, and photography, and which is intended to go on sale this year. It took three years for Samsung to deliver its "distinctive cylindrical body" clone of Apple's earlier 2013 Mac Pro.
After years of shamelessly establishing itself as knockoff brand modeling products after Apple, Samsung would like to be taken seriously as a designer of concepts and features that can stand on their own, and one that third parties might want to develop original products for so Samsung can be more than just a factory of commodity Android products.
Samsung RAZR
Samsung tweeted out a video clip from SDC depicting how its potential "new form factors" could be used to deliver a phone that folds differently from the original Galaxy Fold, turning into a square reminiscent of a $150 Motorola StarTac flip phone rather than folding outward into a $150 Android tablet.
The concept of a folding OLED flip-phone itself has already been floated by Lenovo, the Chinese company that bought the remains of a once-iconic American brand from Google. Lenovo reportedly plans to begin selling its Moto RAZR 4 this year, as an Android phone but one limited to displaying only a few internally developed apps on its folding screen, for $1.500. The concept was first floated in January.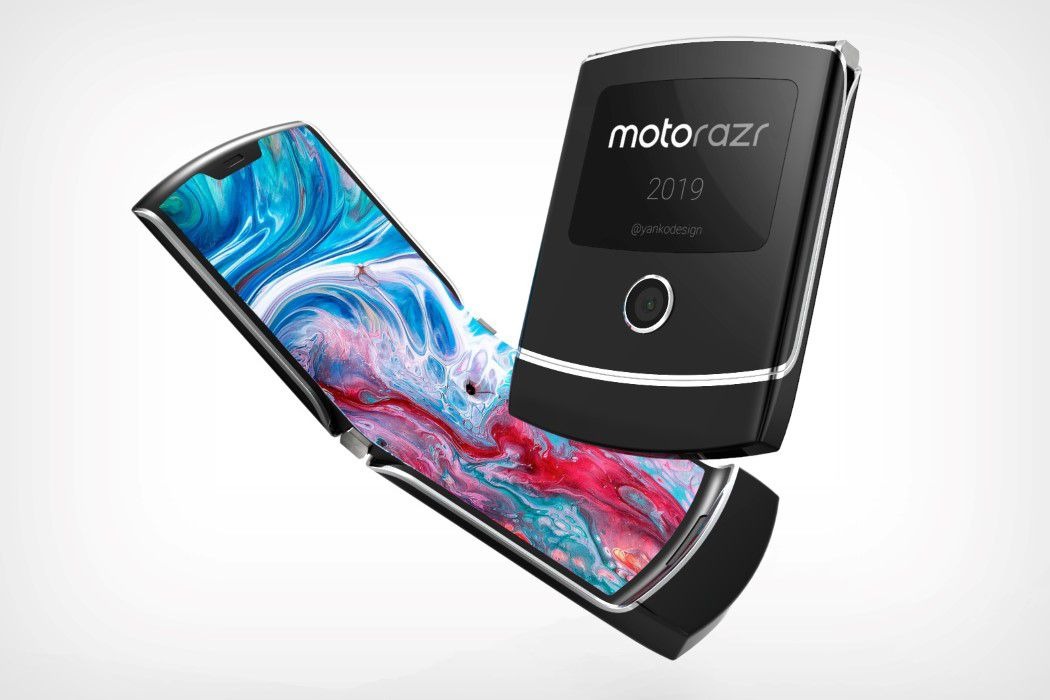 All these months later, Samsung didn't provide any real details on its own RAZR clone concept, and particularly no clues about things like price. The fact that the original Galaxy Fold converted an oddly proportioned, double-thick phone with a small external display into a tweener tablet for over $2,000 indicates that Samsung itself has no clue about realistic pricing.
However, the company also seems to have a hard time inventing valuable use-case scenarios. Samsung's best depiction of a demonstrable use for its latest folding screen concept presents it as a way to turn a standard iPhone-type handset converting from a full screen camera into a bent-over, self-standing clamshell using less than half of the screen to show a much smaller video, with a huge black bezel wasting most of the display.
It even thoughtfully moves the in-screen camera punch hole from the bezel area into the tiny remaining space, where it obscures the subject. Somebody made this video clip on purpose, to show to an audience of developers how Samsung explores product ideas.
But is that also worth something like $2,000, given that the hinging mechanism would also complicate its design and eliminate much of the internal volume available to house its battery?
Samsung isn't ready to say yet. That hesitancy could be related to the disappointment already stoked this year by the original Fold, perhaps the biggest incineration of goodwill Samsung has sustained since the Galaxy Note 7 burst into fame, mostly in warnings voiced by airlines not to dare carry it aboard their planes.
The Galaxy flip flop
In April, Samsung launched Galaxy Fold as a device designed to showcase the component firms' progress in developing advanced OLED panels capable of operating as a live display even while being distorted into new shapes.
Samsung had previously used its flexible OLED technology in the 2014 Galaxy S6 Edge, which bent its display around the side, creating a "waterfall" that made for an interesting-looking device that survived for a couple of years as a premium-priced Edge model of its Galaxy S flagships.
Sales of Samsung's flexible OLED panels gained greater success with Apple's use of the technology to create 2017's iPhone X, which folded the flexible display to deliver an edge-to-edge screen with rounded corners and distinctive, live display "ears" that extended around its TrueDepth camera "notch." That design has helped to make Apple's most expensive models popular, high volume sellers over the past three years, boosting the iPhone supplier's revenues by 24% even as Samsung also struggled to find other customers for its flexible OLED panels.
After two years of iPhone X and iPhone XS stealing the limelight of its flexible OLED technology, Samsung hoped its Galaxy Flip could provide it with an iconic design of its own that could help set it apart from its primary mid-tier Android competitors in China. But the company's concept bombed at launch when it became clear that the device couldn't stand up to real-world use for more than a day or two without self-destructing, a serious problem for device priced above $2,000.
Galaxy Fouled
After spectacularly face-planting with the revoked introduction of its initial batch of rapidly disintegrating Galaxy Folds, Samsung has since tried to walk it off, insisting in its developer conference press release that "with the launch of Galaxy Fold, Samsung designed a first-of-its kind mobile experience that is much more than a foldable device."
But Galaxy Flip was not "much more than a foldable device." It was a one-trick product gimmick that was impractical as a tablet, playing back video only in a weird strip centered on its crease. Folded up as a phone, it was oddly narrow and stupidly thick, resulting in a product that made no sense to anyone apart bloggers seeking to forward a narrative that Samsung was good at "innovating" rather than simply being really bad at knowing what consumer audiences want and are willing to pay for on its own.
The company is now pretending as if Galaxy Fold was an amazing success, insisting in its SDC PR that "Samsung, alongside hundreds of developers and partners, created an entire foldable ecosystem that continues to grow and opens up new possibilities to the mobile experience."
That's not a compelling way to court the attention of developers.