Afterburner card is a $2,000 add-on for the Mac Pro, and wheels are $400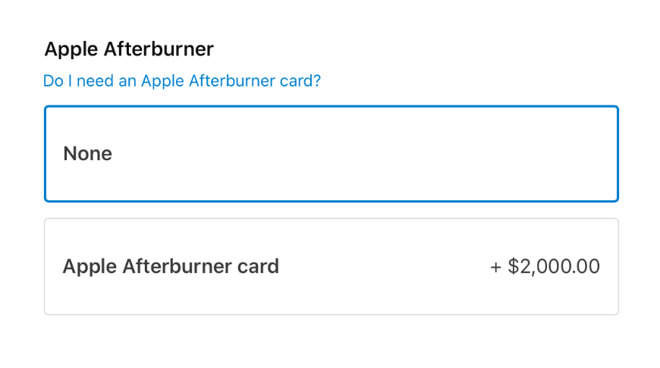 AppleInsider may earn an affiliate commission on purchases made through links on our site.
The Afterburner card, an optional add-on for the Mac Pro that helps improve the video-editing experience, is priced at $2,000 when ordered preinstalled in the new modular Mac workstation. And, then, there's the $400 wheels.
Found in the just-launched ordering process for the new Mac Pro, the section to add an Apple Afterburner card gives customers the option to add the card to their configuration. Selecting to include the Afterburner in the Mac Pro is a $2,000 add-on, making it an expensive addition with a relatively limited feature set.
An Apple Store page reveals it will be available to purchase separately, at the same $2,000 cost.
The Afterburner card was revealed at the launch of the new Mac Pro as a way to make the workstation even better for video editing. Technically a Field Programmable Gate Array (FPGA) or a programmable Application-Specific Integrated Circuit (ASIC), the card is made to run one task at a very high performance, in this case by effectively performing a transcoding process.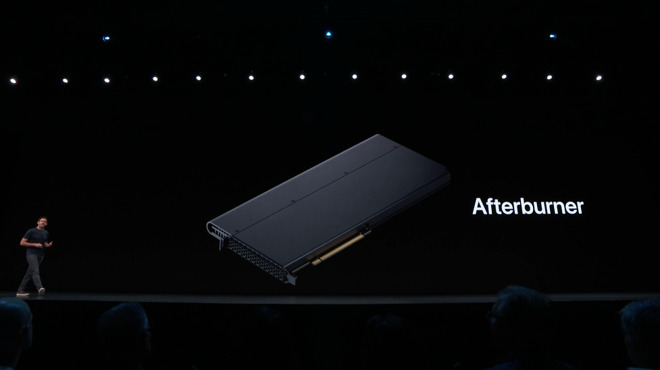 Apple's Afterburner includes over a million logic cells, allowing it process up to 6.3 billion pixels per second. It is designed to handle the encoding and decoding of ProRes and ProRes RAW codecs for Final Cut Pro X and QuickTime Player X, along with some third-party applications, and are typically used only in video production.
According to the ordering page, the Afterburner will be preinstalled in PCI Express slot 5 (x16) "to enable maximum performance."
The limited abilities of the card means it also has a fairly small audience involved in video production, making it a tough buy for industries that don't use video. However there is also the possibility Apple could offer to make changes to the card to allow it to be used for other specific tasks in the future, as it already has the opportunity to improve the card's performance for video tasks via firmware updates.
Mac Pro wheels
While $2000 appears to be a lot of money for an add-on card, at least it adds productivity to the computer. If you want Apple's promised frame with wheels to move the workstation from one desk to another, that retails for an additional $400.