CES 2020: Best of hardware, peripherals, and Mac accessories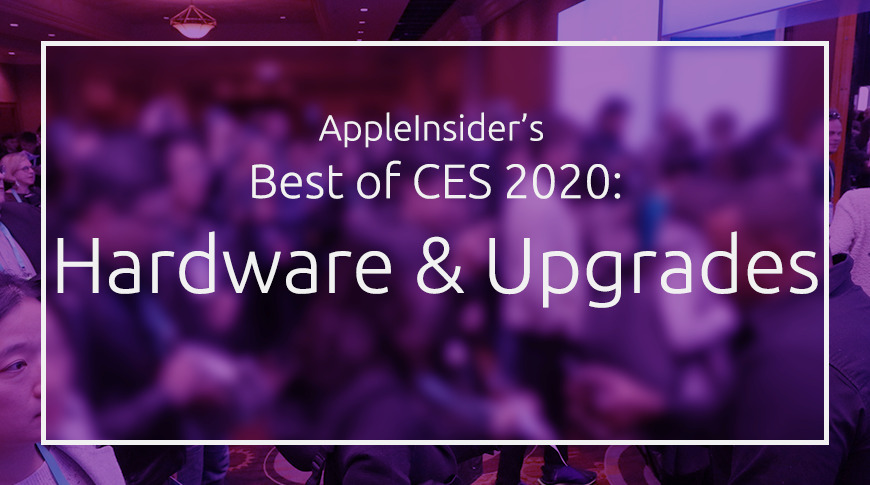 If your Mac needs a bit of a boost, there are ways to add features without resorting to buying a whole new desktop or notebook. AppleInsider lists some of the bigger upgrades for your Mac launched at this year's CES.
Akitio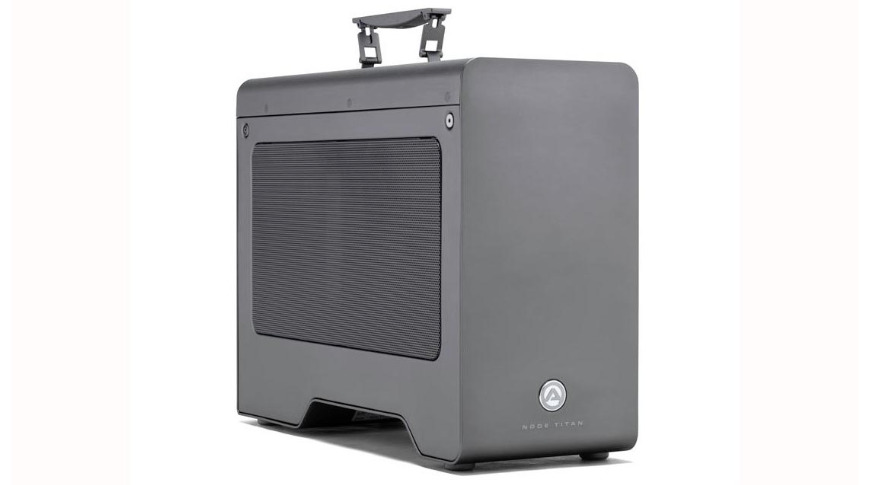 The Akitio Node Titan is an eGPU enclosure that connects to a MacBook or Mac via Thunderbolt 3. Like others in the series, the enclosure is able to hold a double-width graphics card and enable it to be used on a host device, with the card able to be installed and the internals accessible without using tools.
Able to connect at up to 40GB/s, the unit includes a 650-watt power supply, which also provides up to 85 watts of power delivery for recharging a connected device. The available power allows it to work with more power-hungry cards, including the AMD Radeon RX Vega 64, while its plug-and-play nature will allow it to quickly get up and running on either Windows or Mac systems.
Pricing and specifications for the model have yet to be confirmed outside of its basic details, though it will be available in the first quarter of 2020 from MacSales.com.
Lenovo
The Lenovo Legion BoostStation is a gaming-focused eGPU intended to give more power to notebooks in the manufacturer's range. The compact enclosure, which uses a cool aluminum body with a transparent side panel, is a relatively lightweight version that weighs in at just under 19 pounds, excluding the graphics card.
Using a tool-less construction for easy installation of a graphics card, the device includes drawers that can be pulled out by hand. Along with the Thunderbolt 3 connection, it also features two USB 3.1 ports, one USB 2.0, audio connections, HDMI, and a gigabit-speed network port, along with a rear-mounted handle.
Compatible with both Nvidia GeForce and AMD Radeon GPUs and using a 500W power supply, it also is capable of power delivery of up to 100 watts. There is also space for an extra 3.5-inch or 2.5-inch SATA drive, which will provide alternative storage options.
Shipping in May, the Lenovo Legion BoostStation eGPU enclosure will start at $249.99 for the case alone, but it will also be offered with options to include an Nvidia GeForce RTX2600 or AMD Radeon RX 5700 XT GPU, with pricing for the bundles yet to be determined.
Plugable
The Plugable TBT3-UDZ Thunderbolt 3 and USB-C Docking Station is a one-stop shot for connectivity, providing a wide array of additional connections for MacBook and Mac users. The unit has a total of 14 ports available to use, making it extremely versatile.
On the unit, there are 7 USB ports, including five USB 3.0 connections on the back and two USB 3.2 Gen 2 ports at the front, with one including BC 1.2 charging support. Also included is a combination audio input and output port, SD and microSD card slots, and a gigabit network port.
Two DisplayPort 1.4 or HDMI 2.0 connections are also provided, allowing up to two 4K displays to be run through the dock without requiring additional adapters. Lastly, it offers up to 100W of power delivery, enabling it to provide power to recharge a MacBook Pro.
Plugable is shipping the dock in the spring, priced at $299.
Wacom
Wacom has announced the Wacom One, a budget-friendly creative pen display. An alternative to the higher-priced Cintiq, the Wacom One is geared toward creative beginners and those who aren't ready to spend a ton of money just yet.
The Wacom One features a pressure-sensitive pen that doesn't require a battery or recharging. Additionally, digital pens by Staedtler and Lamy can be used with the Wacom One display.
The display itself iOS a 1920 x 1080 full HD and offers 72% of NTSC color and is coated in a paper-like, anti-glare film. The small design — comparable to an iPad Pro — makes it easier for it to fit into small workspaces. It also includes an adjustable stand so users can find the ideal angle for drawing, painting, writing, and editing.
When purchased, the Wacom One gives users a beginner software bundle, including a six-month free subscription of Clip Studio Paint Pro and Wacom's Bamboo Paper.
The Wacom One is compatible with Mac, Windows, and select Android operating systems and is available to purchase from Amazon for $459.25 or directly from Wacom for $399.