Review: Samsung T7 Touch SSD builds upon the T5 in every way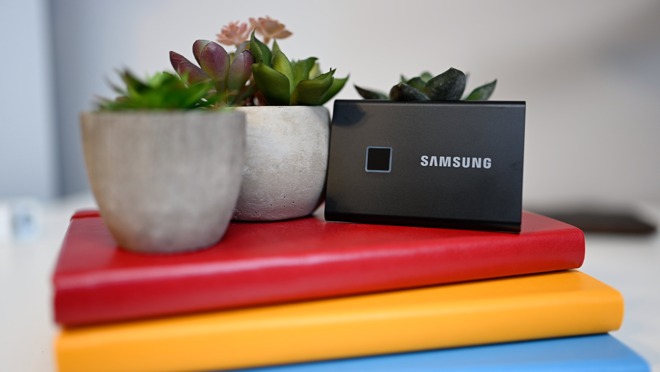 AppleInsider may earn an affiliate commission on purchases made through links on our site.
Samsung's T-lineup portable media has been increasingly popular over the years. Most recently, the T5 has been the go-to choice for those who need reliable, compact, fast portable storage. The T7 Touch builds on that, improving in nearly every way possible.
We've been eagerly awaiting the successor to the T5 for some time now, and after a reveal at CES 2020, we finally were able to get our hands on it. As photographers and videographers, we edit a lot of media, often on the go. It's because of that that portable drives such as the T5 have become mainstays in our gear bag. We tend to gravitate towards drives that are very reliable, compact, fast, and easy to use. if they are ultra-durable, that's even better.
Design
Samsung has once more borrowed the look and feel of its previous generation T drive for the new T7 and T7 Touch. The outside is an extruded anodized aluminum frame with plastic end caps on either side. Samsung is basically known for its sleek appearance at this point.
Compared to the previous generation T5, the T7 is significantly slimmer but it slightly longer. We prefer this new design because the slimmer profile more easily fits into our pockets — whether they are on our pants or in our bag.
The T7 is slightly heftier at 58 grams versus 51 grams of the T5, but unless held simultaneously, we'd never know.
Included in the box is both a USB-C to USB-C cable as well as a second USB-C to USB-A cable. This adds a degree of backward compatibility but still keeps USB-C on the device itself. The cables also feel very durable though they lack the integrated hook and loop organizers that the previous generation included.
There are two versions of the T7 drive. First launching is the T7 Touch which builds a fingerprint sensor right into the top of the drive itself. Follow close behind will be the normal T7 which lacks the fingerprint sensor.
Performance
For the performance of the drive, normally we would look at just the actual read and write performance of a drive. With the T7 Touch, we also want to look at the performance of the security features such as the fingerprint sensor.
Starting with the SSD performance. The T7 uses the USB 3.2 Gen 2 spec which can top out at 20 gigabits per second. Samsung has also moved from a SATA drive to a faster NVMe module. This could nearly double the performance of the T5 in theory. Both offer AES 256 encryption for the device's contents.
In our testing using the Blackmagic Desk Speed Test, we saw read speeds of 886 MB/s and write speeds of 809 MB/s. That is quite a bit higher than the 519 MB/s and 476 MB/s we saw on our T5 — which makes sense, given the faster USB bus.
You can password protect both the T7 and T7 Touch with a password and AES 256 encryption but the T7 Touch is the one capable of authenticating via fingerprint as well. A fingerprint sensor sounds like a great idea, but if it is confusing or slow its going to be more of a hindrance than a feature.
For the first time, configuring the drive is done using setup app for Android, Mac, or PC. You have the option of using no security, a password, or a password and a fingerprint. Assuming you chose the last option, it walks you through the fingerprint enrollment process which feels very much like setting up Touch ID.
If you connect the fingerprint-protected drive into a device, it will first need to be unlocked by password (if possible) or by using an enrolled fingerprint. Up to four fingerprints can be stored for use in shared environments like an office or a home.
We connected ours to our iPad Pro, though the process is the same regardless of host device. When we first connected it, the drive was locked and a read-only partition is displayed with the SSD's accompanying applications stored. We then touched the fingerprint sensor with our finger after which the drive authenticated, unlocked, flashed the Motion LED, and showed up again on our iPad Pro with access to all of our files granted.
In our testing, the reader was fast and reliable. The Motion LED would slowly flash waiting for us to unlock the drive as we plugged it in. It was very quick to read our fingerprint and provide access to the drive's contents. If you use a very strong password, coupled with this, this is a very convenient way to use this drive and move it around.
Should you buy it?
The T7 and T7 Touch build on the T5 and improve in nearly every way. It is thinner, it is faster, and it is even more secure. With the T5 being so popular it is no doubt that the T7 Touch and the standard T7 will be equally as popular with users.
If we had any aspect whatsoever that we'd like to see change with the T7 it is an exterior that is more rugged and that won't possibly damage any of our other gear.
Even this is a hard sell because the outside of the T7 looks fantastic and is fairly iconic. But other drives such as the Tuff Rugged and LaCie Rugged SSD have similar form factors with silicone bumpers or exteriors. If you are keeping this in an office, the looks of the T7 may win over the durability and less streamlined appearance of the competition.
Near double T5 speeds
USB-C and USB-A cables included
Fingerprint sensor is fast
AES-256 encryption
Small footprint
Aluminum can scratch and be scratched
Only stores four fingerprints
Limited color options at launch
Rating: 4.5 out of 5
Where to buy
The Samsung T7 Touch is will be available from Samsung starting at $129.99 and is currently avaiable on Amazon. It comes in both black and silver finishes. The T7 will launch around Q2 2020.
| | T5 SSD | T7 Touch SSD |
| --- | --- | --- |
| Capacities | 250GB, 500GB, 1TB, 2TB | 500GB, 1TB, 2TB |
| USB Spec | USB 3.1 Gen 2 | USB 3.2 Gen 2 |
| Connector | USB-C | USB-C |
| Max transfer speeds | 540 MB/s | 1050 MB/s |
| Depth, Width, Height | 74 x 57.3 x 10.5 mm | 85 x 57 x 8 mm |
| Weight | 51 grams | 58 grams |
| Encryption | AES-256 | AES-256 |
| Password Authentication | Yes | Yes |
| Fingerprint Authentication | No | Yes |
| Warranty | 3 Year | 3 Year |