'Find my' app helps bust sex trafficker & more in the Apple crime blotter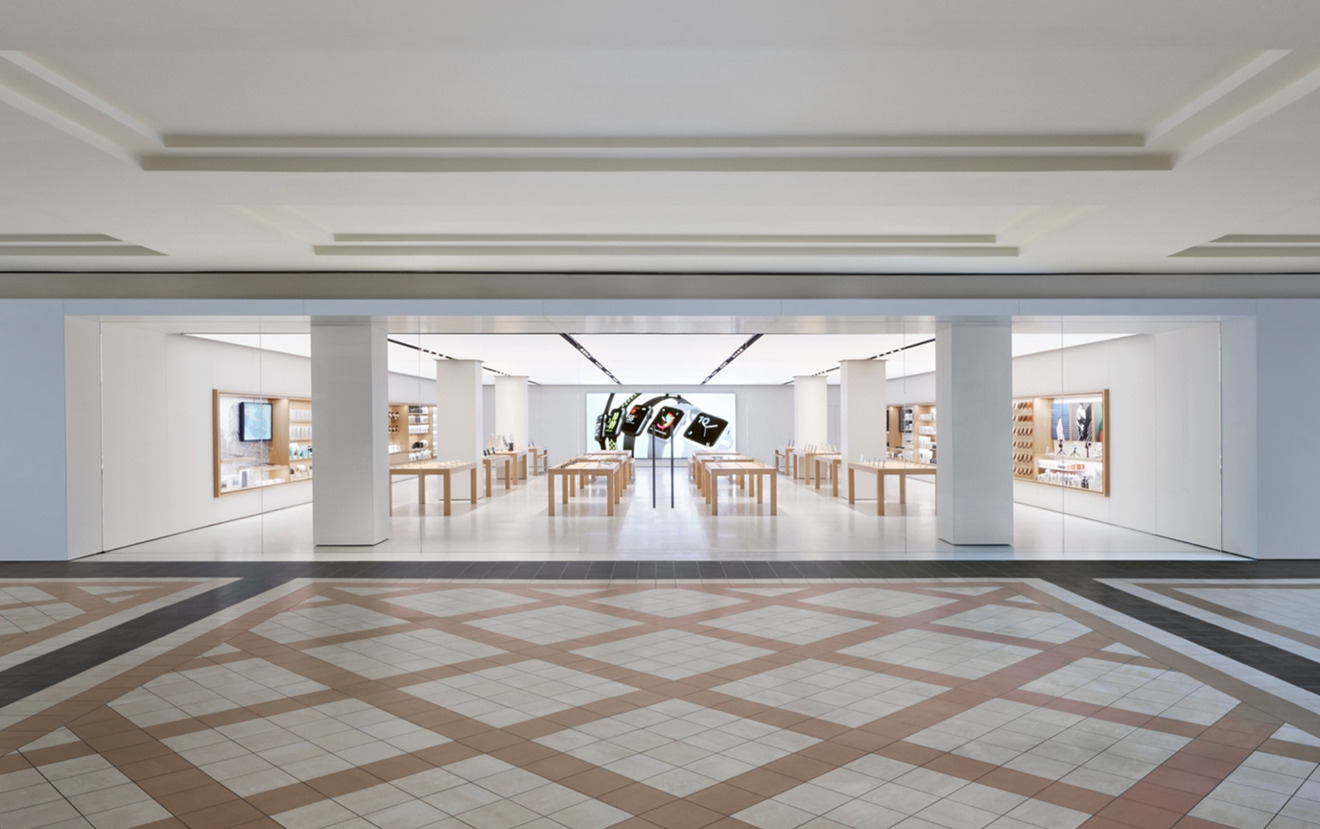 AppleInsider is supported by its audience and may earn commission as an Amazon Associate and affiliate partner on qualifying purchases. These affiliate partnerships do not influence our editorial content.
Two huge Apple Store thefts in Milwaukee, Apple's "Find My" app leads to a sex trafficker, thousands of iPhone screens taken, and a stolen iPad found among other eclectic items — all this week in the Apple Crime Blotter.
The Mayfair Mall Apple Store in Wisconsin
The latest in an occasional AppleInsider series examining the world of Apple-related crime.
iPhone and iPad theft scheme also involved manager's kidnapping
According to ABC News 4, police say the two suspects kidnapped the manager at gunpoint from outside his home, drove him to the store, and forced him to let them in. At that point they stole 50 iPhones, 8 Apple Watches, 15 iPads, and $1,500 cash. The manager was unharmed and informed police that one of the stolen phones was equipped with a tracker, which they used to apprehend the suspects.
$25,000 in items stolen from Milwaukee Apple Stores
A trio of thieves reportedly stole more than $25,000 in items from two Apple Stores in the Milwaukee area at the end of January. According to The Milwaukee Journal-Sentinel, the thefts at the Mayfair Mall and Bayshore locations took place only 30 minutes apart. The first theft netted 17 Apple watches, 14 Apple magic trackpads, and one Apple pencil while the second included eight Apple watches, nine Apple pencils, four Apple Airpods and five Apple magic trackpads.
Video has been released by police of the Mayfair theft.
Apple Watches, Apple Pencils taken from Tennessee Apple Store
Stolen iPad found along with vintage newspaper and other items
A car was pulled over last week by state troopers in Indiana, who discovered a wide variety of stolen items. According to BND, the items included an iPad, more than two dozen credit and debit cards, drug paraphernalia, autographed footballs, and a newspaper from the day after the 1963 assassination of President John F. Kennedy.
Police are working to return the items to their rightful owners.
Feud between activists, farmers includes taking of iPhone and cow
A long-running dispute between the owners of a Maryland farm and a group of animal-rights activists from Virginia has led to escalating criminal charges between the farm and the activists. According to The Baltimore Sun, one of the activists has been charged with both second-degree assault and a fourth-degree sexual offense. On top of that, the girlfriend of the farmer has been accused of stealing the iPhone of one of the activists and damaging her car.
The dispute dates back to 2019, when another member of the animal liberation group pled guilty to stealing a cow from the farm and moving it to an animal sanctuary called Life With Pigs.
"Tens of thousands" worth of iPhone screens stolen from U.K. distributor
Mobio Distribution, a U.K.-based distributor of mobile parts, suffered a major theft of iPhone screens from its location in Banbury. According to Mobile News, the company's co-director described the loss from the theft as "into the tens of thousands," and added that the thieves appeared to have targeted screens specifically and left other items alone.
Find My iPhone led to arrest of man accused of sex trafficking
A man indicted on federal charges that he coerced his girlfriend to drug and rob men over the course of four years — one of whom died — was caught after one of their victims used Find My iPhone.
According to the Justice Department press release, Randy Jonal Schenck was charged on 12 counts, including sex trafficking by force, fraud and coercion, transportation of an individual to engage in prostitution and aggravated identity theft. The Associated Press reported that Schenck was arrested at a hotel in Georgia after a victim, who had multiple smartphones stolen, used Find My iPhone to track him.
Restaurant burglaries lead to three years in prison
Elsewhere in Georgia, another accused thief is headed to prison, also thanks to tracking of an Apple device that he stole. According to The Press Herald, a 54-year-old man has pled guilty to a series of restaurant burglaries in the Augusta area. In one of the thefts, the man took an iPad which contained a tracking device, leading police to a girlfriend to whom he had gifted the stolen device.
After pleading guilty to two counts of burglary, three counts of theft, and one count each of burglary of a motor vehicle and criminal mischief, the man was sentenced to three years in prison.