Apple leaks new "iPhone SE" coming soon in iPhone 8 form factor [u]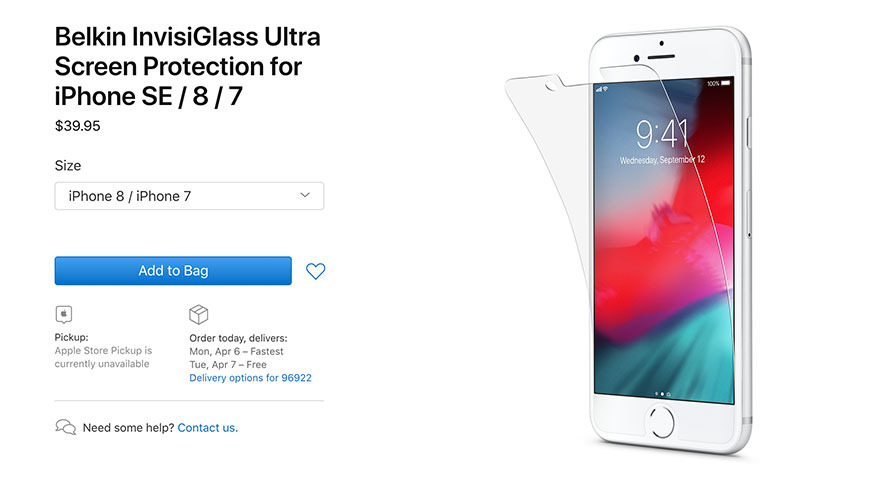 The Apple Store appears to have leaked the official name of Apple's next iPhone, as a listing for an iPhone 8 screen protector was updated on Thursday to reflect compatibility with "iPhone SE."
In what looks to be an update pushed out by Apple, the Belkin InvisiGlass Ultra screen protector now shows support for iPhone SE. Previously, the accessory noted compatibility with iPhone 8 and iPhone 7, according to a cached version of the webpage.
The change, if legitimate, falls in line with current rumors regarding the release of a more affordable handset that borrows its design from the 2-year-old iPhone 8. Whereas the original iPhone SE featured a 4-inch screen, Apple's iPhone 8 sports a 4.7-inch screen with earpiece, camera and Touch ID cutouts identical to that of iPhone 7.
For now, only the title of Belkin's screen protector has been updated, with purchasing options still limited to iPhone 7, 7 Plus, 8 and 8 Plus. Item descriptions should be updated with reference to iPhone SE once the device is announced.
Previously rumored to launch as a so-called "iPhone SE 2" or "iPhone 9," a report earlier today claimed Apple plans to carry over the "iPhone SE" branding and refer the device as a 2020 model. The affordable smartphone could launch as soon as Friday in a trio of color options and storage configurations up to 256GB, the report said, a claim backed up by the updated Apple Store page.
Targeting cost-conscious consumers, the alleged next-generation iPhone SE is expected to pair iPhone 8's recycled chassis with contemporary innards like an A13 Bionic processor and improved communications suite.
Update: Mention of iPhone SE compatibility has been removed, though the page remains active.