Review: Moshi iongo 5K duo is the best portable charger for a night out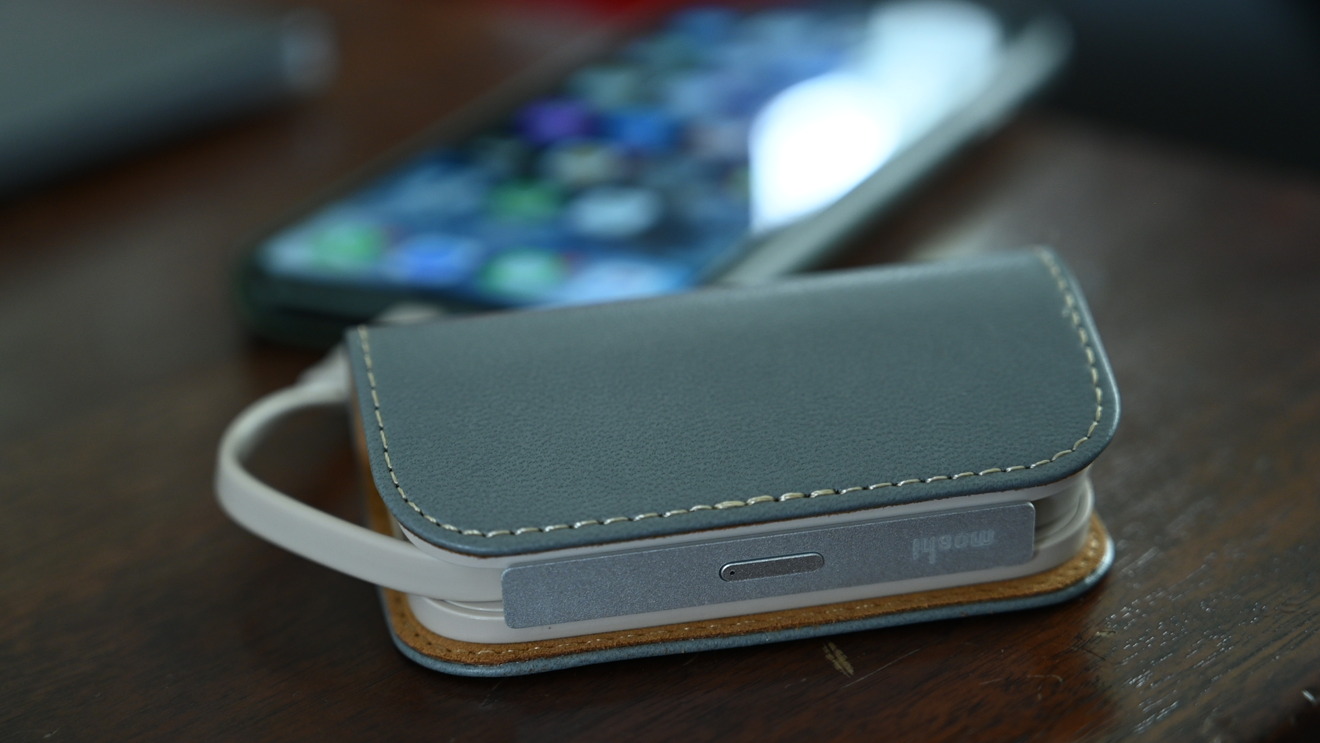 AppleInsider is supported by its audience and may earn commission as an Amazon Associate and affiliate partner on qualifying purchases. These affiliate partnerships do not influence our editorial content.
Moshi's iongo 5K duo debuted at CES 2020 and is now hitting the market as an exceptional portable charging system for iPhone — complete with integrated USB-C and Lightning cable.
A new portable battery
Portable batteries seem to be a necessity these days. Rather than opting for a cold, metal box, Moshi is trying to bring some life back to the everyday accessory.
The iongo 5K duo is a small, palm-sized device that integrates a capable 5,000mAh battery, an MFi-certified Lightning cable, and a USB-C cable.
It doesn't look much like your normal battery. It is slightly tapered and slightly beige in color, with soft, vegan leather wrapping the entire thing, making it feel warm and personal to the touch.
That cover is magnetic and opens up to reveal the two integrated cables that are tucked within. The magnet is sufficiently strong, keeping the sturdy exterior in place.
The exterior faux leather has a soft but smooth finish while the interior is more suede-like.
An anodized aluminum bar sits on the front and bears the Moshi logo. It also houses the sole button which can be pressed to turn the battery on as well as check if there is a remaining charge still stored.
Powerful charging
Though this battery is small, it is powerful. Internally, it houses a 5,000mAh battery which is a bit on the small size if you are hoping to make it through a weekend, though it's more suited for a night out where it can nestle in your pocket without adding bulk.
As far as speeds, the iongo 5K duo can output up to 15W of power at once and supports Fast Charge on more recent iPhones. That means it can do a 50% charge in only 15 minutes.
If you have two devices — or you want to help top off a friend's device — the iongo 5K duo can charge both devices at once. One device charges over Lightning while the other does so over USB-C. That USB-C port also is used to recharge the iongo 5K duo between uses.
When the USB-C is plugged into power and the Lightning into your iPhone, it will bypass the internal battery to Fast Charge your iPhone first, then top off the battery itself.
The Moshi warranty
Moshi stands behind its products, and those aren't just words. Each Moshi product comes with a two-year warranty standard, but register the product and Moshi extends that to a ten-year global warranty.
The company guarantees a reply to warranty requests within two days and warranty replacements in two to three weeks.
Say this battery breaks down after eight years and you go to Moshi for service. If the device has long been discontinued, Moshi will repair, replace with a comparable product, or issue store credit (in that order) to make it right.
This really is unparalleled in the industry and such a good sign for the longevity of Moshi's products.
Should you buy the Moshi iongo 5K duo?
If you need a smaller battery pack that you can easily take with, Moshi's iongo 5K duo is an excellent option. It is very compact, has the cabled entirely integrated, and enough juice for sufficient power.
It is vegan-friendly with soft, protective faux leather, aluminum exterior, and is backed up by a ten-year warranty.
Our only concern is that should the cables break they can't easily be replaced, but with Moshi's warranty, we don't have to worry about this issue.
Simple, humanistic style
Wrapped in soft vegan leather
Integrated USB-C and MFi-certified Lightning cable
15W Apple Fast Charge support
5K mAh capacity
Can charge two devices at once
Industry-leading ten-year warranty
Cable can't be swapped
Apple users may not have many small USB-C devices to charge
5K mAh isn't enough for multiple charges
Cable can be short when charging from the wall
Rating: 4.5 out of 5
Where to buy
Pick up the Moshi Iongo 5K Duo 5000mAh battery with integrated Lightning and USB-C cables from Amazon for $74.95.