Logitech G launches new line of colorful gaming peripherals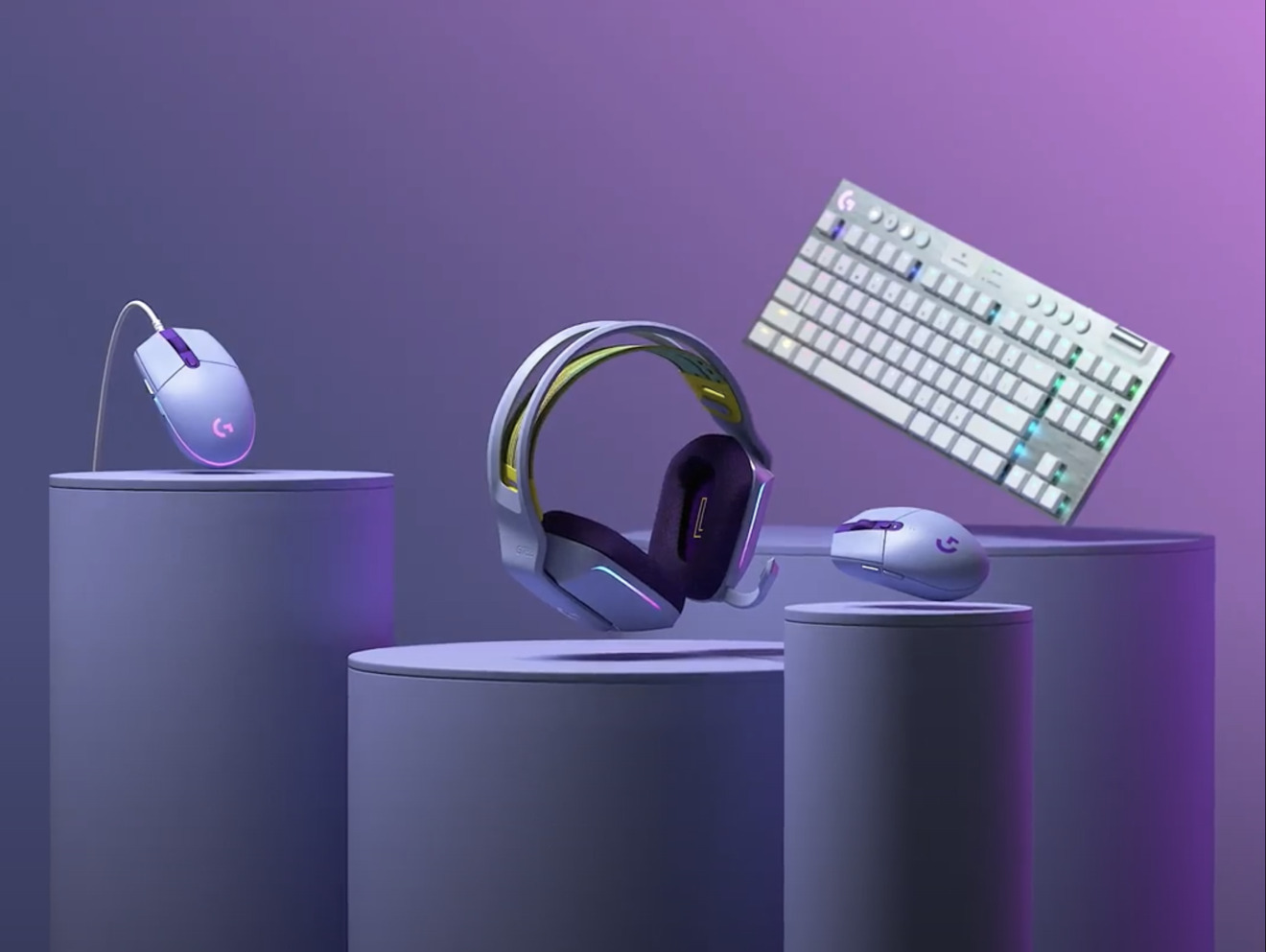 As the popularity of game streaming services continues to grow, Logitech G on Tuesday launched the Color Collection — a lineup of colorful gaming accessories that deviates from the traditional black-and-white norm.
In the world of gaming, most accessories launch in white, black, or perhaps grey with occasional accent colors. The Logitech G Color Collection launches with mice, a keyboard, and a wireless headset that all have a variety of colors available, as well as some other accessories to bring out your personal style.
"As gaming becomes a bigger part of pop culture, personal expression and style have become a huge part of a gamers' identity," said Ujesh Desai, general manager of Logitech G. "With that in mind we set out to design a collection of high-performance gaming gear in a fun and colorful way."
G733 Lightspeed Wireless Gaming Headset
The most notable of the new Color Collection is the G733 Lightspeed Wireless Gaming Headset. This 278 gram lightweight headset is a reliable, high quality gaming headset. You can game for up to 29 hours on a single charge and be up to 20 meters away from a host device.
It sports front-facing, dual-zone Lightsync RGB lighting that can be customized with more than 16 million colors. There is a detachable mic with Blue VO!CE technology that makes your voice sound richer, cleaner, and more professional.
It is available in White, Blue, Lilac and Black colorways. They also have reversible headbands that are color-coordinated with the headsets. Additional headbands are available for $9.99 apiece. There are mic covers as well that come in quirky colors and shapes such as a mustache, star, heart, lips, and a thumbs up. Those too will be available for $9.99.
The G733 gaming headsets will start shipping in September for $129. It will support Mac, PC, and PS4.
Gaming peripherals
Following the new headset are the G203 and G305 gaming mice and G915 TKL gaming keyboard.
The G203 is all about affordable, gaming-level performance. It is a wired mouse with a reliable six-button design that can be used out of the box or customized with Logitech G Hub software, which allows you to change the vibrant LED colors but also program the buttons to your preference.
It uses a gaming-grade sensor with adjustable tracking up to 8000 DPI for a high level of accuracy.
When it launches, the mouse will be available in Black, White, Blue and Lilac for $39.99.
The G305 is a higher-end gaming mouse with wireless connectivity. It is more capable with 400 IPS precision and sensitivity up to 12,000 DPI. Users can game for 250 hours at a 1ms report rate in Performance mode on a single AA battery. When switched to Endurance mode, it refreshes at 8ms and can last up to nine months.
This mouse is ultra lightweight, has hidden storage for the nano receiver, and is great for on your desk or on-the-go gaming. When it originally launched, it was available in white and black but is now available in blue and lilac as well.
Finally, the G915 TKL Keyboard is a full keyboard with directional arrow keys and no number pad — the perfect combination for gamers who rely on solid arrow keys but don't need the bulk of the number pad.
It offers three selections of low-profile GL switches and pro-grade 1ms Lightspeed wireless connectivity. On a single charge it can run over 40 hours of gameplay.
Like others in the lineup, it has fully customizable RGB colors that can be customized on a per-key basis. The lights can also react to in-game action, audio and screen color as you choose.
Logitech's G915 TKL keyboard is strong and durable with an aluminum top plate and storage for the nano receiver so that it can travel with you.
The G915 TKL Gaming Keyboard has been available, but the new tenkeyless design will retail for $229.99 in September in white and black.
Find all of the new Logitech G Color Collection on Logitech G's website.