KEF LS50 high-end speaker range promises low distortion, AirPlay 2 support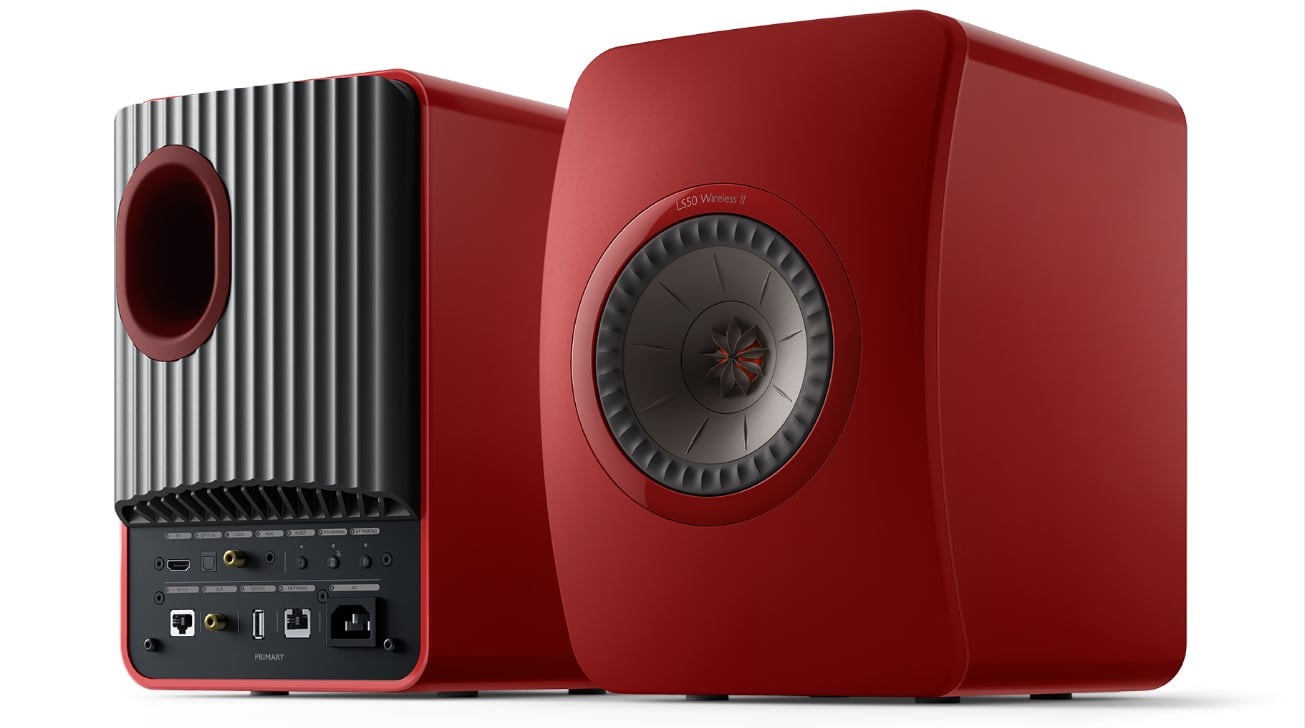 KEF has released a pair of high-end speakers in its LS50 Collection that are the first to use "Metamaterial Absorption Technology," with one model including support for AirPlay 2.
The KEF LS50 Meta and LS50 Wireless II are bookshelf and wireless hi-fi speakers that are upgraded versions of earlier models, with KEF claiming to have worked on the improvements over three years. The new models are high-powered and are said to be capable of creating an "authentic and natural sound," regardless of the content playing through them.
The headline change for both models is the use of Metamaterial Absorption Technology (MAT), a synthetic material that has a complex maze-like structure capable of absorbing 99% of unwanted sound emitted from the back of the driver. Its use results in a considerable reduction in distortion, beating traditional techniques that typically absorbs around 60% of the unwanted noise.
The LS50 Meta consists of a 12th-generation Uni-Q driver array, with a point source configuration that aims to deliver an even sound throughout the room. It consists of a 25mm high-frequency tweeter with a vented aluminum dome with MAT applied, accompanied by a 130mm aluminum cone woofer.
Capable of taking up to 100 watts of amplification, the speaker can output up to 106 decibels of sound. The use of a rigid cabinet helps to radiate sound without any further interference, with the use of a baffle produced from an injection-molded Dough Molding Compound usually used in the automotive industry, and further cross-bracing to deaden internal vibrations.
Accompanying the LS50 Meta, the LS50 Wireless II offers similar styling but with improved functionality. Housing a 100W class A/B amplifier for the tweeter and a 280W class D amplifier for the mid and bass driver, the speaker outputs a lot of power, and can do so at up to 108 decibels.
Connectivity options extend to cover HDMI eARC, optical, digital coaxial, and normal analog inputs, as well as Ethernet ports used to connect it directly to a network, as well as between speakers. The speakers can also connect wirelessly, with its built-in Bluetooth 4.2 and Wi-Fi 802.11ac support.
The speaker line network connectivity also brings compatibility with streaming services, including Spotify via Spotify Connect, Tidal, Amazon Music, Deezer, and others. AirPlay 2 is also available, allowing the system to work with other devices that support it, such as an Apple TV for a home cinema.
The LS50 Meta is now available, priced at $1,499.99 per pair, and offered in four finishes including Carbon Black, Titanium Gray, Mineral White, and a Royal Blue Special Edition.
The LS50 Wireless II will cost $2,499.99 per pair when it goes on sale on October 11, and will be offered in Carbon Black, Titanium Gray, Mineral White, and a Crimson Red Special Edition.
Bespoke S2 Floor Stands are also available in each of the speakers' color ranges, priced at $449.99 per pair.