Google Pay redesign streamlines payments, 'Plex' bank account integration coming in 2021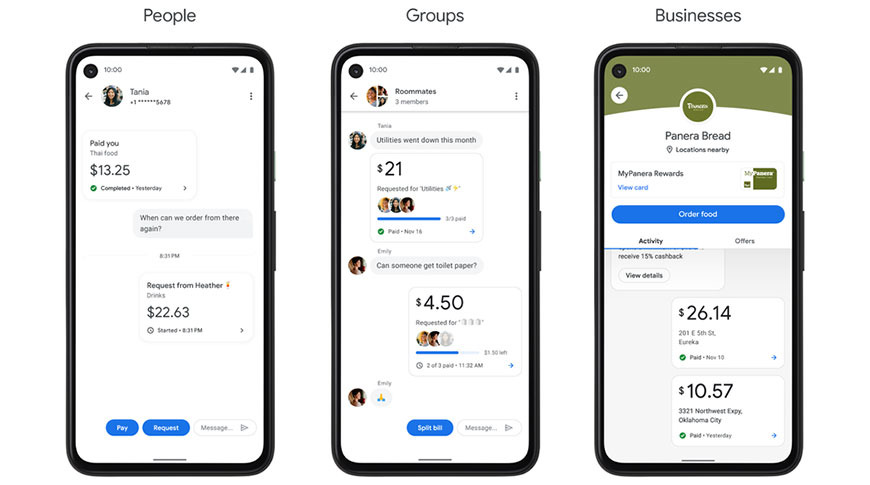 Google on Wednesday pushed out a major Google Pay redesign that streamlines the mobile payment experience while keeping transaction histories close at hand.
The latest version of Google Pay refocuses attention to relationships with people and businesses.
Instead of organizing payment options and past transactions in a typical card-style interface, Google Pay integrates that same data in messaging app-style conversations. The solution is similar to Apple Pay integration in Messages, but Google's design goes further by applying the UI language to businesses.
Google Pay's conversation format incorporates tools to create group payments, split bills and keep track of who paid what in line with messages to friends. The app can also be used at 100,000 restaurants, 30,000 gas stations and parking lots in 400 cities, with additional options on the way.
Business pages feature integrated promotions that can be claimed in-app and later applied to purchases in-store or online.
Similar to Apple Card, the new Google Pay enables users to track spending trends and insights by connecting bank accounts and cards. Algorithms automatically recognize purchases for organization by category, such as "food," "Mexican restaurants," time-based keywords and more. Users can also allow Google to use their transaction history to create a more personalized Google Pay experience, though the feature is optional.
Looking ahead, Google is working with financial institutions to create a mobile-first bank account dubbed Plex. Offered by banks and credit unions, Plex Accounts will support checking and savings accounts with no monthly fees, overdraft charges or minimum balance requirements.
Plex will integrate with 11 institutions when it rolls out in 2021. Those interested can join a waitlist in Google Play to be among the first to apply for account from Citi or SFCU.