OWC unveils Thunderbolt Hub with multiple Thunderbolt 3 ports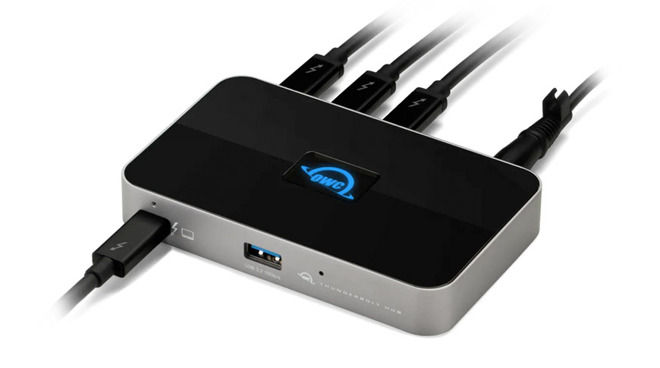 AppleInsider may earn an affiliate commission on purchases made through links on our site.
OWC's new Thunderbolt Hub is compatible with all Thunderbolt 3 Macs running Big Sur including the newly launched Apple Silicon Macs, and will give you three Thunderbolt 3 ports.
The hub comes with four Thunderbolt 3 ports, capable of 40Gb/s transfer speeds in total. In addition to data transfer, it offers up to 60 watts of charging power to keep your MacBook Air, or MacBook Pro charged up. While 60W is sufficient for simultaneously powering and charging the Apple Silicon MacBook Air and MacBook Pro, it is short of what the 16-inch MacBook Pro demands to run and charge the battery simultaneously.
OWC says that the Thunderbolt Hub allows users to connect up to two 4K displays or a single display up to 6K on compatible equipment. It will not allow you to exceed limitations on displays for any given monitor, however. So, in the case of any Apple Silicon Macs, it will still only support one display at 6K with 60Hz refresh.
It also includes a single USB-A (USB 3.2) port, allowing for transfer speeds of up to 10Gb/s, and allowing users to use legacy devices, dongles, and flash drives.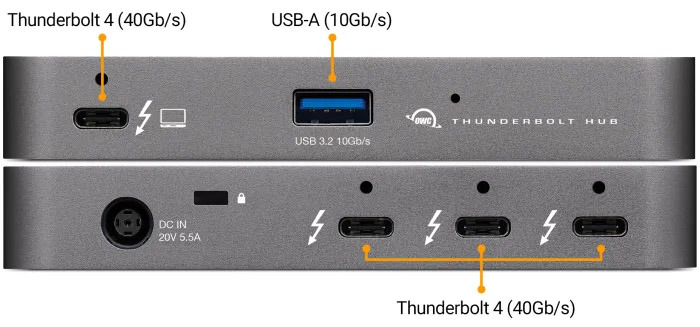 For those who are worried about leaving the device unattended, it includes a Kensington Nano slot, enabling users to secure the hub to a desk.
Included with the hub is a 2.5-foot Thunderbolt cable so users can quickly get the device up and running. AppleInsider has confirmed that the hub functions properly on Intel Macs with OWC — but only under macOS Big Sur.
The OWC Thunderbolt Hub is available for preorder from MacSales and costs $149. Orders are anticipated to ship in early December.