Anda Seat Dark Demon gaming chair review: an excellent seat, provided that you're tall enough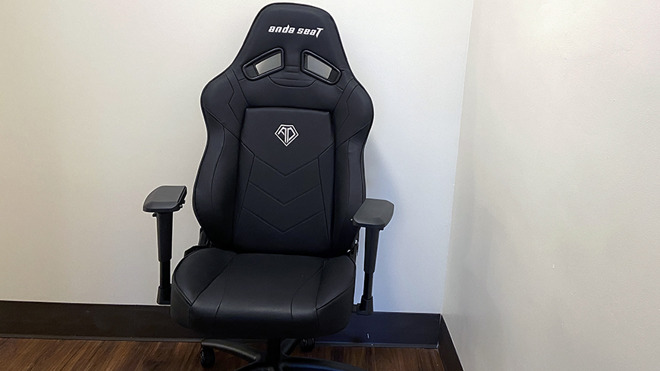 AppleInsider is supported by its audience and may earn commission as an Amazon Associate and affiliate partner on qualifying purchases. These affiliate partnerships do not influence our editorial content.
The Anda Seat Dark Demon gaming chair is a race car style chair that aims to offer comfort at home or at work, but it is more beneficial to taller and heavy-set users than for average-sized or more petite sitters.
For many of us, our computer works double-duty as both our place of work and a place of relaxation, which means our computer chairs tend to see a lot of use. Following that logic, it makes sense to invest in a computer chair the same way you'd invest in a mattress — after all, you're going to be spending a lot of time there.
Construction and setup
The Dark Demon gaming chair arrives unassembled and weighs nearly 70 pounds, so you may want to get a second person to help you assemble it. We were able to do it solo, though, and the setup only took about twenty minutes.
The instructions — should you need them — are easy to follow. The chair goes together smoothly and only requires two Allen wrenches, both of which are included in the kit.
If you're familiar with setting up other office flatpack furniture, this won't feel any different. It is heavier, though, so do keep that in mind.
The chair itself is made from heavy-duty materials and is rated to support up to 350 pounds. The legs and frame are made out of steel, and there are surprisingly few plastic parts anywhere in the chair.
The high-density foam is firm yet highly supportive. The back can be adjusted to up to a 160-degree recline, making it suitable for snagging a cat-nap should you want to.
Additionally, the armrests can be adjusted both horizontally and vertically, allowing you to customize the height at which your elbows rest.
The fabric on the chair is potentially our favorite part. It's a heavy-duty pleather that seems significantly thicker than other chairs we've used in the past. We suspect that this chair will last a very long time, even with heavy use.
Also included with the chair are two optional headrest and lumbar rest pillows.
Appearance
One of the problems with gaming chairs is that they're often designed with particularly striking accent colors or shapes, making them somewhat inappropriate for the workplace, depending on how strict your office is.
As far as gaming chairs go, this one is unassuming enough to blend into most offices. It still has a classic "race car seat" design that most gaming chairs have adopted, but with its all-black design and relatively unassuming adornments, it's not too showy for the office.
Sure, we're not a fan of the brand name being plastered on the headrest and pillows, but it's not too bad if you can look past that.
Function and comfort
During our testing, we were impressed with how high-quality the chair feels. It's easy to adjust it up and down, with about four inches between the lowest height — about 17 inches — and the tallest — 21 inches.
Adjusting the armrests, recline angle, and rocking tension are also extremely easy to do. Essentially, the chair is designed for you to custom tailor it to your fit.
And, for most people, you'll probably have no problem doing so. Most of our testers found the chair to be reasonably comfortable — especially those taller in stature. One tester who was 6'3 said that the chair was one of the most comfortable they'd ever sat in. While it took a little fussing to get the armrests in the perfect position, they were wholly impressed with the experience.
However, if you tend to be on the shorter-than-average size, this chair may pose a problem.
One tester, who stands a bit over 5'2, found the chair to be too much, as the extra-deep seat required them to sit uncomfortably far back to use it properly, putting abnormal pressure on the back of their legs. Additionally, they were unable to use the included lumbar or headrest pillow comfortably.
Regarding the lumbar and headrest pillows — we were not impressed with them, regardless of who tried to use them. The headrest pillow never seemed to hit where we needed to, and with its limited placement options, we found that every tester opted to take it off rather than use it.
The lumbar pillow was a good idea only if, for some reason, the user needed to recline the chair a little for it to be more comfortable.
Overall
The Anda Seat Dark Demon is a solid chair assuming that you're going to be the right size for it. The chair favors taller users, and for those who are often too tall for standard computer chairs, it may be the perfect solution.
However, for anyone who falls on the shorter side, you may not find this chair as comfortable due to the seat depth and position of the chair back.
If the Dark Demon sounds like the perfect chair for you, you can pick one up over on the Anda Seat website where they retail for $399, with free shipping.
Rating: 3.5 out of 5 stars
Heavy duty materials feel sturdy
Adjustable recline for chair back
Great for taller-than-average users
Back design is uncomfortable for shorter users
Exceptionally heavy, can be hard to assemble
Covered in brand logos