'Fortnite' firm Epic Games planned Apple App Store dispute for months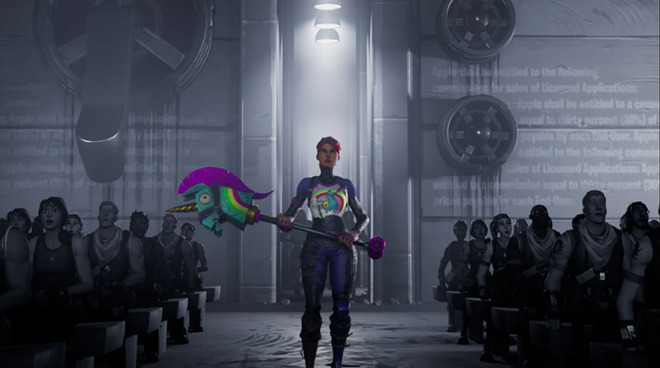 Tim Sweeney, CEO of "Fortnite" developer Epic Games, says he spent months planning "Project Liberty" before launching his fight against Apple's App Store rules.
The now long-running App Store dispute between Apple and Epic Games, maker of hit app Fortnite, was said to begin in August 2020. That was when Apple pulled the game for violating App Store rules, and Epic Games immediately ran a prepared "1984" ad parody. However, it's only now that the amount of planning that went into the dispute has been revealed.
According to CNN Business, Epic Games CEO Tim Sweeney has said that his company spent months on the battle plan. Alongside the parody video, the company pre-prepared a 60-page lawsuit, and also christened the whole endeavor as "Project Liberty."
"Epic's frustration with Apple especially, and Google to some extent, had been building up for at least three years," Sweeney told CNN Business. "Ever since Fortnite grew to have a large audience, we felt stifled by several things."
"I grew up in a time in which anybody could make software," he continued. Referring to his old Apple II computer behind him in the CNN video interview, he said that it was from a time when anyone could program.
"You turn it on and it comes up with a programming language prompt," he said. "So I felt all along that open platforms are the key to free markets and the future of computing."
Reportedly, Sweeney says that this is what the dispute with Apple is really about — free markets — instead of just not wanting Apple or Google to take its 30% cut. Sweeney is also willing to invest heavily to pursue what he describes as an attempt to change the whole software industry.
"We're still a highly independent company who's not beholden to public markets in which we have to show ever-increasing profits," he said. "And anything like a fight like this [with Apple and Google], which loses us money for a year or more, would never be tolerated. So we have the financial independence to do that."
Sweeney would not reveal what the dispute is costing in terms of legal fees, or of lost sales through the App Store and Google Play. However, he did say that the dispute with Apple was costing "lots and lots" of senior leadership time.
"Epic's problem is entirely self-inflicted and is in their power to resolve," Apple told CNN Business in a statement. "Epic has been one of the most successful developers on the App Store, growing into a multibillion dollar business that reaches millions of iOS customers around the world."
"We very much want to keep the company as part of the Apple Developer Program and their apps on the Store," continued Apple.
Google also responded saying that it would "welcome the opportunity" to resume talks about bringing "Fortnite" back to the Google Play store. But also, Epic wants Apple to ensure that it has "consistent policies that are fair to developers."
The dispute between Apple and Epic Games will go to trial in May 2021.