Master & Dynamic MW08 Sport review: Premium earbuds for your hardest workouts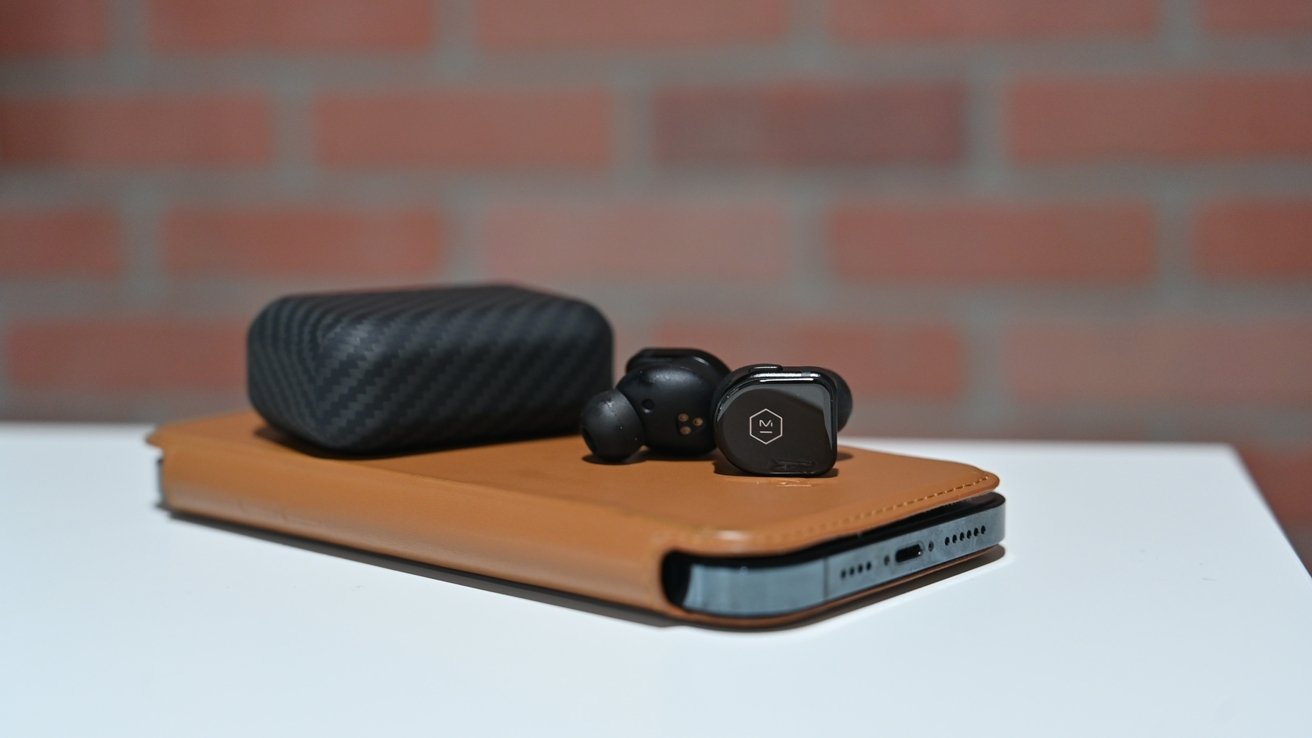 AppleInsider is supported by its audience and may earn commission as an Amazon Associate and affiliate partner on qualifying purchases. These affiliate partnerships do not influence our editorial content.
The Master & Dynamic MW08 is still one of our favorite sets of true wireless earbuds, but the new MW08 Sport has topped it thanks to a few notable improvements.
MW08 Sport - Design
The MW08 Sport sport roughly has the same design as the original MW07. From the side, you see a capital "D" shape with the Master & Dynamic logo emblazoned in the center. Our model is black, but they're blue, green, and silver colorways as well.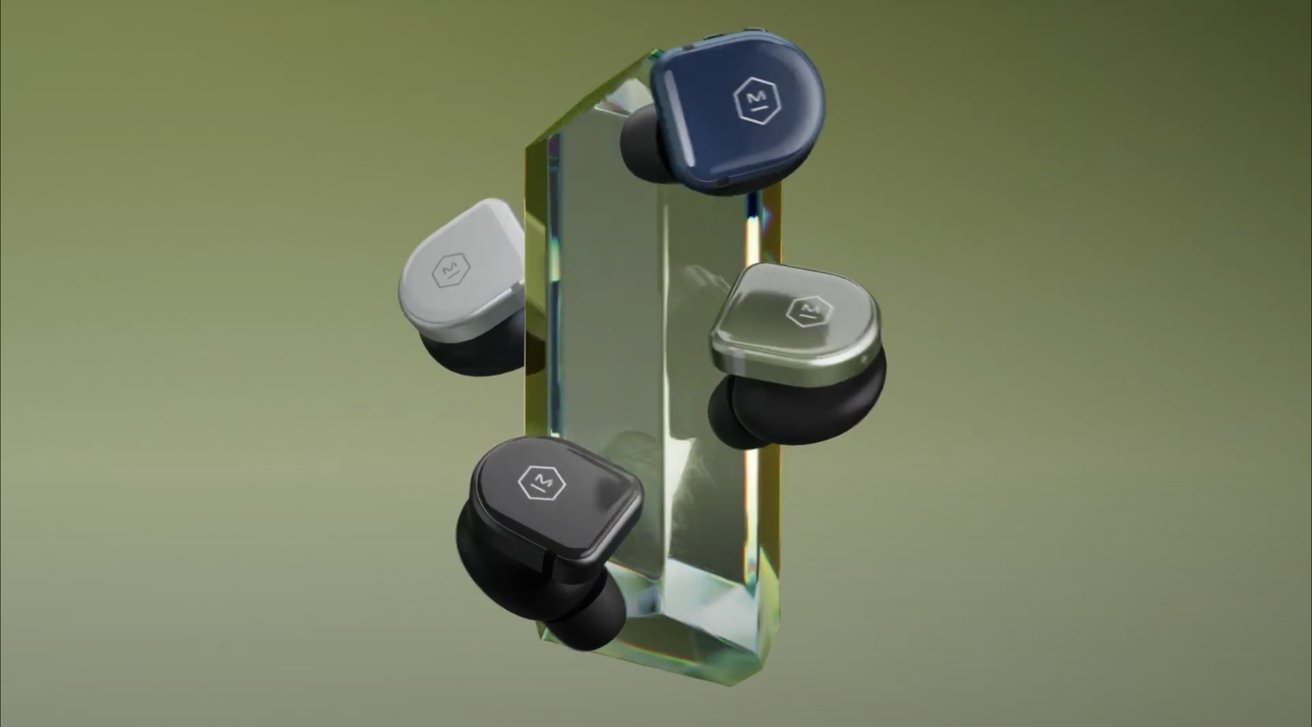 We love all four of the colorways, with green and blue being particularly stunning. They have a slight metallic hue that gives them a look far above your typical earbuds.
The rest of the earbud sits right inside your earlobe before going into your ear like a traditional set of earbuds. Around the edge are aluminum channels that double as an antenna.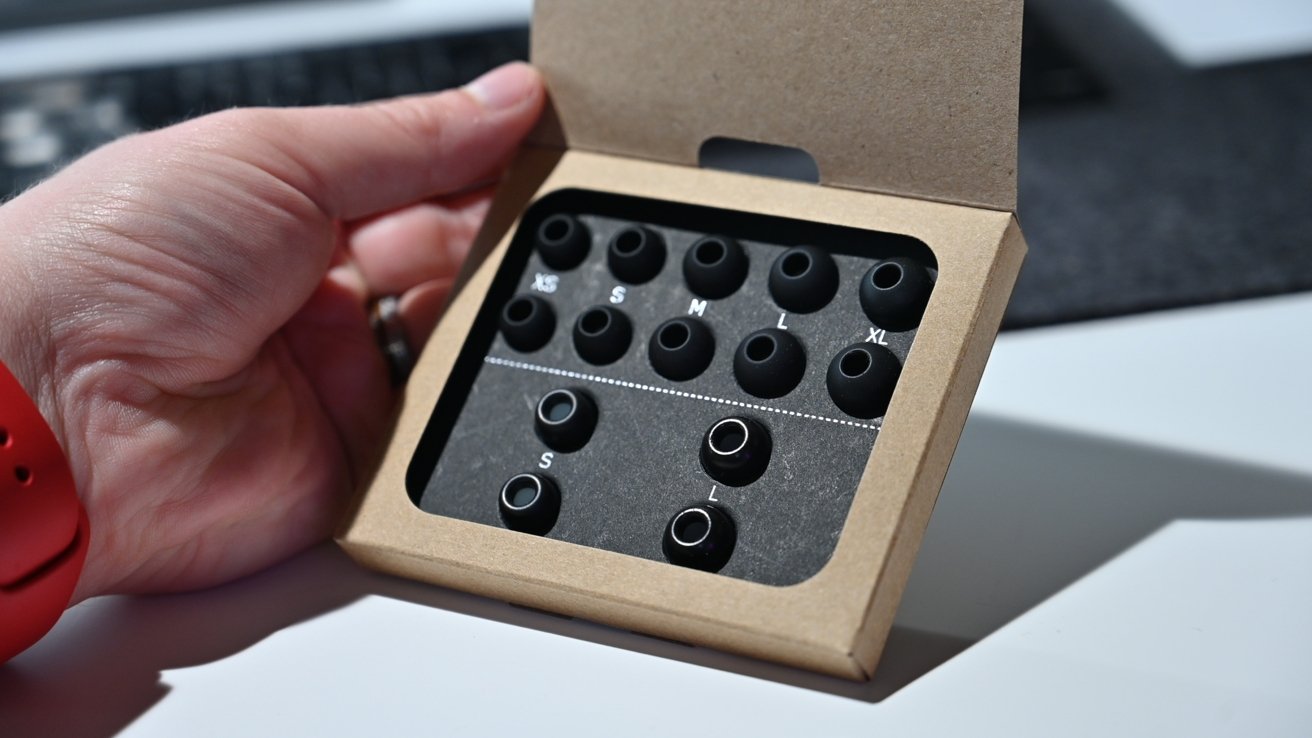 There are five different sizes of silicone ear tips in the box and, for the first time, two sets of foam ear tips as well. Many users adore foam tips for earbuds and help them stay put while jogging or exercising in general.
Third-party foam ear tips from purveyors such as Comply, but they'll run you $20, so having them bundled is a big deal and makes sense with the "sport" theme.
We've had no issues with the MW08 staying put in our ears, and the foam tips have been a welcomed addition. We still prefer the silicone tips if listening while relaxing, but the foam ones did help while working out.
On the similar MW08, Master & Dynamic offered a matte black stainless steel case and a silver option. But steel doesn't play nice with wireless signals, and the MW08 model never supported wireless charging.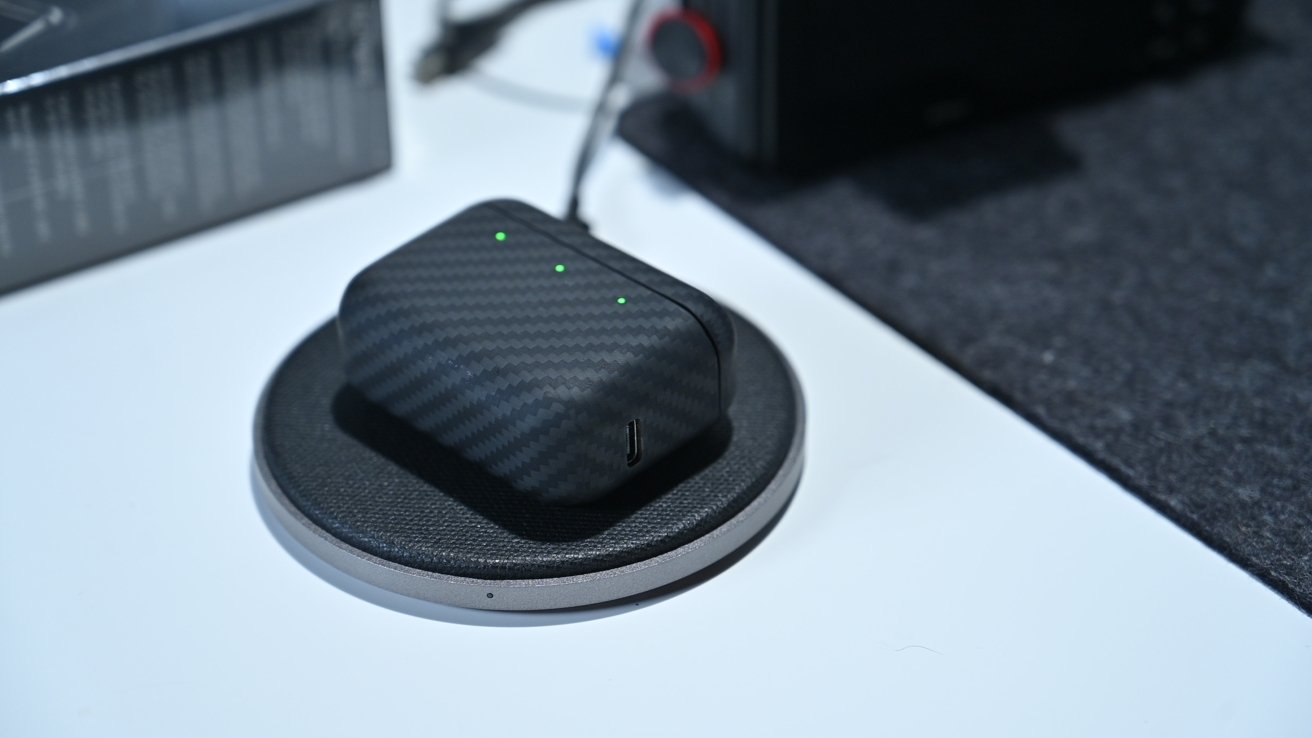 For the Sport model, M&D preferred to go with a high-end material that would allow the wireless charging signals to pass through. For that, they chose Kevlar fiber, which looks very similar to generic carbon fiber.
Kevlar is an undeniably premium material, but it is certainly not our first choice. We aren't sure if the plethora of cheap carbon fiber skins that blanket devices, but the kevlar here doesn't emanate the same quality feel as, say, a stainless steel case like the MW08.
On the front of the case are three LED status lights, with one light representing each earbud and one for the case itself. These aren't a terrible way to discern battery life, but it doesn't make it all that transparent exactly how low your batteries are, just a generality.
MW08 Sport - Audio quality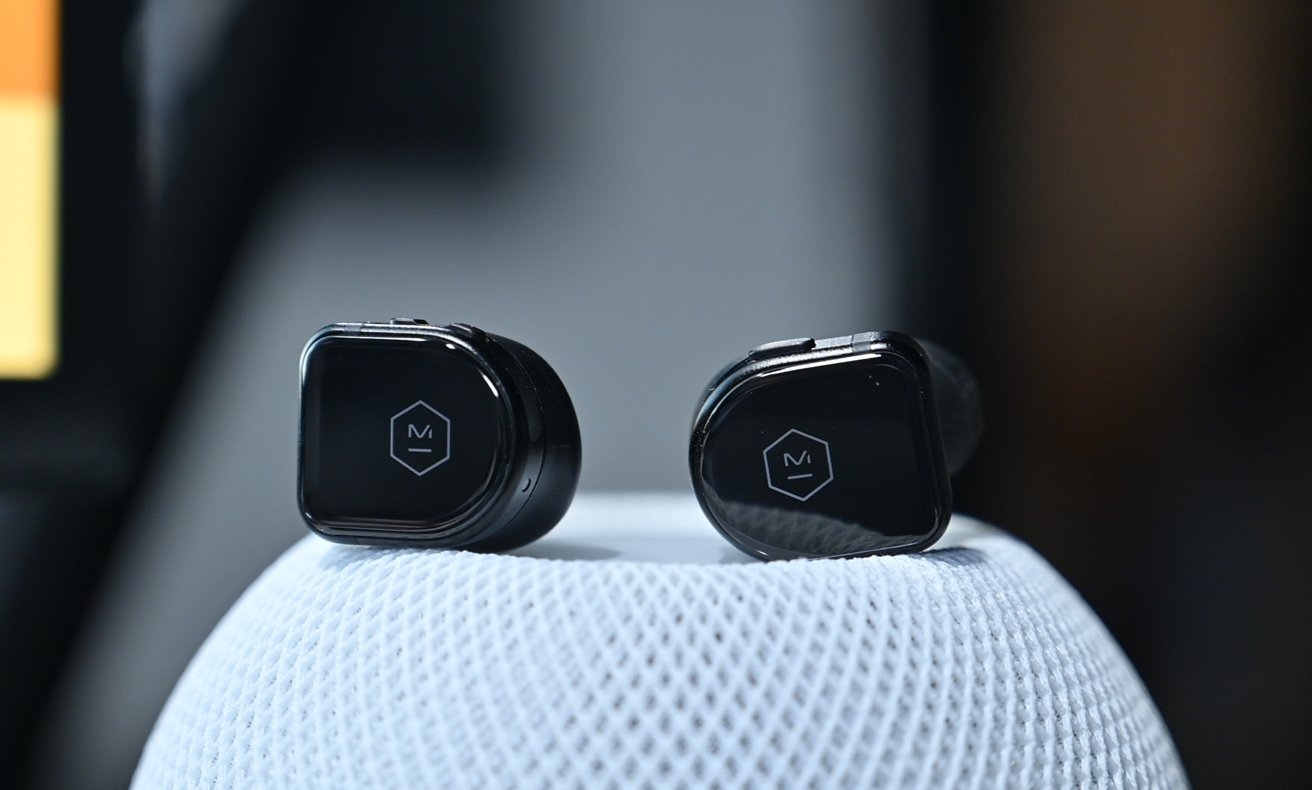 Master & Dynamic relies on Bluetooth 5.2 for its MW08 Sport and supports several popular wireless audio codecs. Notably, this version supports AptX Adaptive alongside the more common AAC and SBC.
AptX Adaptive sits right between standard AptX and AptX HD with a variable bit rate from 279 kbps to 420 kbps. AptX HD reaches up to 576 kbps to provide slightly better audio quality, but there are no true wireless earbuds with AptX HD at the moment, so AptX Adaptive is as good as it gets.
That said, Apple has chosen not to support AptX in any fashion, falling back on AAC. To stream the best audio possible to the MW08 Sport, you'll need another device rather than an iPhone or iPad.
Otherwise, these earbuds have the same 11mm Beryllium drivers as found in the MW08. Like with the MW08, the soundstage was huge and, coupled with the ANC, an immersive experience. Overall, they are a well-balanced set of earbuds, playing favorites with no specific music genre but fitting well with electronic dance, classic rock, instrumental, and more.
Active noise canceling is still excellent, thanks to the six total microphones, three on each earbud. Users can change the ANC mode from within the accompanying app. An all-day ANC or maximum ANC are options, with the latter impacting battery life. There is undoubtedly a difference between the two — and we rarely switched to max ANC.
There is also M&D's version of transparency mode to allow in external audio. One is for situational awareness letting in most external noise, and the other is intended to prioritize voices.
Voice prioritization is a great idea, but it wasn't entirely effective. It did add a bit of additional clarity when someone spoke to us but wasn't as night and day as we expected.
MW08 vs MW08 Sport
We've already touched on many of the changes. But, we wanted to be succinct as possible and reiterate the clear differences between the MW08 and the MW08 Sport, the latter of which carries a $50 higher price tag.
Looking at the case, The MW08 Sport has a Kevlar fiber exterior which is significantly lighter in weight. The MW08 case tips the scale at 81 grams, while the MW08 Sport shed enough to drop to 56 grams. The kevlar allows for the Qi wireless charging, a feature absent on the steel case of the MW08.
The kevlar is the most significant difference and likely what drives the higher price. Using kevlar carries licensing fees which contribute to the higher price, and including the Qi charging coil adds to the total.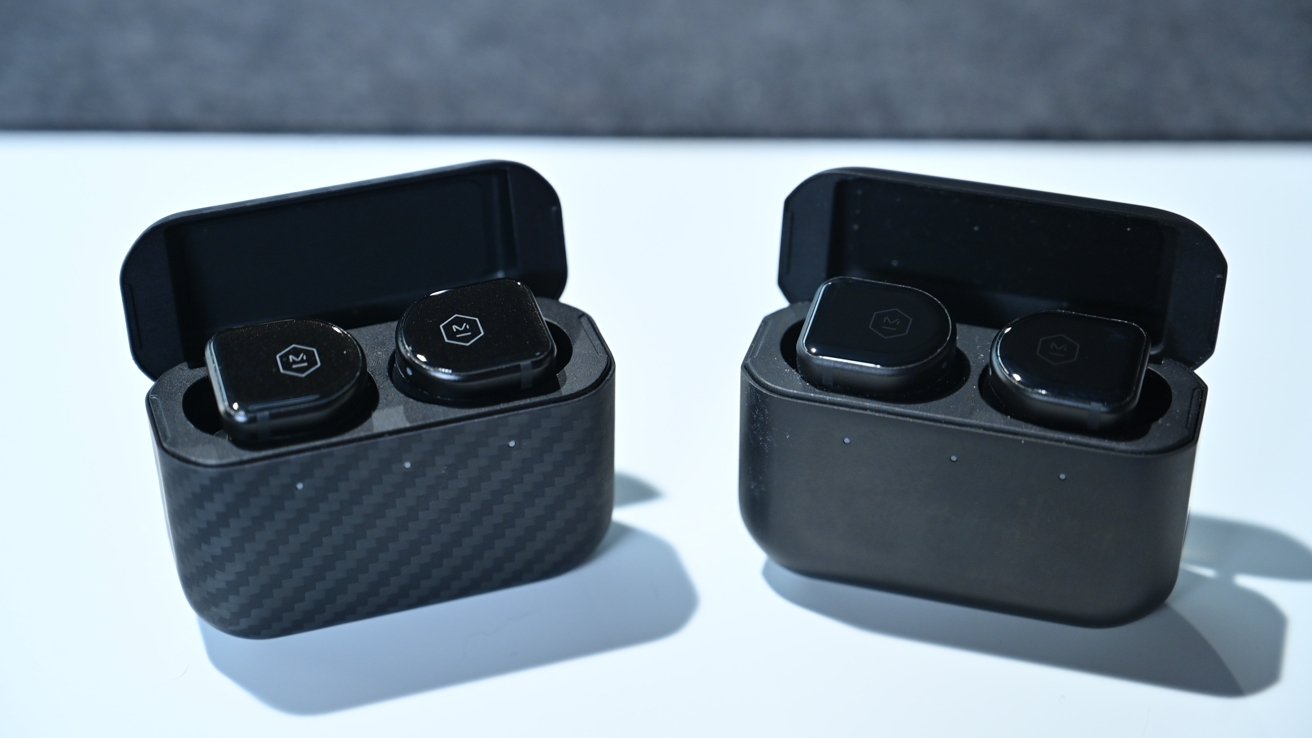 The earbuds have also evolved, going from a ceramic exterior piece to a sapphire glass piece and several new colors. We have the black colorway of both, and the MW08 has a bit more of a steel-gray color to the buds, while the Sport is a deeper black.
Sapphire has helped reduce the weight of those earbuds — beneficial for high-intensity movement — going from 9 grams to 8.6 grams.
Finally, besides the five sizes of silicone tips the two share, the MW08 Sport also comes bundled with the two foam tips.
Should you buy the MW08 Sport?
The MW08 Sport has a precision quality with some of the best materials around. The buds offer outstanding audio that easily beats the likes of AirPods Pro. With the addition of wireless charging, not to mention the sapphire glass and Kevlar, these are even more of a recommendation than before.
That said, not everyone is looking for an ultra-premium set of earbuds, and Apple users can't even take advantage of the AptX Adaptive benefits.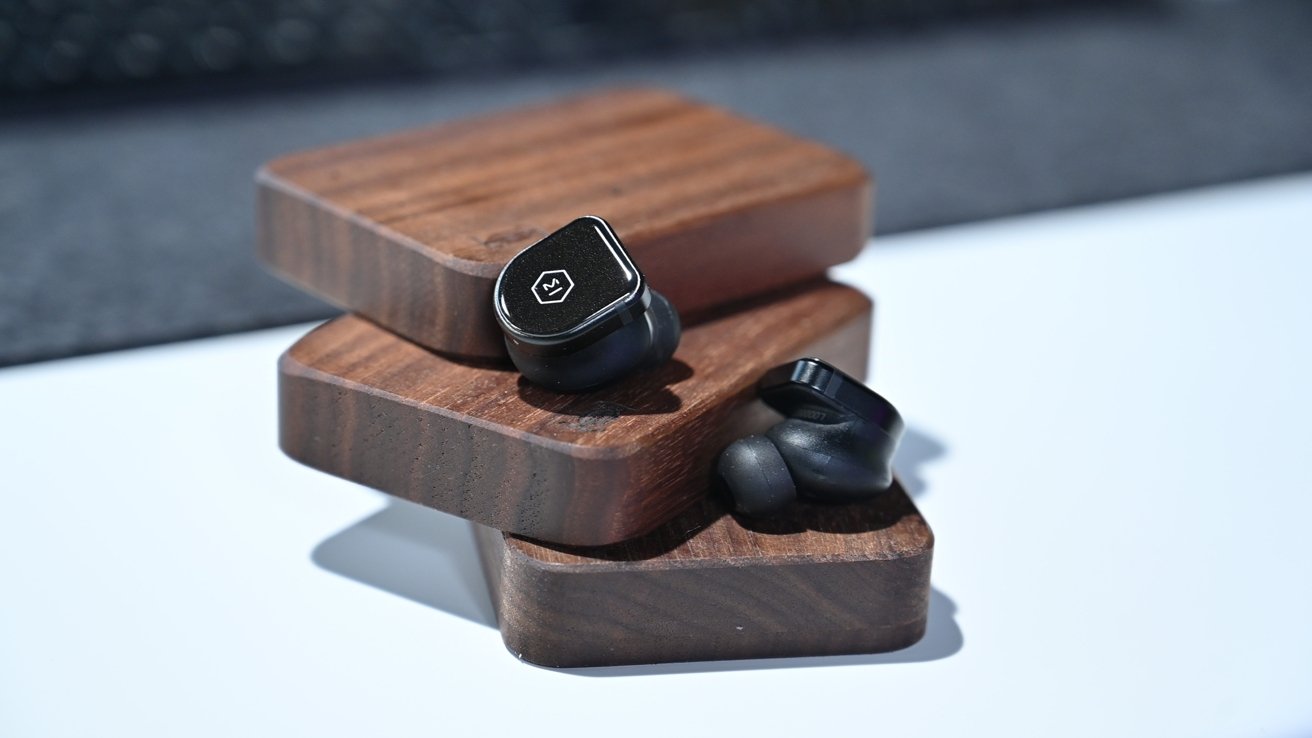 The MW08 Sport lacks Apple's tight integration into iOS, which has always been a major selling point for AirPods and AirPods Pro, despite their relative lack of audio quality.
If you do find yourself in the market for a premium set of earbuds designed for fitness users, first and foremost, the MW08 Sport is a perfect choice.
Premium, high-quality materials and craftsmanship
Sapphire glass colors are stunning
Strong fit and sweat resistance
Impressive audio
Companion app for battery life and ANC modes
Support for Qi wireless charging
Fantastic ANC and passthrough audio modes
Stylish look
Support for AptX Adaptive
Great battery life
Woven fiber look isn't for everyone
Voice mode isn't powerful enough
Rating: 4.5 out of 5
where to buy
You can pick up the new Master & Dynamic MW08 Sport in black, blue, silver, or green sapphire glass paired with a black Kevlar case for $349 from the manufacturer's website.