iPhone users drawn to iPad but not Mac or Apple's home devices, study finds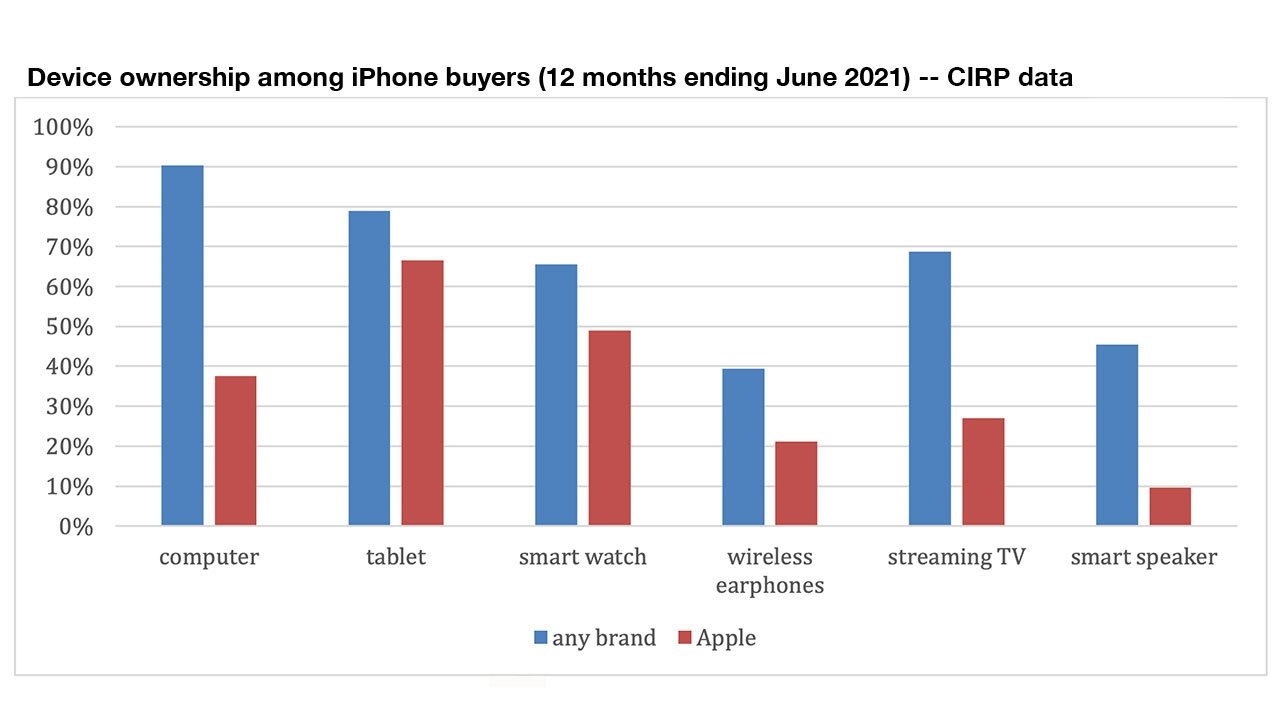 With a sticky software and services ecosystem, iPhone has proven to be an effective gateway device to other Apple products, but that pull has its limits, a new study shows.
According to Consumer Intelligence Research Partners, Apple has successfully leveraged iPhone to sell a range of mobile products like iPad, Apple Watch and AirPods, but the company is struggling to convert on Mac, Apple TV and HomePod.
The research firm surveyed about 900 Apple product owners in the U.S. who bought an iPhone in the 12 month period ending in June 2021 to find out what other devices iPhone they own.
Unsurprisingly, about 90% of iPhone buyers have a desktop or laptop, but only 41% of those are Mac, with a healthy portion using some ilk of MacBook. Tablet ownership, the next-largest device category reported by iPhone owners, stands at 79%, with Apple's iPad taking a more significant 84% chunk of the whole.
About 65% of iPhone owners surveyed also use a smartwatch. As can be expected, Apple Watch accounts for three-quarters of those devices, on par with iPad penetration. AirPods are also seeing relatively high rates of adoption, with half of the 40% of iPhone buyers who own a wireless headset opting for Apple's solution.
While Apple enjoys success in most markets in which it competes, the home products sector has been a tough nut to crack. A large portion of iPhone buyers own a streaming TV device at 69%, but Apple TV makes up only about a quarter of that segment, with the rest going to devices like Google Chromecast, Roku and Amazon Fire TV. Similarly, 45% of iPhone buyers own a smart speakers, though only 10% chose HomePod or HomePod mini.
"In short, iPhone buyers mostly own iPads, as well as iPhone accessories, principally Apple Watches and AirPods," the report said. "Thus, to the extent iPhone buyers have other mobile electronics or smartphone accessories, they tend to own Apple products."
Apple is rumored to be working on new products for the living room, but those devices are a long way out, if they materialize at all. A report earlier in August claimed Apple's own engineers are questioning the company's home device strategy.