Compared: iPad mini 6 versus iPad mini 5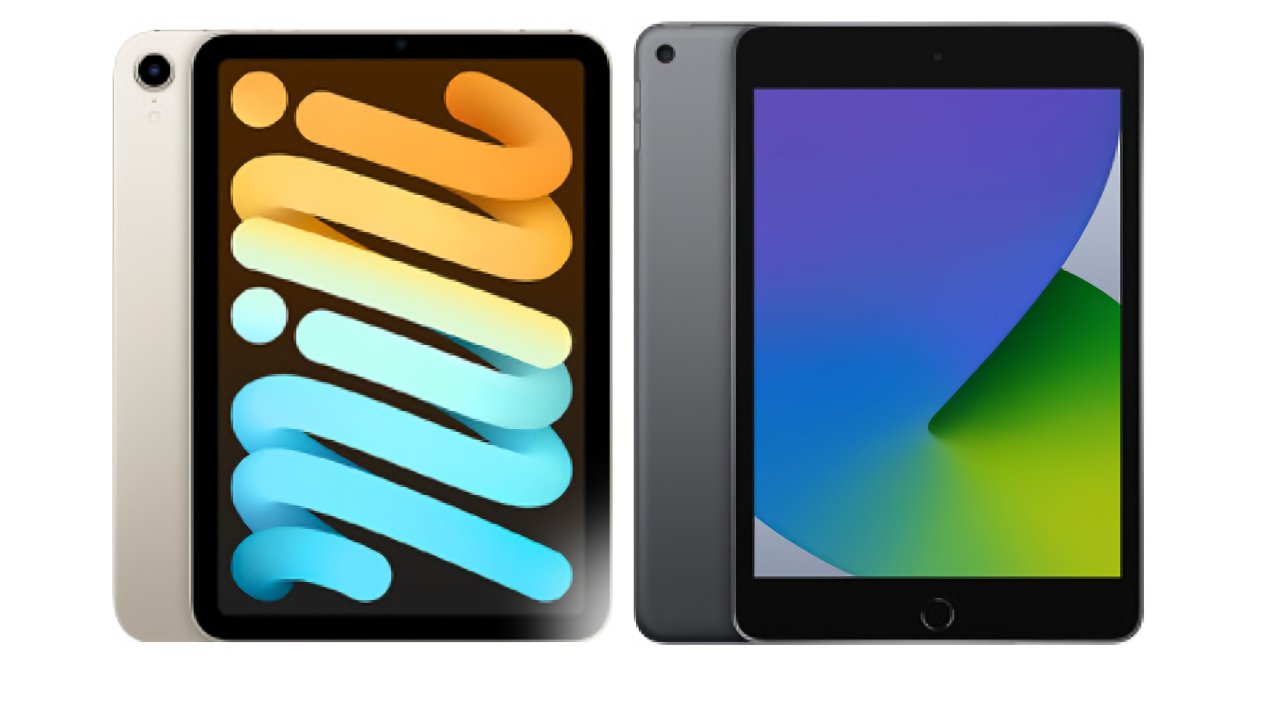 AppleInsider is supported by its audience and may earn commission as an Amazon Associate and affiliate partner on qualifying purchases. These affiliate partnerships do not influence our editorial content.
The revised iPad mini is practically an entirely new device, but along with improvements across the board, it comes with a much higher price.
It used to be that you chose the iPad mini because you wanted the smaller size. And you wanted it enough that at $399, you were willing to pay around $70 more than the cost of the regular iPad.
Now following the unveiling of the iPad mini 6, size is not the only reason to buy. Instead, the little iPad mini that could, has a bigger and better screen than before, plus it boasts a faster processor than the iPad Air 4.
Add in that it has USB-C and it can have 5G, plus all of cameras are considerably improved, and the new iPad mini 6 is a powerful device. It could be the one device you need, but that power and flexibility comes with a higher price.
The new iPad mini now starts at $499 for the Wi-Fi-only model. If you need of all the new features, it's certainly worth the $100 increase — but that doesn't get you everything.
To also get 5G connectivity, you have to pay from $649. That's $150 more where with the previous iPad mini 5 model, adding cellular cost a little less at $130 extra.
You can choose whether to have 5G or not, though you have to make that decision at time of purchase. Otherwise, however, you are paying for all the other extra features and improvements, whether you will use them or not.
Apple ceased selling the iPad mini 5 when the new version was announced, but there are still stocks in other resellers such as Amazon. If it's really the size of the iPad mini that attracts you, check out the exact differences between the models to see which is the better buy for your needs.
iPad mini 6 versus iPad mini 5 - Specifications
| | iPad mini 6 | iPad mini 5 |
| --- | --- | --- |
| Price (starting) | $499 | $399 |
| Dimensions (inches) | 7.69 x 5.3 x 0.25 | 8.0 x 5.3 x 0.24 |
| Weight (pounds) Wi-Fi only | 0.65 | 0.66 |
| Processor | A15 Bionic | A12 Bionic |
| Storage | 64GB, 256GB | 64GB, 256GB |
| Display Tyoe | 8.3-inch Liquid Retina with True Tone, 500 nits brightness | 7.9-inch Retina with True Tone, 500 nits brightness |
| Resolution | 2266 x 1488 at 326ppi | 2048 x 1536 at 326 ppi |
| Connectivity | 5G (sub-6 GHz), Gigabit LTE, Wi-Fi 6, Bluetooth 5 | 4G LTE, Gigabit LTE, Wi-Fi 802.11a/b/g/n/ac, Bluetooth 5.0 |
| Battery | Up to 10 hours | Up to 10 hours |
| Rear camera | 12MP Wide, f/1.8 aperture, 5x digital zoom, Smart HDR for photos, Quad-LED True Tone flash | 8MP Wide, f/2.4 aperture, 5x digital zoom, Auto HDR for photos |
| Rear camera video | 4K at 24fps, 25fps, 30fps, 60fps, or 1080p HD at 25fps, 30fps, 60fps; 3x zoom; Slow-Mo 1080p at 120fps or 240fps; extended dynamic range for video up to 30 fps | 1080p HD at 30fps, 3x zoom; slow-mo 720p at 120fps |
| Front camera | 12MP Ultra Wide, f/2.4 aperture, Retina Flash, Smart HRD 3 for photos | FaceTime HD, 7MP photos, f/2.2 aperture, Retina Flash, Auto HDR for photos |
| Front camera video | 1080p HD video at 25, 30, or 60 fps | 1080p HD video |
| Center Stage | Yes | No |
| Connector | USB-C | Lightning |
| Apple Pencil support | Second generation | First generation |
| Audio | Two speaker audio landscape mode | Two speaker audio |
| Touch ID | In top sleep/wake button | In Home button |
| Colors | Space Gray, Pink, Purple, Starlight | Space Gray, Silver, Gold |
iPad mini 6 versus iPad mini 5 - Physical Specifications
If you do want a small iPad, then the iPad mini 6 is smaller than its predecessor — mostly. And only by a little.
The latest version is actually 0.01 inches thicker than before, but it weighs 0.01 pounds less. And while its 5.2-inch width remains the same, the height is now 7.69 inches instead of 8 inches.
Even with that height change, you'd really need to see the two versions side by side to notice. And then what you'd see first is just how different the screen is.
By removing the Home button and slimmer bezels, Apple has been able to increase the diagonal screen size from 7.9 inches to 8.3. It's not even a full half inch more, but it is noticeable, and a distinct improvement.
iPad mini 6 versus iPad mini 5 - Displays
It helps that the screen is now a Liquid Retina one. While improved from the regular Retina display of the previous model, it's still using LCD instead of OLED.
But it means the iPad mini 6 is using the same technology as the iPad Arr, and the iPad Pro. And it's got a higher resolution than either of those, at 326ppi.
iPad mini 6 versus iPad mini 5 - Cameras
It's still not as handy, or perhaps socially acceptable, to take photos and video on an iPad mini instead of an iPhone. However, it's a lot easier on an iPad mini 6 than a 12.9-inch iPad Pro.
Which means that the camera improvements across the board with the iPad mini 6 are very welcome. That's whether you do shoot video, or take photos with it, or it's what you use for video meetings.
The main rear camera is now a 12MP Ultra Wide one, where previously it was 8MP Wide. It's now able to record video in 4K instead of 1080p HD, and do so at different frame rates.
At the same time, the front camera used to be 720p. Now it's also a 12MP Ultra Wide one, plus it's able to shoot 1080p video.
iPad mini 6 versus iPad mini 5 - General connectivity
Depending on the work you do, one improvement that may be significant, is that the iPad mini 6 uses USB-C. That means it can connect directly to more devices, such as cameras.
And it also means that data can move to and from the iPad mini much faster, assuming you've got a properly provisioned network.
There are speed improvements, too, with wireless connectivity. The iPad mini 6 has Wi-Fi 6, for instance, where the previous model supports the slower Wi-Fi 802.11ac — also called Wi-Fi 5.
iPad mini 6 versus iPad mini 5 - Should you upgrade?
The improvements from the original iPad mini to the second generation model were minute compared to the differences between the iPad mini 5 and iPad mini 6. That said, the new features would make the iPad mini 6 worth upgrading to from the previous model — assuming you'll use those features.
You will unquestionably benefit from the better and bigger display, for instance, no matter what you use the iPad mini for. But you may not care about faster USB-C data transfers.
The increased price is also presently exacerbated if you're a new user considering whether to get the older iPad mini 5. For now, that will remain available via third-party resellers who will typically price lower than Apple.
If you are an existing iPad mini 5 user who chiefly likes this model for the convenience of its smaller size, stick with your old device.
But if you do upgrade to the iPad mini 6, you are going to have an incredibly capable device — in a tiny package.