How to set an alarm on iOS 15 without scrolling the wheel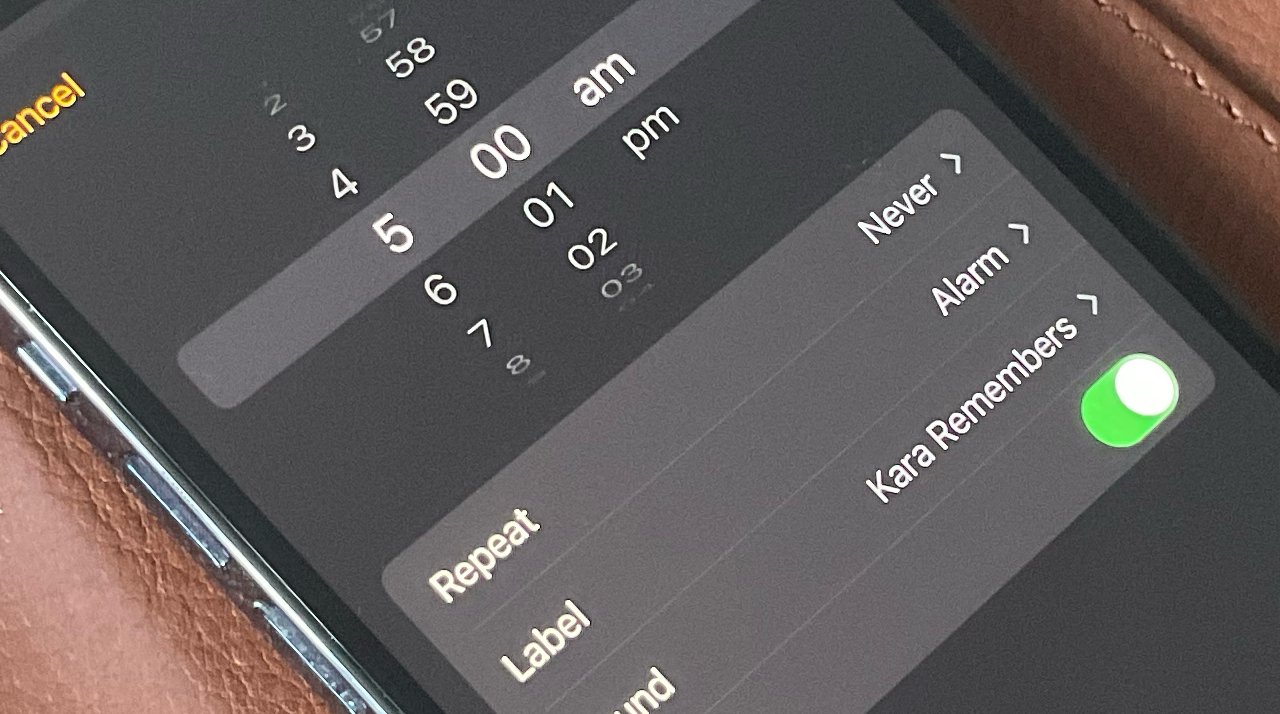 AppleInsider may earn an affiliate commission on purchases made through links on our site.
Apple's default method for setting an alarm on an iPhone is a wheel instead of a numeric keypad, but you can temporarily change that.
Apple likes to gamble with you and what time you're going to wake up. On the iPhone, you set an alarm by rotating the numbers on a "wheel," going round and round until you hit 5:00 or whenever it is.
Except, if you slip even the slightest bit, that alarm can actually be set for 4:59, which is annoying but okay. Or it can just as easily be set for 5:59, which might have an impact on your salary prospects.
If you have it set on 12-hour clock instead of 24, you also get the separate AM/PM button. Hopefully you'd wake up before 5pm, but it might not be your iPhone alarm that stirs you.
It is slightly worse on the Apple Watch where setting an alarm time is closer to a tense game than a useful tool, but there are ways to make it even better on the iPhone.
How to skip the wheel and type what alarm time you want
On the iPhone, tap on Clock, then Alarm
Either tap on an existing alarm time, or press the + sign to start a new one
When the wheel appears, press and hold on it for a few seconds, then release
A numeric keypad appears at the foot of the screen
Type the time you want
Tap Save
You can make mistakes typing in, too, but there is a delete key. Also, if you just keep typing numbers, you just loop around filling in numbers.
So if you've accidentally keyed in the wrong hour, just type some minutes and then enter the hours again.
If you are using the 12-hour clock then you're still on your own for the AM/PM button. It can still be knocked as easily, and there isn't a section on the numeric keypad to help.
You can't even enter a 24-hour clock time and have the alarm correctly set the AM/PM for you. However, since you are entering numbers at the bottom of the screen, your fingers should only go near the AM/PM selector when you deliberately choose to.
With 24-hour clock, there's no such problem. You just type in the complete time you want, and you're done.
Except there nothing at all to stop you entering an impossible time, such as 24:01, for instance. If you do that, however, once you hit Save, the alarm time is set to 00:01.
There are actually businesses that use times such as 25:00 instead of 01:00, for accounting and planning reasons, but they're out of luck. The iPhone's alarm will let you type 25:00, but it will change it to 05:00 when you save.
Notice, too, that this is all about the iPhone. Even though the iPad has exactly the same Clock app and the same alarms, long-pressing on the wheel doesn't do a thing on the iPad.