HyperDrive's new Docking Station runs up to 3 screens on a MacBook Pro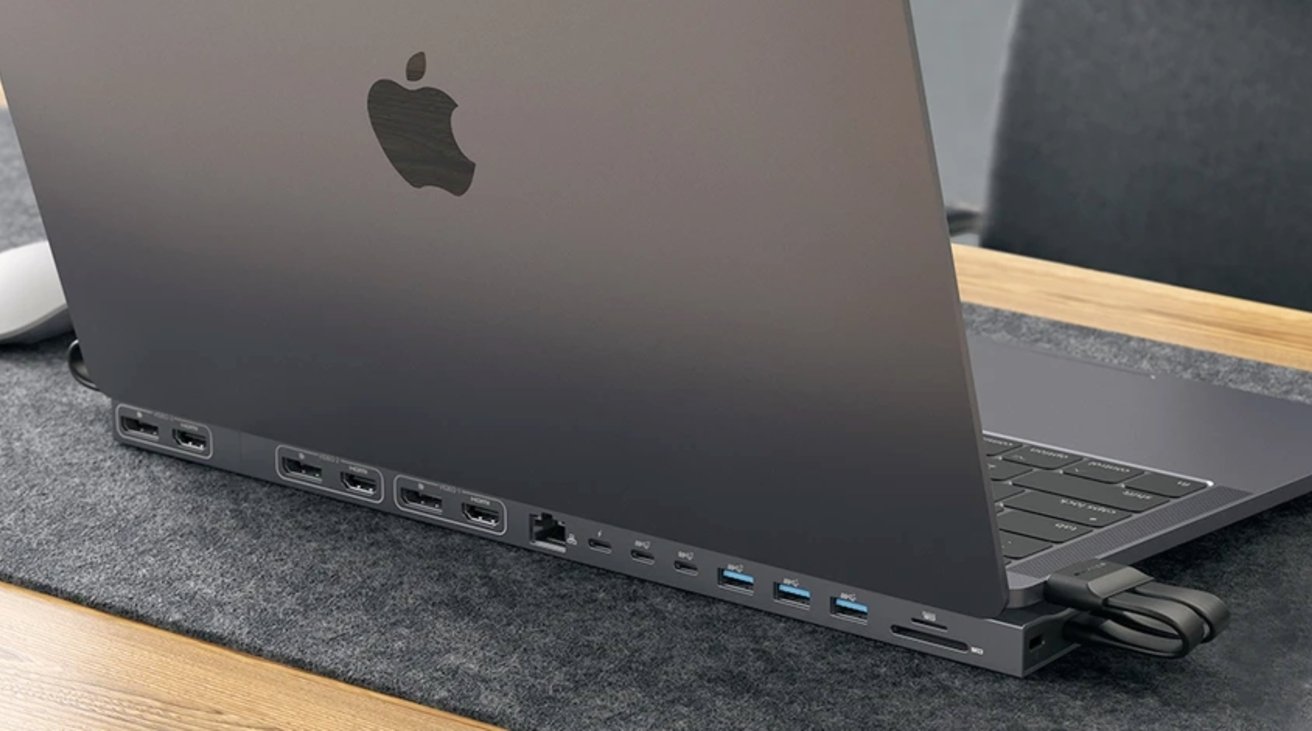 AppleInsider may earn an affiliate commission on purchases made through links on our site.
Peripherals producer Hyper has introduced its new HyperDrive 4K Multi-Display Docking Station for the MacBook Pro, one that offers enough connections to support three external monitors.
Launched on Monday, the HyperDrive 4K Multi-Display Docking Station is a long and thin accessory that is designed to raise the back of the MacBook Pro up off the table, to help dissipate heat. At the same time, it provides a large number of ports around the back.
Two models are available, with the main unit aimed at 13-inch and 14-inch MacBook Pro models. This consists of a dock with 13 available ports, including two HDMI 4K60Hz connections, two DisplayPort 4K60Hz, Gigabit Ethernet, USB-C with 100W of power delivery, two USB-C 10Gbps, one USB-A 10Gbps, two USB-A 5Gbps, and a MicroSD and SD card reader.
With its video connections, the dock can support dual extended displays in MacBook Air and MacBook Pro models that support it, meaning it can support only one extra display with the M1 MacBook Pro and MacBook Air models.
A second version intended for 15-inch and 16-inch MacBook Pro models includes an extra extension, which attaches to one end magnetically. The extension provides an extra set of HDMI and DisplayPort connections, bringing the total port count to 15, as well as enabling triple-display support on compatible Mac models.
As well as being guaranteed to work with any version of USB-C MacBook Air or MacBook Pro from 2016 to the 2021 releases, Hyper also claims it will work with any other USB-C device, including Windows PCs, Chromebook, Android, and iOS devices.
The HyperDrive docks are priced at $249.99 and $299.99 for their respective sizes. As part of its Indiegogo campaign that runs until December 13, the docks are being sold for half price at $124 and $149 respectively.
Shipping is set to start in December.