Sandisk Professional G-Drive SSD review - Fast enough, secure, and durable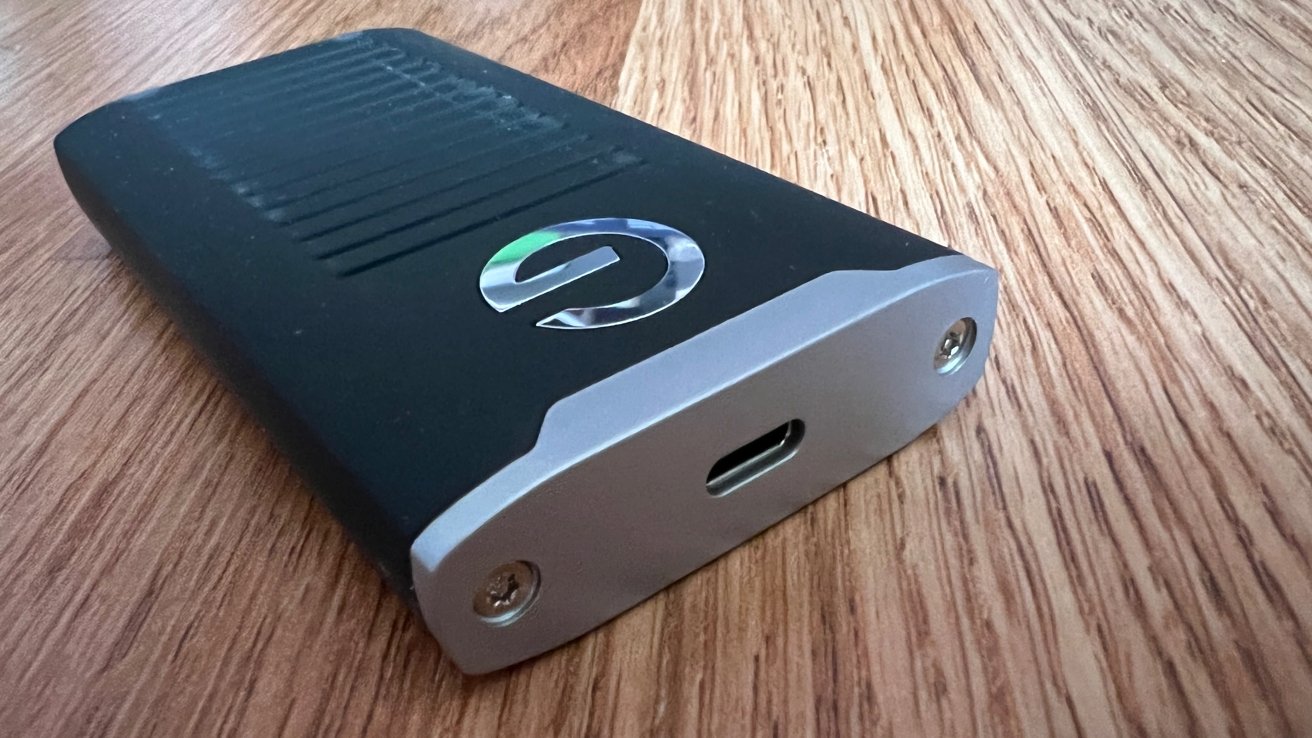 AppleInsider is supported by its audience and may earn commission as an Amazon Associate and affiliate partner on qualifying purchases. These affiliate partnerships do not influence our editorial content.
If you need to have portable and fast external storage for your MacBook Pro, the SanDisk Professional G-Drive SSD is a fast-enough candidate that also provides considerable data security and physical protection.
Anyone who has run into capacity problems with their MacBook Pro in recent years will almost certainly have toyed with the idea of using external storage. Though not necessarily as ideal as built-in storage, they are a great and relatively low-cost solution to the problem.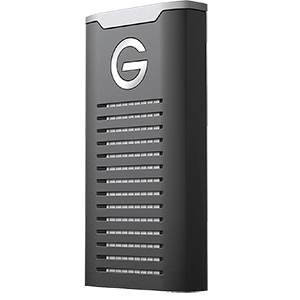 Sandisk Pro G-Drive SSD
---
The SanDisk Professional G-Drive SSD features USB 3.2 Type-C connectivity in a compact and lightweight chassis.
The problem is that it requires you to carry an extra element around as part of your computing setup that takes up space in your bag and adds weight. Then there's the potential for data loss from the external drive being damaged or breaking completely.
These concerns can push consumers towards buying a drive that's compact, fast, tough, and reasonably priced. It's tough to find something that seems to do well in all factors at the same time.
The SanDisk Professional G-Drive is the storage company's attempt at the problem, taking off from where the G-Drive Mobile from 2019 left off. At its core, it is a USB-C NVMe SSD, designed with physical and data security in mind.
Key Specifications
500GB to 4TB capacities.
USB-C 3.2 Gen 2 (10Gbps) connection with backwards compatibility.
1,050MB/s read speeds claimed.
1,000MB/s write-speeds claimed.
3.74 inches by 1.97 inches by 0.59 inches.
Weighs 3.2 ounces.
256-bit AES-XTS hardware encryption.
Sandisk Professional G-Drive SSD review - Compact and Strong
The Professional G-Drive is built to be a non-descript yet durable device. Aside from the large G and the vented structure of the aluminum casing, it seems to be a fairly standard external drive.
The casing isn't large, measuring 3.74 inches long by 1.97 inches wide, as well as 0.59 inches thick. The drive weighs just 3.2 ounces.
Despite being small, it also offers protection from damage that other drives may not be able to shake off as easily. For example, it is rated to IP67, giving it some dust and water resistance, including being underwater at a depth of three feet for half an hour, so it's not going to be as easily damaged by a splash of a drink on a tabletop.
The casing is also able to survive drops and bumps in everyday life as well, with it able to survive a 10-foot drop, and can even resist 2,000 pounds of crushing force. Add in that it's a solid-state drive rather than a mechanical spinning platter, and it becomes a lot more hardy.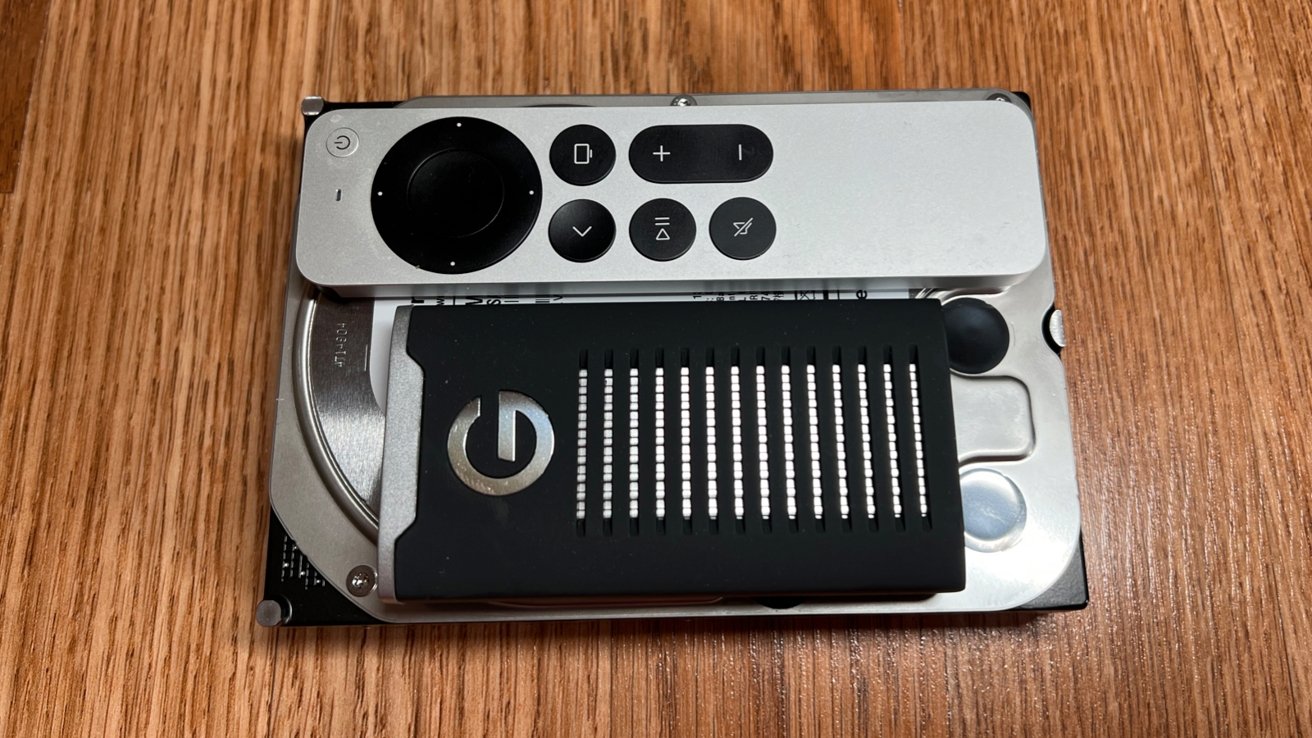 We tossed down a flight of stairs twice (after we did the testing and photography), with it bouncing down about four stairs the first time, and a solid landing on the concrete floor at the bottom of the well the second — and it still worked afterwards. This is not what you'd call rigidly scientific, of course, but instead more of a practical fall test.
Sandisk Professional G-Drive SSD review - Connectivity and Speed
The drive connects to a Mac over USB-C, using USB 3.2 Gen 2, giving it a maximum available bandwidth of 10Gbps. While it is supplied with a USB-C cable, you also get a USB-C to USB-A cable, allowing it to connect to older devices without too much trouble.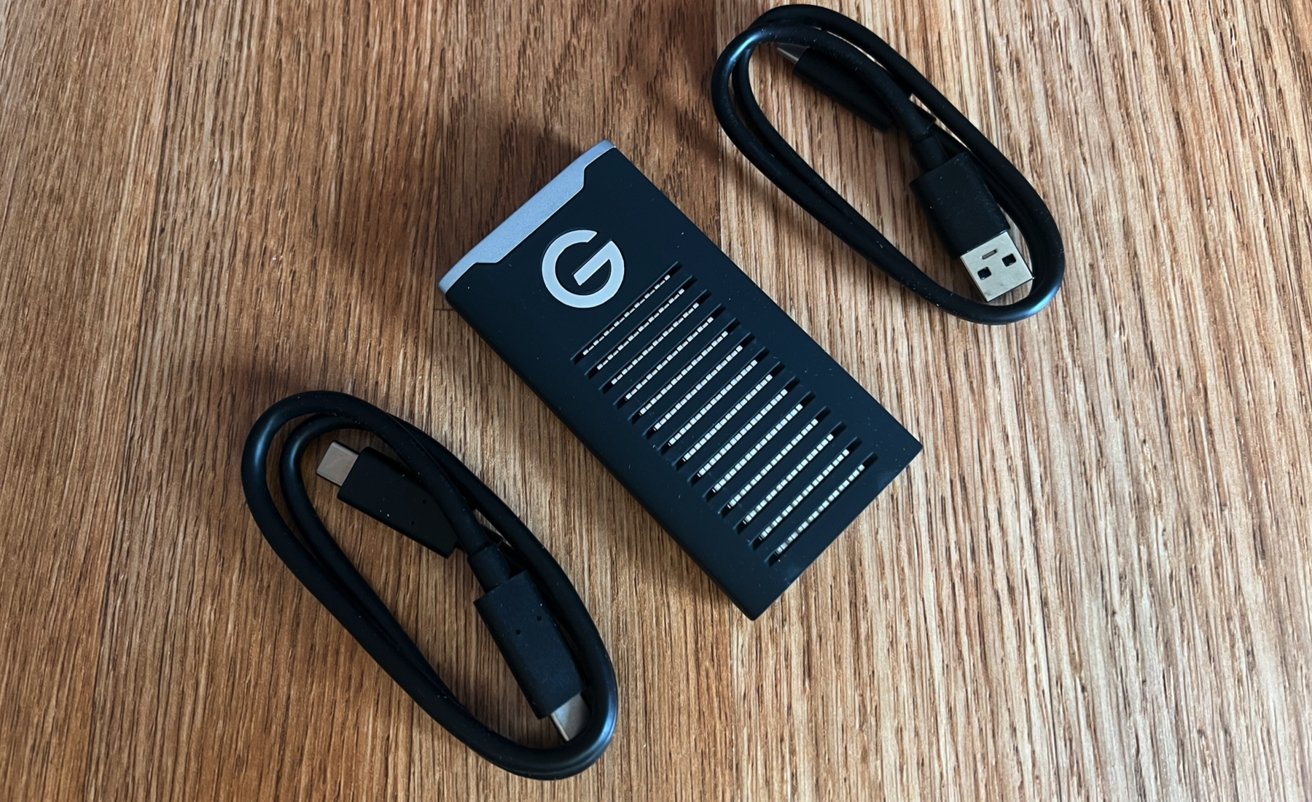 As a bus-powered device, there's no need to plug it into power separately, as it gets its energy from the connected Mac. This is good as it's a one-cable solution, making it more useful for those on the move.
While the original G-Drive housed a 5,400RPM 2.5-inch hard drive, to enable its high storage capacity, the Professional G-Drive SSD goes a lot further on the speed stakes. By switching over to to the ASMedia ASM2362 controller and WD 96L TLC NVMe media, the drive is capable of considerably faster transfer speeds than its spinning-metal predecessor.
This isn't just a drive that you set up for back ups, but one you could actively work from.
According to SanDisk, it offers a maximum read speed of 1,050MB/s, while the write speed can get up to 1,000MB/s. Thunderbolt 4 offers far more available bandwidth, and theoretically higher speeds, but that's not supported by the Professional G-Drive.
Using Blackmagic design's Disk Speed Test, we saw actual speeds of about 860 megabytes per second write, and 750 megabytes per second read when connected to a Thunderbolt 3 port on an Intel Mac mini, as well as similar numbers when connected to the port on a M1 Max MacBook Pro.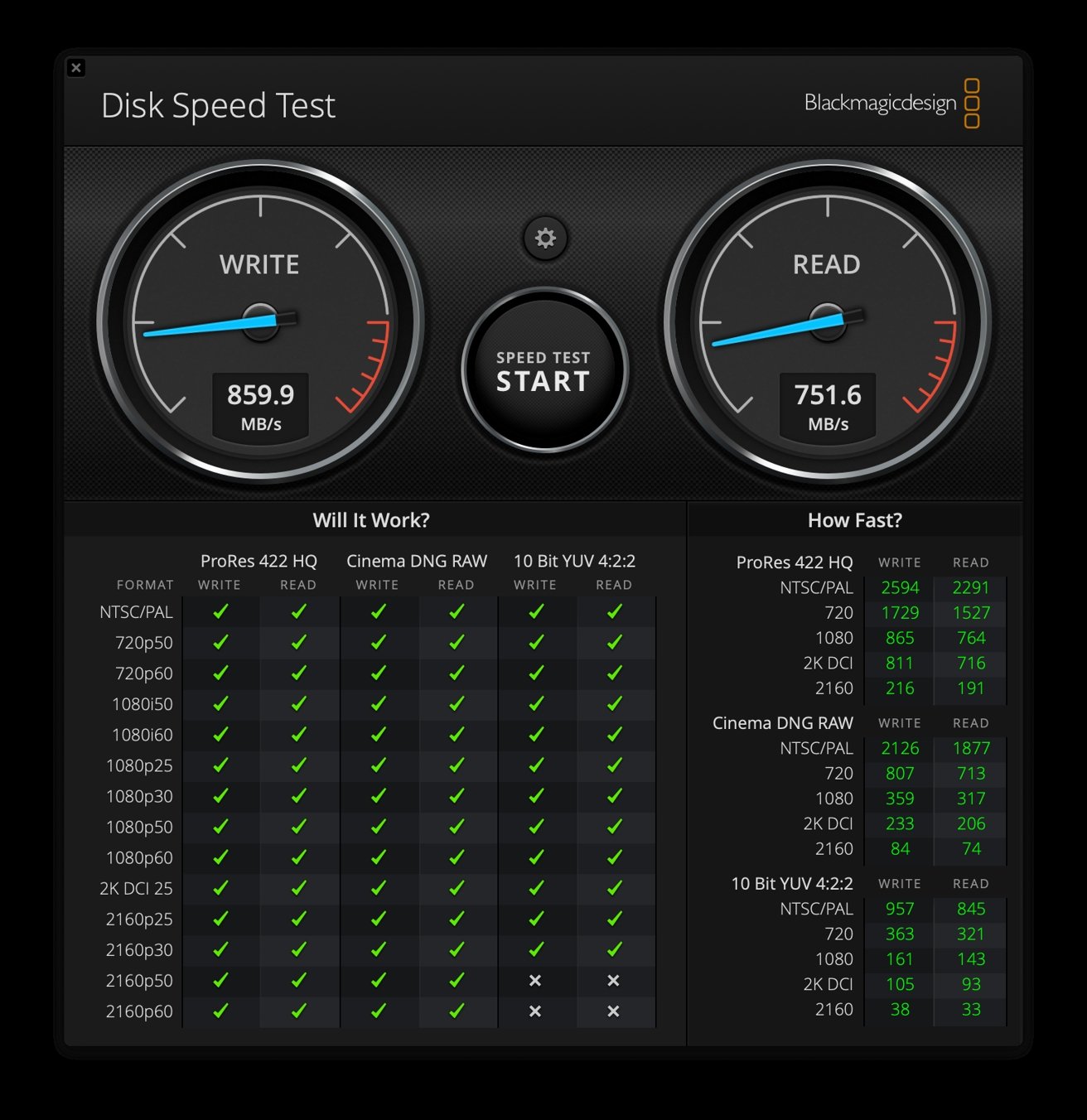 During really long transfers weighing in at more than about 12GB, the 2TB model of the drive slowed down to about 740 megabytes write per second, sustaining that speed until the testing ceased. This isn't about heat, as the enclosure didn't exceed 41C in our 20C testing environment. What it is about, though, is the cache on the drive.
The delivered speeds are still more than enough for the vast majority of users to be happy with for everyday needs, and even for video editing projects. The contingent that demands faster speeds over an extended period of time are probably already looking elsewhere for solutions.
Sandisk Professional G-Drive SSD review - Capacity Options and Encryption
SanDisk offers the drive in four different capacities. The lowest in the range is 500GB, with MSRP of $139.99, rising to $229.99 for 1TB.
The 2TB model, the specific capacity being reviewed, is priced by SanDisk at $359.99. The 4TB model weighs in at $679.99. Sale prices are readily available, however, on most capacities.
Mac users typically expect to have to format external drives before properly using them with their Mac. Unusually, and like the earlier G-Drive, it has been formatted in HFS+, so it will work straight away with your MacBook Pro.
You will have to reformat it to exFAT to work with both Macs and Windows systems. But, if you're in an Apple-centric environment, you don't need to do that step at all. The drive was a hair slower in exFAT format on the Mac, so that's another strike against it.
SanDisk also continues the protective theme with the storage itself, as it includes support for 256-bit AES-XTS hardware encryption. You can use the included SanDisk Security application, which is provided for both macOS and Windows, to encrypt and protect stored data.
Not everyone will appreciate having encryption on a drive, as it does slow the drive a bit. For those carrying sensitive data around or are worried about their personal files, it's a great inclusion.
Sandisk Professional G-Drive SSD review - A Professional Choice
When it comes to external storage drives for Macs, there are certainly some choices to make. Fast, Protective, Cheap: Pick two.
In so many cases, you'll find that faster drives that are also rugged enough to be protective are on the expensive side. Go all out on the speed, and you're going to either lose out on protection or have a considerably lighter wallet.
With the SanDisk Professional G-Drive, you have a drive that offers just enough of a compromise to make it a worthwhile choice. It's certainly protective, both with hardware encryption and in surviving the day's knocks and scrapes.
It's also more than fast enough for anyone wanting to get work done, without necessarily going for Thunderbolt 4 or for a more exotic drive system. It's also reasonably priced for what is on offer.
Not to mention how it is automatically geared towards Mac users from the outset, without the extra chore of reformatting to make it more usable.
There are cheaper drives on the market, but here, there's a sense of balance among its features. For something aimed at "Professional" users, it's a pretty decent choice if you want to get more MacBook storage.
Compact and lightweight
Fast enough for most people
Protective enclosure
Hardware encryption
Detachable cables
Relatively pricey versus other USB 3.2 type C SSDs
Rating: 4 out of 5
Where to buy