SmartMike+ review: A tiny, excellent wireless microphone, but with problems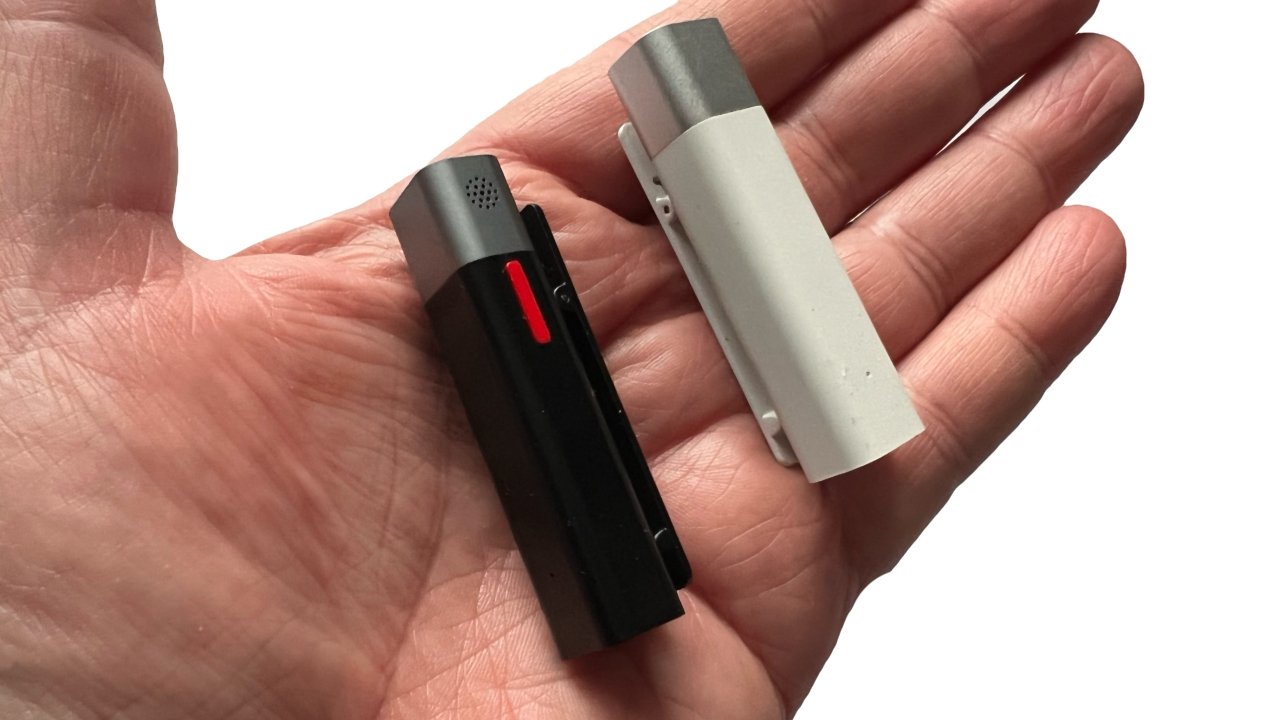 ---
AppleInsider may earn an affiliate commission on purchases made through links on our site.
SmartMike+ is a tiny Bluetooth wireless lapel mic that offers excellent audio and powerful features but is confusing to use reliably and sometimes bewildering.
At the heart of the SmartMike+ is an excellent Bluetooth wireless microphone with excellent sound quality and an unusual range of useful features — but also absurd problems.
It won't sound like it at first, but AppleInsider is actually going to recommend the Sabintek SmartMike+. That's because what's good about it is extremely good.
You just have to find a way through its contradictory documentation and how its Bluetooth 5.0 connection can be problematic.
Documentation confusions first
Sabintek's online documentation includes details that could stop you from buying a SmartMike+ - but they may not be accurate.
The key confusion is that the documentation on the company's website insists that if you buy one SmartMike+, you can solely and exclusively use it to record audio into its iOS app. And this is backed up by users complaining online about that pointless limitation.
However, the same documentation says that if you buy two, then either of them will work with just about any audio recording app on iOS.
The company does sell SmartMike+ in various bundles, but the company was unable to tell AppleInsider whether there were any firmware or other differences that would account for the supposed differences.
It's unlikely that one set of SmartMike+ devices will be sold in pairs, and a different set will be sold singly. Plus, when AppleInsider did test a pair, the first one we tried worked fine with a third-party recording app.
Similarly, Sabintek's online forums and reviews include complaints that the microphone only works for vloggers using its app. That is actually what the microphone is designed for, but users have complained it can't be used with Zoom — and yet Zoom worked fine in our testing.
Bluetooth bad behavior
Being generous, perhaps the fact that we were testing two microphones bought as a set made some difference, somehow. But that cannot account for how SmartMike+ works over Bluetooth.
Pairing is simple, and possibly too simple. Since switching the microphones on and off is less clear than you'd expect, it is common to find you're holding the on switch for too long — and you, therefore, re-enter pairing mode.
Then when you have two microphones, they both show up on the iOS Bluetooth connection list with the same name. There's no serial number, no random difference to tell them apart.
You have to know to change one or both of them, or it gets very confusing.
Whether you do that or not, though, whether you are sure you have switched the microphones off or not, and whether you have one or two of them, there are still problems.
Several times we would go to make a phone call, or play back music, and be faced with a silent iPhone. And it would be because the SmartMike+ that we believed was off had grabbed the Bluetooth connection. It had somehow also decided to tell the iPhone that it is a speaker rather than a microphone.
Similarly, an unrelated audio recording could not be done because that iPhone said "another device" demanded Bluetooth microphone access. When we removed the SmartMike+ app from that phone, the recording could go ahead.
It's possible that other factors affected the connection, but, again, Sabintek could not account for any of these issues.
On request, AppleInsider also sent the company an audio recording made with the SmartMike+ which featured a peculiar echo. Sabintek has failed to respond to questions about its investigation some weeks later.
That said, the echo and one solitary instance of audio drop-out only happened on a single AppleInsider test recording. More, it was solely on the very first test recording, and we have not been able to reproduce either issue over very many hours of testing.
It's worth reading on, honest
You've picked up on how exasperating the microphone can be, yet this is a schizophrenic product — and consequently a schizophrenic review. If you add up the exasperations, SmartMike+ should get two stars. But if you instead count the benefits of the SmartMike+, it's within an inch of 5 stars.
The benefits do increase when you have two, but even with one SmartMike+ there are strong reasons to like it. They're strong enough that we keep using it.
Those benefits start with sound quality. One SmartMike+ replaced a wired lapel mic for us, and the sound is now markedly superior.
Then there is the size. You will always spot if someone is wearing a SmartMike+, but it is far smaller than the more common brooch-sized wireless microphones.
Whether it can or can't work with other recording apps, it is frustrating that we cannot confirm that despite all the testing and questions - it does work with its app. Sabintek says that it will always work best with that app, too.
Let down by the app, too
Unfortunately, the app isn't very good. It's intended to be one single app used for audio, video, and both together, and it's not without its advantages.
If you are used to using only Apple's camera app, then the SmartMike+ app could even be an improvement. If you already shoot on apps like Filmic Pro, it isn't. Incidentally, Sabintek says that Filmic Pro can connect to the SmartMike+ and record from it - even as the company also says it can't because you can only use its SmartMike+ app.
That app is also maddeningly slow, to the extent that it's effectively wrong by giving you the wrong information. That's chiefly to do with the battery indicators.
If the SmartMike+ device has only a very low charge, it will show a red LED indicator light. Otherwise, there is no on-device battery indicator at all.
Consequently, you have to rely on how the app displays the battery charge for one or two connected SmartMike+ devices. Except it always shows the battery as being empty - at first.
At some point, that can change to showing that the battery is full, but it appears that the app does not check the charge when it first shows the icon. Instead, it seems to wait for some unclear interval, and definitely until any other messages have been displayed and dismissed.
Routinely, then, you connect the SmartMike+ ready for a recording, see the apparently empty battery, and be partway through disconnecting it all when the indicator changes to say full.
Similarly, you can get a notification that a firmware update is available and that the microphone must be charged before you download it. But the app will insist that the SmartMike+ is not charged, until the moment you dismiss the firmware update button.
Deep breath
We'd thought we'd moved on to the benefits. Let us get back to those, and this time mainly if you have bought two of the SmartMike+.
This is where the strengths of the device do genuinely shine. It's all confusingly poorly explained by the documentation, but the range of what you can make two devices do is excellent.
When interviewing a subject, you can put one SmartMike+ on them and the other on yourself. Together they can record one audio file that puts one of you on the left stereo channel and the other on the right.
In our testing, there was no obvious way to control the levels on the two channels, so it's pure chance whether they are recorded at the same volume or not.
But you can also plug in the provided wired earpiece into your SmartMike+ and monitor how the interviewee's one is sounding.
Or you can take two SmartMike+ devices, place them on either side of a musician, and get a stereo recording of their performance.
Last, you can physically connect one SmartMike+ into a camera or an iPhone (an adapter is needed for the iPhone) and wear the other as a lapel mic. Your SmartMike+ lapel recording gets sent over Bluetooth to the other SmartMike+ and then through the wire to the recording device.
That means you can effectively add Bluetooth recording capabilities to a recording device, like a camera, which doesn't have it.
SmartMike+ design
The maker Sabintek claims that this is the "smallest true stereo wireless microphone," and it's so slight compared to others AppleInsider has seen that we can believe it.
It weighs 14 grams (or just under half an ounce), and its longest side is 5.8cm (2.3 inches). The side contains the microphone and a push-button control.
The width is 1cm (0.4 inches) and the breadth is 1.5cm (0.6 inches).
One other side of the body features an LED status indicator light, while another has a built-in clip for affixing the unit to clothing. There's a 3.5mm headphone jack at one end, plus a micro-USB charging port at the other.
Look, it's just tiny. You know it's small, and you're still going to be surprised when you see it.
The accessories take up more room. SmartMike+ comes with two microphone shields, one primarily for use recording indoors. The other is a small windbreak.
There's also a charging cable, and the single-earpiece headphone that you can plug into the SmartMike+ to monitor how your recording sounds.
SmartMike+ wired and wireless pair operation
If you buy what the company calls a dual (or sometimes combo pack), with two of the SmartMike+, you also get one 3.5mm TRS cable and one 3.5mm TRRS cable. The former connects chiefly to cameras, while the latter plugs into phones, or laptops.
That does mean for an iPhone you need to separately buy a Lightning adaptor, since both of the cables use 3.5mm jack plugs.
But this is how you can plug one SmartMike+ into a device and wear the other as usual. SabineTek calls this Transmitter/Receiver Mode, and there is also a TWS or True Wireless Stereo Mode.
SmartMike+ in use
There is a temptation to wear the SmartMike+ vertically and pop it in a pocket like a pen. But the actual microphone is on the side of the device, so it's better to clip it onto a shirt or a blouse horizontally.
When you do, the fact it is sold in two colors is helpful. If you get two, you can choose a white one to wear against light clothing and a black one against dark items.
Should you buy
Despite the exasperation, yes. Sabintek has a mostly excellent device, but it just can't communicate what the SmartMike+ is and isn't able to do.
It really is sufficiently confusing that you could be put off from buying one because of limitations that might not even exist.
As it is, even if the SmartMike+ could only ever record audio into the SmartMike+ app, you could live with that. You'd grumble at the app and its battery indicators, but the sound recording is good, and once you've got that, you can send the sound to any audio or video editor you want.
It's worth buying two of the SmartMike+ as well. Again, regardless of this nonsense over what third-party apps it will or won't work with, having two gives you a much greater range of features.
Plus, it means you've got a spare. The charge is said to last up to five hours, and despite all the battery indicator confusions, it never ran out during a testing session.
Nonetheless, having two charged up and ready is handy, plus the things are so small that you could very easily mislay one. For your sanity, though, buy one black and one white SmartMike+ and then rename them in iOS's Bluetooth connections list, so you know which is which.
Look, you're going to need to spend some time just figuring out things that Sabintek ought to have explained better. But once you have, you'll retire your old lapel mic.
Sounds excellent
Very lightweight
Smaller than many wireless mics
With two you can record a pair of sources simultaneously
Also with two, you can plug one into a recorder and wear the second
Documentation isn't clear
App's battery level indicator is always wrong at first
Built to work best with developer's own app
Hard to distinguish between two when you're using a pair
Grabs Bluetooth connection when it shouldn't
Score: 3.5 out of 5
Where to Buy
A single SmartMike+ retails for $139 on Amazon, while a pack of two is $278 on Amazon. There are also what SabineTek calls combo options which include one or more SmartMike+ devices and extra microphones.