Supercharge your business with Daylite, the only CRM app made for Mac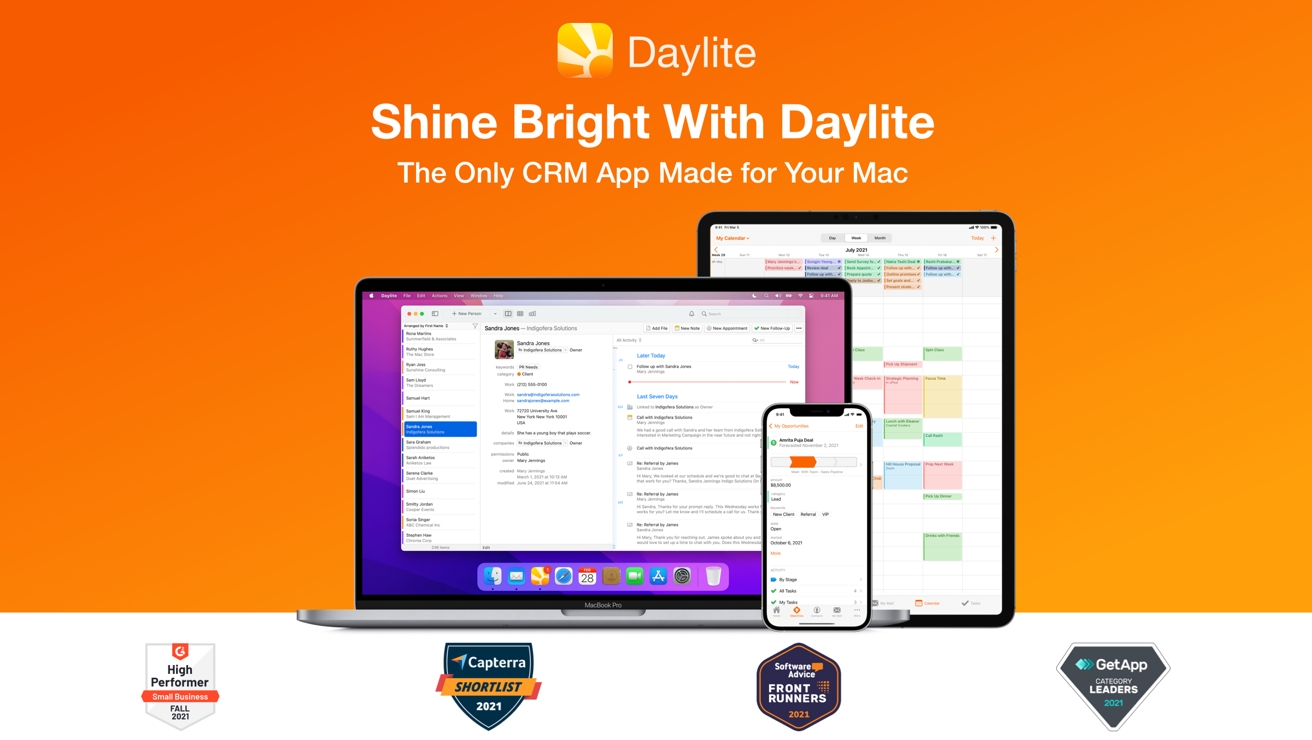 AppleInsider may earn an affiliate commission on purchases made through links on our site.
If you own or manage a business, you probably need a CRM. Here's how Daylite can help keep your employees productive and projects for clients in check.
Small business owners have to wear many hats, dealing with many tasks and duties that would be handed off to managers and employees in larger businesses. Even in cases where there are multiple staff members on hand, there's still a lot for an owner or manager to juggle at any one time.
This can be a problem, as the sheer number of tasks could leave some unfinished due to being forgotten, or end up being later than intended. When there are more hands, there's the extra challenge of making sure that the delegated work gets done.
Not to mention that you also have to deal with clients and customers, who may want to know the status of their order or project. If you're not keeping track, it's impossible to give a quick and straightforward answer.
With the very real possibility of failure, it is important for business owners to use the right tools to organize their time and the projects ahead. One such tool that can help you brighten up the year is Daylite, a CRM and productivity app designed for use in the Mac and iOS ecosystem.
What is a CRM?
CRM stands for Customer Relationship Management, which usually refers to a system that allows an organization to handle their customers or clients. This isn't just holding a list of contacts and sending emails, but an entire system that can handle many different elements of the customer relationship.
This includes managing the tracking of messages and calls, arranging meetings, follow-up calls, organizing calendars, and holding documents relating to the customer, like contracts. There are also usually marketing features and ways to generate reports relating to the customer and other elements of the business.
Modern CRM tools also typically handle more tools and features than those that directly involve customers, since they can all indirectly impact what happens to a client. This can include project management elements, including ways to manage and delegate tasks.
These features can help you prioritize tasks, make sure they get done, and sufficiently update clients on progress if required. By improving productivity, there's less time and fewer resources wasted, deadlines are more easily met on time, and you can have a greater overview of how the business is going.
CRM tools aren't just for managing communications. They help manage your business too.
Daylite: an Apple ecosystem CRM
An award-winning CRM and productivity app, Daylite is a tool for managing clients, team members, and projects. It is a one-stop-shop for managing all of the important parts of your business, bringing everything into one place to keep things running as smoothly as possible.
Daylite is made just for use on Mac, iPhone, and iPad exclusively. As such, it is the only one that integrates seamlessly with Apple's hardware and suite of apps that you will almost certainly be familiar with using.
That means it works neatly with Apple Mail, with its Daylite Mail Assistant able to capture information from emails that can be linked to other elements of the tool. For example, you can link references to a client's project in an email to the project itself, which could be used to generate new tasks or appointments.
Since it is a native Mac application, Daylite follows the usual design language and elements that Mac users will be familiar with, helping speed up adoption. There's also offline support within the app itself, along with data shared through Apple's apps, meaning users can keep on working without Internet access.
As Daylite synchronizes with Apple Contacts and Calendar, features like Caller ID, Siri, and Notification Center can also be used.
Daylite Calendar
While it integrates with Calendar, the shared calendar feature of Daylite makes it easy to schedule meetings with team members, and to keep track of project due dates. As well as Apple's Calendar, you can also view other calendars in Daylite, including Google Calendar, via CalDAV.
Using Daylite Calendar, you can link emails, notes, tasks, projects, and other opportunities to appointments. Not only does this keep everything nice and organized, but it also makes it easy to get into an email conversation, create an action item, or even meeting notes.
Keeping in touch with customers
As a CRM, it naturally has to handle communications with customers, and Daylite does a lot to help users with that. Along with gathering contact details, the system is able to retain a history of emails, calls, and meetings, and hold related documents.
Reminders can be set to follow-up with clients and to schedule meetings, while built-in and customizable reports can be generated to see what's happening with sales, projects, and tasks related to clients.
With a collection of clients, the system can help prioritize potential leads for new business, handle marketing to your clients with custom email templates, and even segment customers in various ways depending on your business' needs.
Combined with the flexible report generation system, business owners can quickly see where sales are coming from, where the business is lacking, and ultimately what clients and areas the business should focus on and what or whom to make a lower priority.
Extensive project management
Offering a single-screen interface, Daylite provides users with the ability to see what has been done and what's the next priority at a glance.
Able to be managed by individuals and as a team, Daylite can handle a variety of different efficiency and productivity methodologies to be used, such as David Allen's Getting Things Done approach. To-do lists can be created with reminders, due dates, and priorities, with tasks able to be delegated to team members who can then mark them as complete in the tool.
This system also allows users to define milestones for easier project tracking, as well as to view an entire team or user's schedule using its flexible Shared Calendar feature. Repeating tasks, such as team meetings and payroll reminders, can be set to automatically populate the calendar as scheduled items.
There's also flexibility in how it works for teams, with business owners able to systemize the various processes to streamline the approach. By creating systems, new hires starting to work with the system will be able to see the project steps straight away, as well as assist the onboarding of new clients.
Smartly Segmented Clients
The previously mentioned linking capabilities of Daylite also make it simpler for business owners and team members to collaborate and get going on a project or task quickly, with relevant information available with minimal fuss. You've also got to get in touch with current and past clients, and the same can also be applied to work out which clients to issue updates to, or to have a personal check-in with.
Daylite can filter data by keywords, categories, and other data points, which can be saved and automatically updated when new details become available. These points can then be filtered through and saved into "Smart Lists," a dynamic list that automatically updates whenever contacts match the criteria for a list.
For example, if a client has multiple offices and opens a new one in a specific area, a Smart List for clients operating in that location could be updated straight away to include them.
Linking
Using keywords and linking data points means Daylite can help business owners better understand potentially complex client relationships. This can include examining interactions with clients and other details relating to a project or a customer, all through flexible record keeping.
You can link emails, notes, tasks, projects, appointments, and other records to existing contacts in Daylite. This enables teams to quickly and clearly view an organization's structure, and to access information they need in a unique way.
Aiming for growth of small businesses
As a CRM, Daylite provides many helpful elements for dealing with clients in many different industries, but it does differ from other major CRM offerings in a few ways.
Chiefly, it is intended for small businesses, namely organizations with 100 people or fewer involved. It is made with a focus on smaller organizations and includes the flexibility to help the firm grow and reach its potential.
The Apple-centric approach also works towards the small business focus, with the developers choosing the platform over Windows and Android due to Apple's commitment to privacy and the intuitiveness of its products and services. There's also the argument that you'll be using Apple hardware for a longer period of time than a Windows PC, as well as the platform being more reliable.
All in all, Daylite is made to help smaller outfits get organized, get more sales, and eventually grow over time.
Daylite costs $39.99 per month, per seat, while annual billing of $399.99 saves customers 16%. There's also a free 30-day trial available, to test out the service before committing to the subscription.
Daylite requires macOS 10.15.4 or later, as well as iOS and iPadOS 14 or newer.