Here's what differentiates MLB on Apple TV+ versus regular broadcasts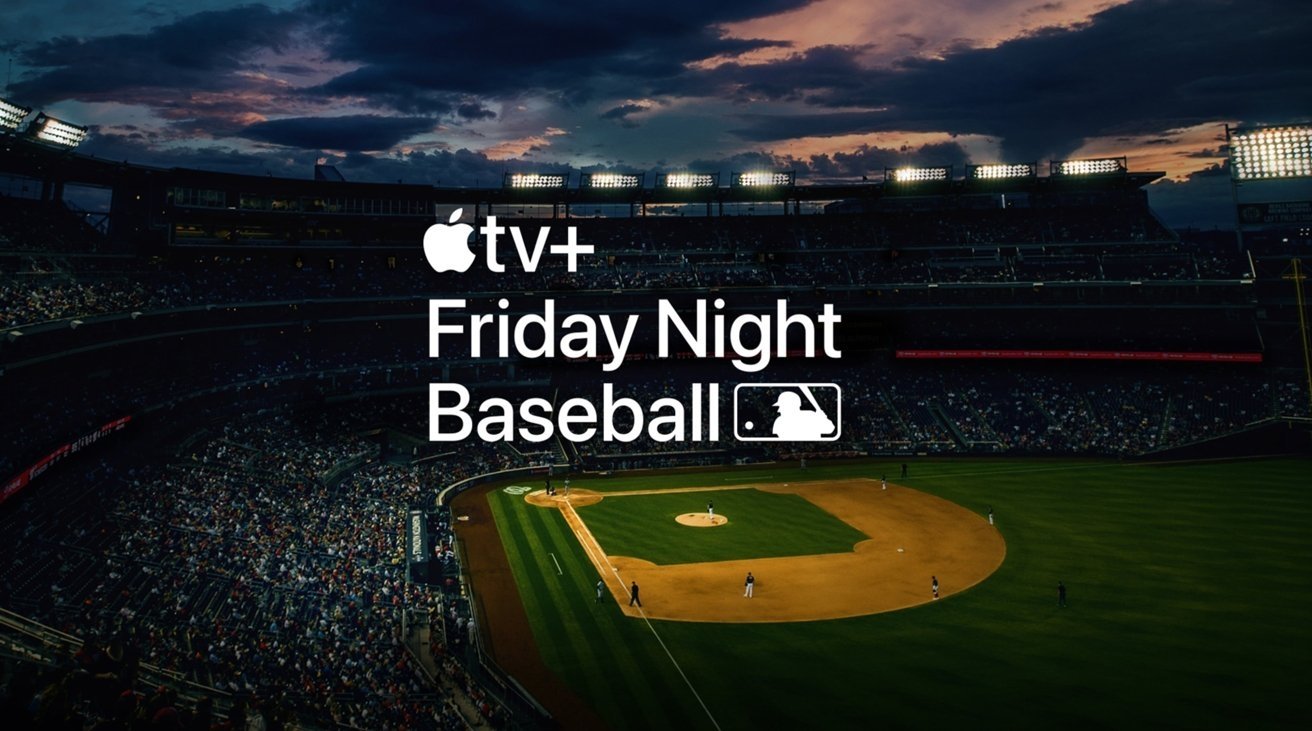 Baseball game broadcasts vary across the wide array of stations and networks hosting the games. Apple's "Friday Night Baseball" broadcasts will stand apart both technically and with the talent they select to broadcast the games. Here's how.
Apple says that the broadcasts will be produced by MLB Network's production team in partnership with Apple. Each game broadcast utilizes high-tech cameras tailored for sports broadcasts including high-speed Phantom cameras, the high-resolution Megalodon comprising a Sony a7R camera with Sony FE 24-70mm f/2.8 GM lens mounted on a DJI Ronin-S gimbal, associated monitor, and battery backpack. Sound is mixed for Dolby 5.1 with spatial audio enabled.
"Friday Night Baseball" will also include new probability-based forecasts of different outcomes of the play, plus highlights and live look-ins from around the league during the game. Also during the game, there will be on-screen call-outs about batters' walk-up songs from Apple Music, trivia quizzes with Siri, and rules analysis and live interpretation from former MLB umpire Brian Gorman.
Pre- and post-game coverage will be hosted by Lauren Gardner. A rotating group of analysts and former Major League Baseball (MLB) players will also provide color, including Carlos Pena, Cliff Floyd, and Yonder Alonso.
The New York Mets at the Washington Nationals game will be hosted by play-by-play caller Melanie Newman. Analysts Chris Young, Hannah Keyser, and Brooke Fletcher. Play-by-play caller Stephen Nelson, Hunter Pence, Katie Nolan, and Heidi Watney will announce the Houston Astros at the Los Angeles Angels game at 9:30 p.m. ET. Game assignments for "Friday Night Baseball" broadcasters will be announced on a weekly basis.
As part of "Friday Night Baseball," fans will be able to watch key games without local broadcast restrictions. The weekly double-header will be viewable in the United States, Canada, Australia, Brazil, Japan, Mexico, Puerto Rico, South Korea, and the United Kingdom, and will be free for a limited time without a need for an Apple TV+ subscription.
The "Friday Night Baseball" games will be viewable on any device that can play Apple TV+ content, including the Apple TV, iPhone, iPad, Mac, supported smart TVs, game consoles, and cable set-top boxes.
"Friday Night Baseball" is a major coup for Apple, with it venturing into the field of live sports broadcasting. It is believed that Apple paid around $85 million as part of a $115 million deal between it, NBC Sports, and the MLB.
The released first-half schedule follows:
Friday, April 8: New York Mets at Washington Nationals 7 p.m. ET
Friday, April 8: Houston Astros at Los Angeles Angels 9:30 p.m. ET
Friday, April 15: Tampa Bay Rays at Chicago White Sox 7 p.m. ET
Friday, April 15: Cincinnati Reds at Los Angeles Dodgers 10 p.m. ET
Friday, April 22: St. Louis Cardinals at Cincinnati Reds 6:30 p.m. ET
Friday, April 22: Texas Rangers at Oakland Athletics 9:30 p.m. ET
Friday, April 29: New York Yankees at Kansas City Royals 8 p.m. ET
Friday, April 29: Washington Nationals at San Francisco Giants 10 p.m. ET
Friday, May 6: Chicago White Sox at Boston Red Sox 7 p.m. ET
Friday, May 6: Tampa Bay Rays at Seattle Mariners 9:30 p.m. ET
Friday, May 13: San Diego Padres at Atlanta Braves 7 p.m. ET
Friday, May 13: Chicago Cubs at Arizona Diamondbacks 9:30 p.m. ET
Friday, May 20: St. Louis Cardinals at Pittsburgh Pirates 6:30 p.m. ET
Friday, May 20: Texas Rangers at Houston Astros 8 p.m. ET
Friday, May 27: Baltimore Orioles at Boston Red Sox 7 p.m. ET
Friday, May 27: Toronto Blue Jays at Los Angeles Angels 9:30 p.m. ET
Friday, June 3: Detroit Tigers at New York Yankees 7 p.m. ET
Friday, June 3: Atlanta Braves at Colorado Rockies 8:30 p.m. ET
Friday, June 10: Tampa Bay Rays at Minnesota Twins 8 p.m. ET
Friday, June 10: New York Mets at Los Angeles Angels 9:30 p.m. ET
Friday, June 17: Chicago White Sox at Houston Astros 8 p.m. ET
Friday, June 17: Cleveland Guardians at Los Angeles Dodgers 10 p.m. ET
Friday, June 24: Chicago Cubs at St. Louis Cardinals 8 p.m. ET
Friday, June 24: Detroit Tigers at Arizona Diamondbacks 9:30 p.m. ET