Crime blotter: Gang robs Apple Store in England of display iPhones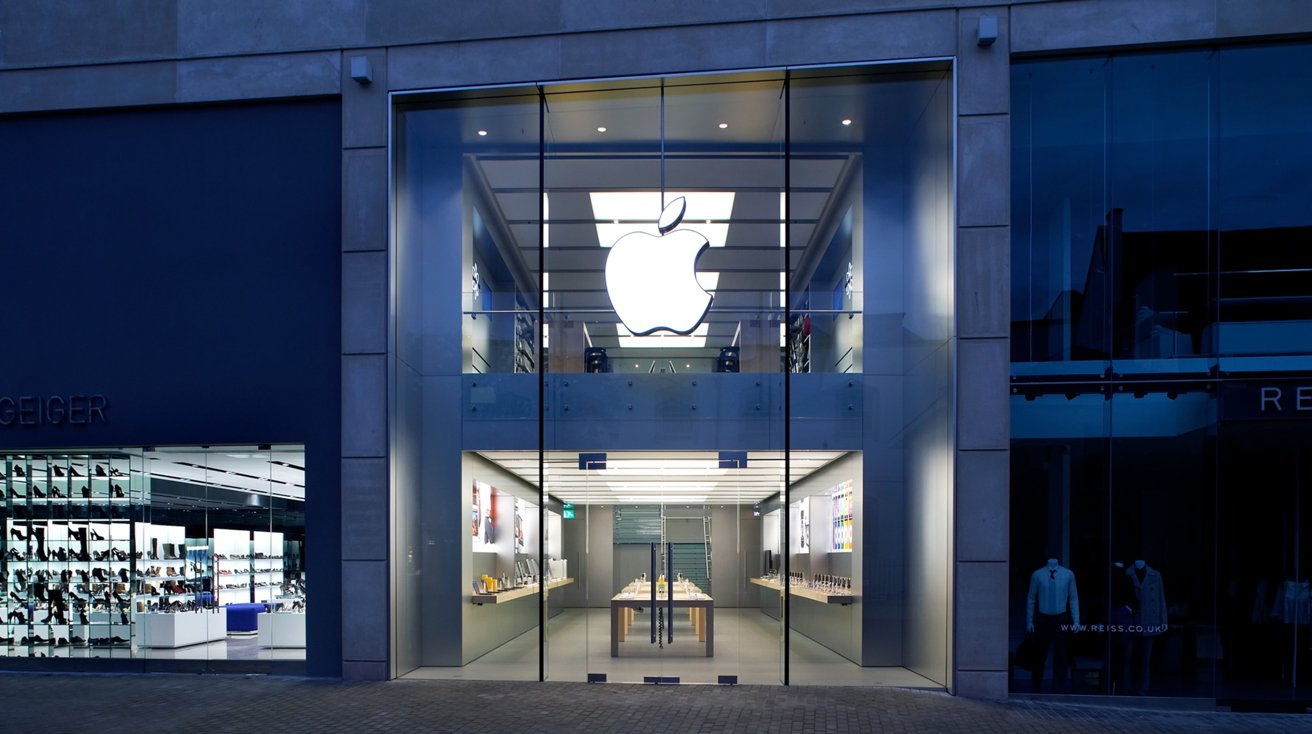 In the latest Apple Crime Blotter, there are multiple Find My iPhone recoveries of AirPods, 44 iPhones taken from a New Jersey mall, and iCloud catches a man upskirting.
The latest in an occasional AppleInsider series, looking at the world of Apple-related crime:
Apple Store in U.K. raided by thieves
A group of men, described as a "gang of thieves," stole several iPhones by ripping them out from the store displays at the Apple Store in Bristol. According to The Bristol Post, the thefts took place in late April, and one of the men "threatened to harm" a security guard in the course of the crime.
Police in Bristol are looking for the suspects, who were filmed on store surveillance video.
Ex-city finance director accused of ordering iPhones through city account
The former budget and finance director in Bethlehem, Pa., has been charged with using city funds to buy iPhones and other items for his own personal use. Lehigh Valley Live reports the 44-year-old former official has been charged with five counts, including theft and receiving stolen property.
The man was caught after irregularities were noticed in a city PayPal account, to which he had access. A subsequent investigation found emails showing that the man had purchased more than 30 iPhones through the city's Verizon account, some of which he sold.
The man, who was fired from his position once the allegations were first made, has admitted guilt and offered to make restitution, his lawyer told the news outlet.
London man found with massive cache of stolen Apple products
Police arrested a London man who had over 100 stolen items in his home, including "48 mobile phones, 33 laptops and tablets, [and] 6 sets of Apple Airpods," as well as watches, bank card and other items, My London revealed. The items had a total value of over 100,000 pounds, or about $125,000.
The man first told police that the items belonged to a roommate, who "repairs laptops and phones," but the man could not explain why the goods were hidden in his wardrobe. He ultimately pled guilty.
Woman tracked down AirPods, confronted retail worker
A woman in Australia had her AirPods stolen and spent four days trying to track them down. But the quest came to an end when she confronted a Woolworth's employee who appeared to have taken them.
According to The Daily Mail, the owner of the AirPods had used Find My iPhone to track the alleged thief's every move, even showing the employee the tracking notifications. The plan worked, and the woman got her AirPods back.
In a similar situation in late May, Formula 1 driver Sebastian Vettel had scoured the streets of Barcelona, following the signal towards his own stolen AirPods as he tried to recover a stolen bag.
44 iPhones stolen from New Jersey mall
Thieves held up an AT&T store in Millburn, N.J., on May 26, stealing 44 iPhones after holding up an employee at gunpoint. According to Patch, the robbery was carried out by two men in ski masks. One took the iPhones, while another stole the wallet of the employee.
Three suspects were later arrested and charged with multiple crimes, including robbery, kidnapping, aggravated assault, and weapons charges.
iCloud catches man accused of upskirting
A Scottish football coach was arrested for taking upskirt photos of a female coworker, and recordings found in his iCloud storage led to him being caught. Edinburgh News reports the photos were also found on a laptop that formerly belonged to the man.
The man had claimed he had "accidentally" taken the photos and deleted them immediately, but the discovery of the images on iCloud proved that excuse false.
Woman conned out of $1,500 from fake Apple customer service
A Colorado woman who thought she was talking to Apple tech support in order to unlock her iPhone was instead robbed of $1,500. According to The Denver Channel, the woman had Googled in search of Apple tech support on her husband's phone, but instead reached a scammer.
Once she let the bogus customer service rep into her account, the report said, the woman instantly transferred money out through the Zelle app.
Police search for stolen iPads leads to more stolen items, plus a murder suspect
Police in Jackson, Miss., were following the signal to an iPad that had been stolen from a car, and it led them to a house. What they found there included several stolen items, including cell phones and guns.
WAPT reports six juveniles were arrested at the scene, as was one 18-year-old man who is a suspect in a recent murder.
Man arrested on way to pick up stolen iPhone package
Police in Ambler, Pa., arrested a man on May 15 who was driving a car with a stolen registration. He claimed he was in the area to "pick up a package for a friend," but he later told officers the package was a pair of stolen Apple iPhone 13 Pro Max models, which he had in his possession.
According to Montgomery Crime Watch PA, the man had a fake FedEx shirt, in order to pose as a FedEx employee while handling the packages. The man was arrested and charged with two counts of Theft of Moveable Property and multiple counts of Receiving Stolen Property. He was released on bail but later failed to appear for a preliminary hearing.