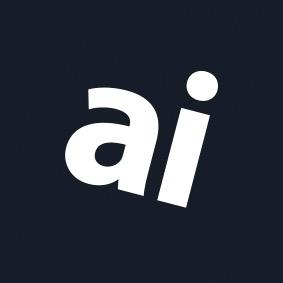 Why you can trust AppleInsider
FlexiSpot Q8 Standing Desk review: Safe and smart standing while you work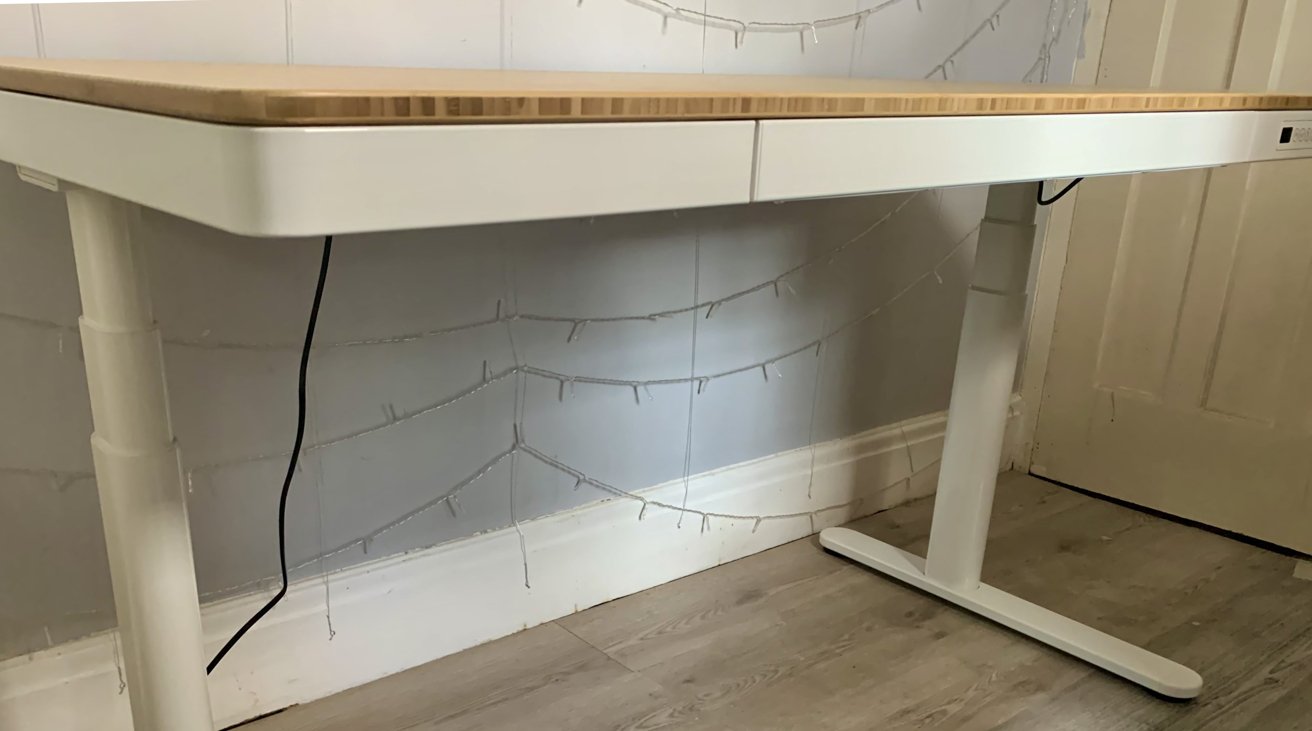 FlexiSpot Q8 Standing Desk
4.0 / 5
---
FlexiSpot's Q8 Standing Desk offers adjustable-height computing while wirelessly charging your iPhone through the desk surface.
One of the essential elements of a home office, besides a Mac or a chair, is the desk. The anchoring point for your computing setup, the desk dictates what you can put in front of you and provides a baseline for the rest of the setup to build from.
It is probably one of the most underrated and least thought about things you can change in your working environment. Changing the desk allows you to fix issues with your setup, potentially improving it.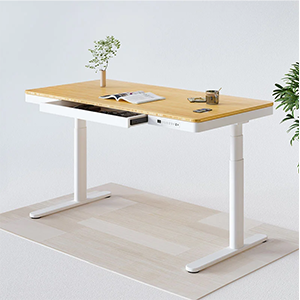 FlexiSpot Desk
---
FlexiSpot height-adjustable standing desks come in various shapes, sizes and colors to enhance your home office or workstation.
Of course, while most people will view a desk as just a surface, furniture has moved on considerably. With a rise in home working, standing desks have become more popular, and their designs have changed to match customers' demands.
For FlexiSpot's Q8 Standing Desk, the manufacturer has leaned into making as modern a standing desk as possible. One that also panders toward owners of modern smartphones.
Clean and large surface
At its most basic, the Q8 is a big desk with ample space for your Mac, display, and other elements. It's a vast, flat surface, ready for your hardware and tools.
The surface measures 140cm by 70cm (55 inches by 27.5 inches), making it a decent size without necessarily being too big.
The main surface consists of a light-colored bamboo tabletop with rounded corners and a neat vertical edging. While it has a slightly glossy finish, it's enough to give a reflective sheen without being distracting.
Though generally clear, there is a transparent, glossy sticker with light graphics on the right-hand side for its recharging feature. The sticker isn't distracting but does nudge users into being aware of the feature's presence.
Under the surface is a ring of metal edging, painted in white. This serves several purposes, including hiding the under-desk framework, cables, and electronics from view.
This edging increases the thickness of the desk surface to 69mm (2.7 inches). The assembly may be a little thick as a desk for some, but the addition brings extra benefits.
At the front is an embedded drawer, which pulls out to reveal a shallow space that could be used for papers, stationery, and important odds and ends.
It is unusual to see such a drawer in a standing desk, as usually, users would need to tuck a floor-standing version underneath.
The rim also hides a cable management system, which consists of a metal gutter, and is meant to keep the mess of cables at the back of the desk in check. This is a smartly designed addition, with the sides including slots for feeding cables through and for hooking cable loops onto when the trough gets too full.
Raising expectations safely
Part of the desk's utility is its height adjustment, which consists of a two-motor system in the legs. Using a three-stage lifting mechanism, the table can lower to a height of just 61cm (24 inches) or to 125cm (49.2 inches) at its tallest.
This is all done at a speed of 38mm per second (1.4 inches per second) at its fastest, which is about the top speed you want a large piece of furniture to move under power. With a maximum load of 100kg (220 pounds), that will more than cover anything you intend to place on the desk or hang underneath it.
The movements are all controlled by a single panel on the front right corner of the desk. Consisting of an LED display and a row of six buttons, you can use the arrows to raise and lower the height at will and see the height on the display with millimeter accuracy.
The four numbered buttons are used to save specific heights to save you from needing to hold the arrow keys each time. This is handy, as you can easily have a seated height set up for yourself and a standing height, and have two spares if you need to share the workspace with someone else.
The storage buttons work by holding down the number for a brief period when the desk is at the required height to set them. Then a quick press puts the desk in motion.
The same controls are also used to manage the anti-collision function, a feature that stops the desk from moving if it comes into contact with an obstacle. Movement blocking could be anything from a limb or another body part in the path of a descending desk, to misplaced office furniture, to window sills and shelves.
On detecting an obstruction, the desk stops its movement quickly and retreats a small amount, creating a small gap between it and whatever it comes into contact with.
Anti-collision is on by default, with the option of three sensitivity settings and the opportunity to turn it off. It is not in anyone's interests to turn off anti-collision without a good reason, as doing so has the potential to cause some severe damage.
This AppleInsider writer accidentally lowered a fully-laden desk onto the neck of their electric guitar using a different standing desk without the safety feature. While there was no long-lasting damage, it was an incident that could've been avoided had a safety feature like anti-collision been available.
More power than the legs
As a piece of furniture that plugs into an outlet, it makes sense for FlexiSpot to take advantage of that power source for some additional functionality.
As part of the controls section, there are a pair of USB ports for charging devices, each USB-A and USB-C. Using the relevant USB cable, you can easily plug in and recharge an iPad or other hardware without needing a separate charger.
Additionally, eagle-eyed buyers who spotted the previously-mentioned glossy sticker will know it can handle wireless charging. Under the desk surface in a cut-away section is a wireless charger, which provides power to whatever is placed on top of the sticker.
The position of the charger, off to the right-hand side, expects you will use the desk sat in the middle, which is a safe assumption. However, it does effectively prevent you from putting anything else in that specific spot in the long term if you still want to wirelessly charge your iPhone with it.
While not MagSafe, the wireless charger can provide up to 10W of charging to placed devices. The manual states the desk can output a maximum of 5V/2.4A of power per channel.
This charging capability isn't available at all times, though, as it only functions while stationary. While moving, the charging stops automatically, but since it restarts after a second of inactivity, it's not an issue.
An evening's workout
Having previous experience with assembling standing desk frames, it was expected that the assembly of this desk would be involved, especially with the additions of the metal edging and the cable tidy. In this instance, it was far easier than anticipated.
The desk was mostly assembled, excluding the cable tray, the legs, feet, and a baffle to hide cables. This saved a lot of time and potential grief in its assembly.
With all components supplied in bags, the assembly required remarkably few steps. Using an allen key, four bolts attached each of the two motor-equipped legs to the desk, and another four each to place the feet on each leg.
After that, the motors had to be attached to the control box, followed by the placement of a baffle, and then the cable tray needed four screws and two bolts.
FlexiSpot's instructions are easy to follow but warn that a second person should help with the installation. Aside from making the process quicker, the only real time the second pair of hands is needed is to turn the desk the right way up after being assembled face down.
It can be accomplished single-handedly, but AppleInsider joins the recommendation that two people should construct the desk.
The ease of assembly also lends itself to a relatively quick disassembly for moving it through the house. After flipping the desk, removing the baffle, and disconnecting the motors, the two legs could be released within minutes to make inter-room movements much easier.
A standing desk with nice perks
Electric standing desks are pretty typical in their design, consisting of a frame and a desktop. Add in some motors and a few buttons, and you've described most standing desks on the market.
What FlexiSpot has with the Q8 is a standing desk experience that does a lot of the heavy lifting for the user. From a reasonably simple construction to a nice well-rounded aesthetic to even the inclusion of a cable tray, it's an offering that first-time standing desk buyers will enjoy.
Adding in the quality-of-life charging and wireless charging features are certainly welcome. Its anti-collision feature is a potential life-saver or at least something that could prevent expensive mistakes from happening.
At 699 pounds in the UK, including sales tax ($843 including tax), the price could be seen as a bit expensive when put against a static desk that doesn't raise or lower.
However, if you're working from home and turning a spare bedroom into the perfect hyper-local office space, you will want to spend a little more than usual and go for the premium option. This is especially true for items with a very long usage life, such as furniture.
If funding isn't a problem, you can easily justify the comfort and health benefits of having a highly adjustable workspace personalized to your specific needs.
FlexiSpot's Q8 Standing Desk is an excellent example of how to produce furniture in this category. With safety and the additional charging capabilities, it's difficult not to recommend it.
Flexispot Q8 Standing Desk pros
Large styling
High capacity and size
Anti-collision system
Mostly prebuilt
Wireless charging for your iPhone
Flexispot Q8 Standing Desk cons
Heavy weight
Wireless charging feature takes up desk space
Premium pricing
Rating: 4 out of 5
Where to buy the Flexispot Q8 Standing Desk
FlexiSpot sells the Q8 Standing Desk on its website in the UK. It also has a regional store covering the United States. U.S. customers can save 6% sitewide with promo code OFFERBTS now through Aug. 21.