Coming to a theater near you - Blackberry: The Motion Picture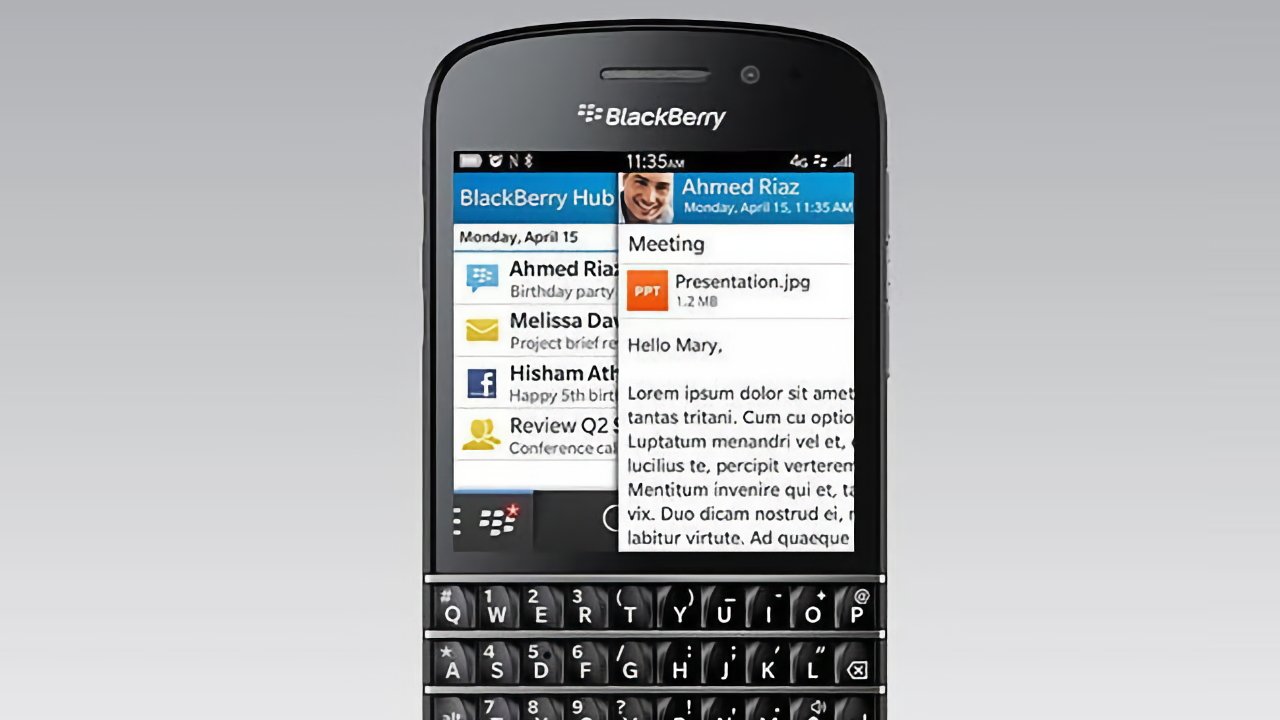 AppleInsider may earn an affiliate commission on purchases made through links on our site.
"BlackBerry" is about to become a big-screen feature film, a movie charting the rise and fall of the company's co-founders as well as that of the phones.
Back at the iPhone launch, Steve Jobs mocked keyboards for taking up so much room on phones like the BlackBerry, and he did have a point. As the keyboards took up so much space, BlackBerry did tend to have very small screens.
But where Apple went for removing the keyboard in favor of touch, BlackBerry has now gone for putting that small screen onto a vastly bigger one. BlackBerry phones are to star in their own feature film.
That sounds as if Pixar were about to animate the adventures of these once-ubiquitous phones and that might have been fun. It might also have been likely to feature a rather happier ending than the real movie will.
For according to Variety, this new film is the story of what went so very right, and then went so very wrong. "BlackBerry" charts the astounding rise of the phones, and also the spectacular fall once it had competition from the iPhone.
It's a tale that has been very well told in the book, "Losing the Signal: The Untold Story Behind the Extraordinary Rise and Spectacular Fall of BlackBerry." That 2015 non-fiction book by Jacquie McNish and Sean Silcoff reads as compellingly as a novel, and specifically because of the people it introduces us to.
The book has now been adapted into a screenplay that keeps this same focus. It's less about the wincingly disastrous models of BlackBerry that failed to topple the iPhone, and more about the founders of the company.
Real-life co-founders Mike Lazaridis and Jim Balsillie are believed to be being played by by Jay Baruchel and Glenn Howerton, though it's not known who has which role. The movie follows how they founded what was originally called Research in Motion, and how their relationship changed.
Famously, Lazaridis saw right away that Apple was a problem, saying "these guys are really, really good." But Balsillie said of the iPhone launch: "It's OK — we'll be fine."
The film is in post-production and will be shown to distributors at the Toronto International Film Festival. It already has a deal to be distributed in Canada.
It's not known when the film will get a wider distribution, but production of the movie comes in a significant year for BlackBerry. For 2022 is effectively the end of the story, as BlackBerry removed the ability for its old phones to even make calls in January.