Australia Apple Store workers go on strike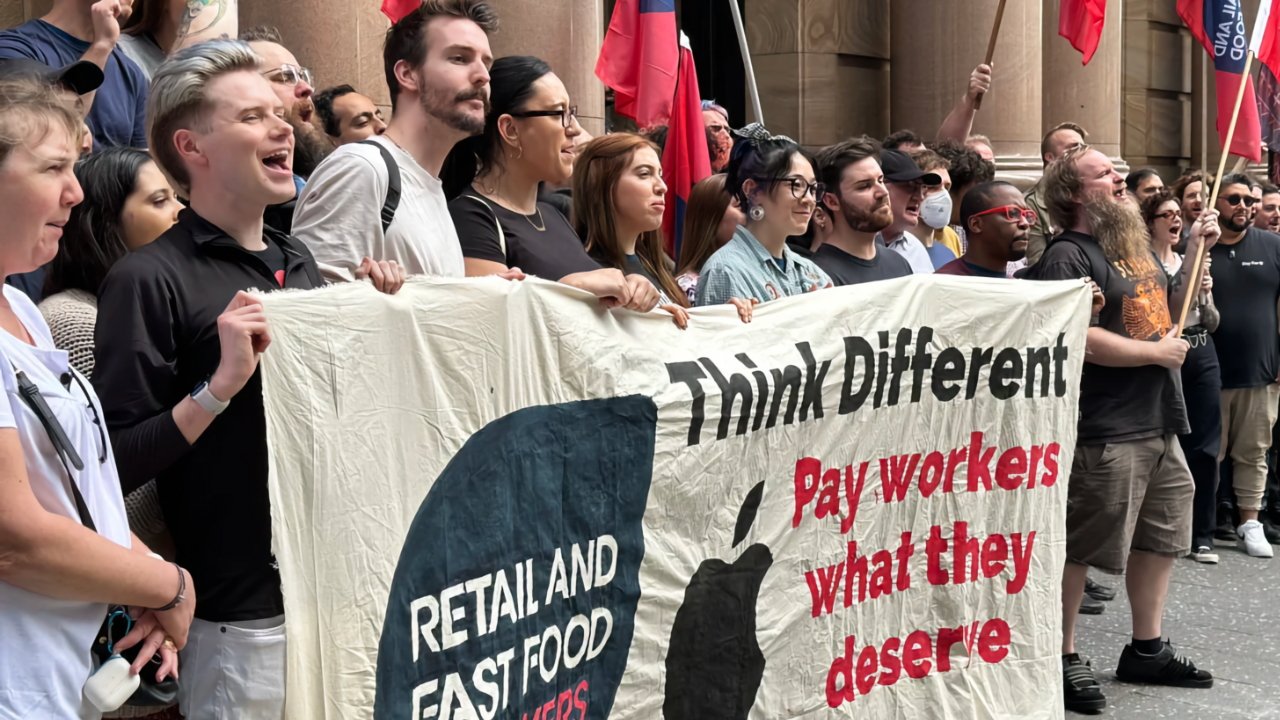 AppleInsider may earn an affiliate commission on purchases made through links on our site.
Apple Store employees stopped work for an hour at Australia's Brisbane, Chermside, and Charlestown sites, in protest over pay and conditions.
As previously announced, Apple Store staff, who are also members of the Retail and Fast Food Workers Union (RAFFWU), went on strike on Tuesday, October 18, 2022. According to the Sydney Morning Herald, it was an historic protest.
"This is the first time there's been a national stoppage of work in retail history," RAFFWU secretary Josh Cullinan told the publication. "Our historians and labour historians and other people have gone through all the books [and] they cannot find a single event like it."
"It's a massive step forward to working with people that are paid so poorly and treated," he continued, while adding that Apple Store staff had stepped up "where no other retail workers in Australian history have gone."
Apple has proposed a new pay deal that the union argues gives workers either no actual increase, or in 25% of cases, only below-inflation increases. The union has detailed the figures and broken down Apple's offer on a website called Are We Voting Yes Yet.
An Apple person told the Sydney Morning Herald that staff were rewarded with "strong compensation and exceptional benefits" and the company was proud of its performance in that regard.
"Apple is among the highest-paying employers in Australia," continued the spokesperson, "and we've made many significant enhancements to our industry-leading benefits, including new educational and health and wellness programs."
Apple further claims that its new pay proposal has minimum rates of pay that exceed Australian industry standards by 17%, and that it would also improve scheduling and overtime conditions.
Under the terms of the employment contract, striking workers were reportedly not allowed to talk to the media. However, they did speak with each other, in front of journalists.
"It felt amazing to walk out together," one worker said to another. "Walking down the middle of that store, with so many of us, the energy was absolutely amazing."
"We were so lucky that we as a team have been able to band together so strongly about this," continued the worker. "I can only hope that this happens again in every Apple store around the world."
Ex-Apple Store employee and now Australian Member of Parliament Stephen Bates joined the picket line and said that working conditions were key to the union's dispute with Apple.
"You're supposed to be available seven days a week and even though you're hired as part-time or full-time, your roster can change at the last minute, the day before you're supposed to go in," he said.
"You can get your shifts cut short, extended, and [you are] basically treated like a casual worker," he continued, "but you don't get that casual loading, which is exactly why we have casual loading because you're supposed to be compensated for the flexibility."
Australia Apple Store staff have several unions they are eligible for, with RAFFWU being just one. RAFFWU membership is around 150 staff out of the country's approximately 4,000 Apple retail workers.
Following Tuesday's strike, RAFFU members are planning further industrial action, this time for 24 hours on Saturday, October 22, 2022.