EcoFlow Delta 2 power station review: Power and ports aplenty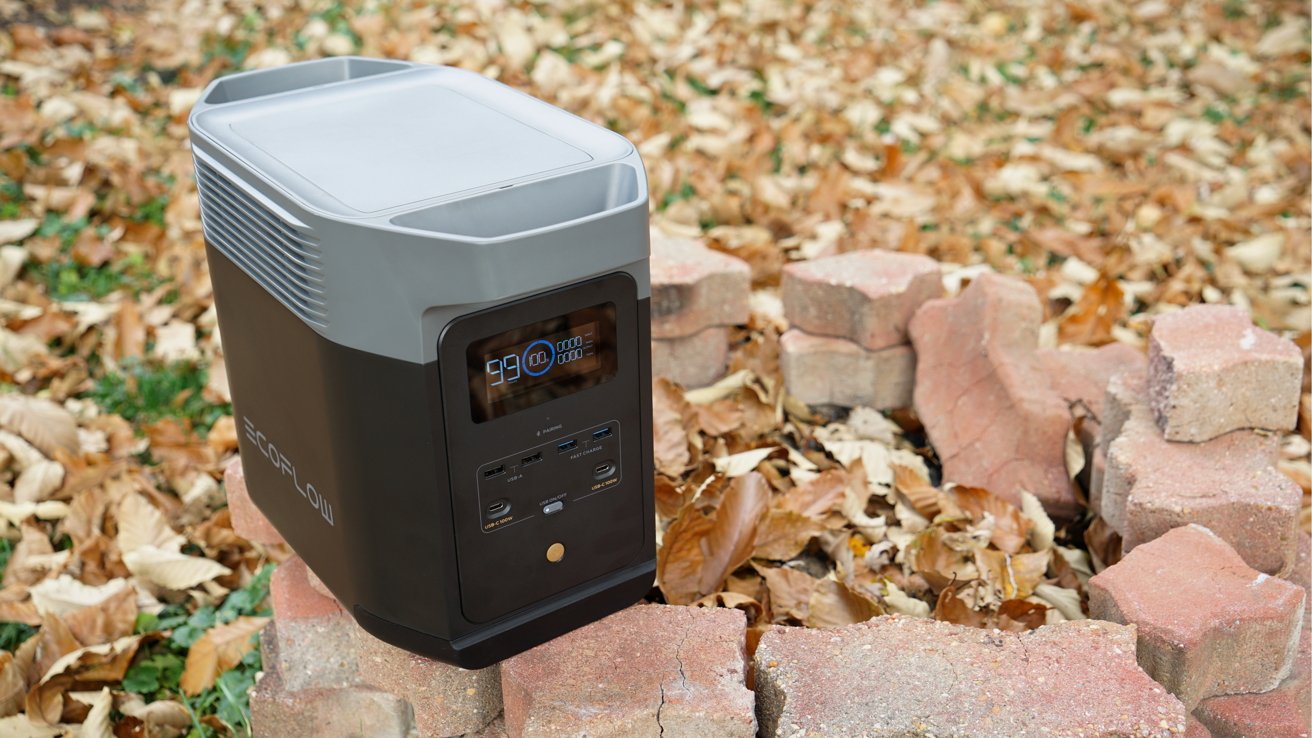 ---
AppleInsider may earn an affiliate commission on purchases made through links on our site.
Mid-size Portable power stations are abundant, but EcoFlow Delta 2 stands out with an industry-leading fast charge, high capacity, and 15 power ports.
The EcoFlow Delta 2 is a medium-sized power station built with nearly every energy need in mind. It can charge a single iPhone 89 times or keep a refrigerator running for 14 hours, but it's about the same weight as a box of cat litter.
Portable power stations are great for anything from camping trips to power outages, but most importantly, they can be a gateway to energy independence. These large batteries can provide peace of mind in emergencies, so they are something worth investing in.
What makes the EcoFlow Delta 2 interesting is where it lands on the Venn diagram of power stations. It can provide more wattage in a smaller, lighter package than competitors for a price that doesn't break the bank.
EcoFlow Delta 2 features and design
The EcoFlow Delta 2 is about the size of a drink cooler at 15.7 inches long by 8.3 inches wide by 11.1 inches tall. It weighs 27 pounds and has large handles at the top.
It has a 1024Wh capacity, which is excellent given its size and $1,000 price point. Other batteries we've tested have similar capacities, but weigh more, or have more capacity but cost nearly twice as much.
The case is made from plastic with a vent exhaust at the top. Fans will kick in when charging the battery but only turn on when connected to multiple loads that draw a lot of power.
The case isn't waterproof, so use in wet environments isn't advisable. EcoFlow offers a water-resistant cover for anyone using the battery in rain or around water.
Ports and display
The interface is straightforward. A large LED display is located on the front, and it displays battery levels, hours of remaining operation, and charge/discharge rates.
A series of icons are set around the edge of the display that will turn on when certain operations are being performed. For example, a light will show if the fans are running or the 12V AC ports are powered on.
Below the display is a series of USB ports. There are four USB-A ports, two of which support 18W fast charging and two USB-C ports with 100W output.
On the back is a set of ports behind a door — these are used for charging input from 12V outlets, car charging, or solar panels. There are four two-pronged plugs and two three-pronged plugs for powering devices.
At the bottom, there's a car charger port and two DC5521 ports. The DC ports are used with things like industrial light fixtures.
On one side of the battery is another port only used when connecting the battery expansion offered by EcoFlow. That is an advantage of the EcoFlow system, since users have the option of adding additional capacity to their battery after purchase.
Each set of outlets has a power switch that controls if power is being passed to them. The USB ports and DC outlets will never shut off once turned on, but the AC outlets have a 12-hour automatic shut-off if no load is connected.
AC input charges up to 1200W. Solar charging has a 500W max input. Car charging is available in 12V or 24V rates at 8A.
The AC outlets can output 1800W total, and the total output jumps to 2200W when adding in the USB ports. However, the battery will drain as fast as half an hour if every outlet is in use on battery power alone.
Using the EcoFlow Delta 2
The EcoFlow Delta 2 can be used as a portable power station and an emergency power supply. So, there are numerous use cases where this power station can come in handy.
Primarily, a power station is best used in emergency situations like power outages. If you've lost power to your home, the EcoFlow Delta 2 can keep a refrigerator running for around 7 to 14 hours, depending on wattage.
What really makes the EcoFlow stand out compared to other power stations is its incredibly fast charge time. It can go from 0% to 80% charge in just 50 minutes when using the X-Stream AC charging mode. Other batteries of this capacity can take multiple hours to charge.
Solar charging can take about three hours when connected to 500W of panels. Car charging varies depending on the vehicle's output, but it is the least efficient option.
There's also the option of connecting a gas generator. EcoFlow offers a smart generator with integrated functionality like automatic power-up when the battery reaches a certain level.
The EcoFlow also supports power passthrough and works great as an emergency power supply. Connected products will automatically shift from AC input to battery power without power interruption.
One use case could be keeping an entertainment center powered, so a Playstation 5 doesn't shut off and corrupt game data. Of course, more serious uses for keeping desktop computers powered work too.
When it is time to go on a road trip or camping, the EcoFlow Delta 2 is an excellent travel companion. Since it isn't too heavy or large, it can fit easily into a vehicle and be used for various situations on the go.
The portable nature of the power station is handy for several reasons. While we won't be lugging this battery to every outdoor gathering, it is a great option for providing power where there is none.
For example, next time we want to have a birthday party at a local park, we can keep a portable car fridge powered for hours rather than relying on an ice cooler. And since it has plenty of ports and capacity, it can power some HomePod minis for music and act as a charging station for relatives' smartphones.
Compared to other batteries we've tested, the EcoFlow offers the best balance of features and capacity for its price. It is also relatively lightweight compared to other power stations of its capacity.
The only notable complaint we have about this power station is its abundance of USB-A ports in 2022. It means we'll likely need to bring USB-A cables specifically to use those ports that we otherwise wouldn't have.
Also, there isn't anywhere to store cables. We'd appreciate some kind of storage area built into the battery, though that would increase its size and weight.
Another slight critique of the design is its outlet arrangement. Since cables can potentially be plugged into both sides, it can become a mess of cables quick, and needing to get around to be back of the device to plug something in can be awkward, depending on where it is sitting.
The EcoFlow app
Products in the EcoFlow ecosystem can connect to a dedicated app built for iPhone. From there, users can manage their EcoFlow products and view their current status.
The EcoFlow Delta 2 can connect to 2.5 GHz WiFi networks to share its data over the cloud. Visible data includes current charge level, time remaining before the battery is depleted given the current connected load, and input from an AC outlet or solar. It is a simplified view of what is available on the battery display.
Users can configure options within the battery settings menu, like the peak AC charging speed from 200W to 1200W. There is also a toggle for X-Boost, an overload protection feature for if the connected load exceeds 2200W.
Should you buy the EcoFlow Delta 2
Anyone who experiences blackouts for any reason at any frequency should have access to emergency power sources. While a portable power station like EcoFlow is an investment at $999, it is worth the price.
Beyond emergency uses, the EcoFlow Delta 2 has plenty of features and use cases to make it worth having. Not only is this battery pack lighter than competitors, but it also charges faster and offers more capacity for less.
However, there are larger power stations with more capacity and power output. The EcoFlow Delta 2 isn't meant to be a whole-home power backup solution, so look higher in the lineup for that.
EcoFlow Delta 2 Pros
Obvious power states, buttons, controls
Passthrough charging is a bonus for EPS use
Lighter than other options in the same class
Fast charging, high power output, 1024Wh capacity
Expandable with EcoFlow expansion battery
EcoFlow Delta 2 Cons
Should offer more USB-C ports than USB-A, not the other way around
No built-in storage for cables
Ports on the front and back can lead to awkward cable arrangement
Rating: 4 out of 5
This is an excellent choice for most people thanks to its high capacity, fast charge, and relatively lower weight.
However, it still has room for improvement in future models with more modern USB-C ports. Also, it could really use a compartment for storing cables and adapters.
Where to buy the EcoFlow Delta 2