iPhone 15 Pro rumored to get Thunderbolt connectivity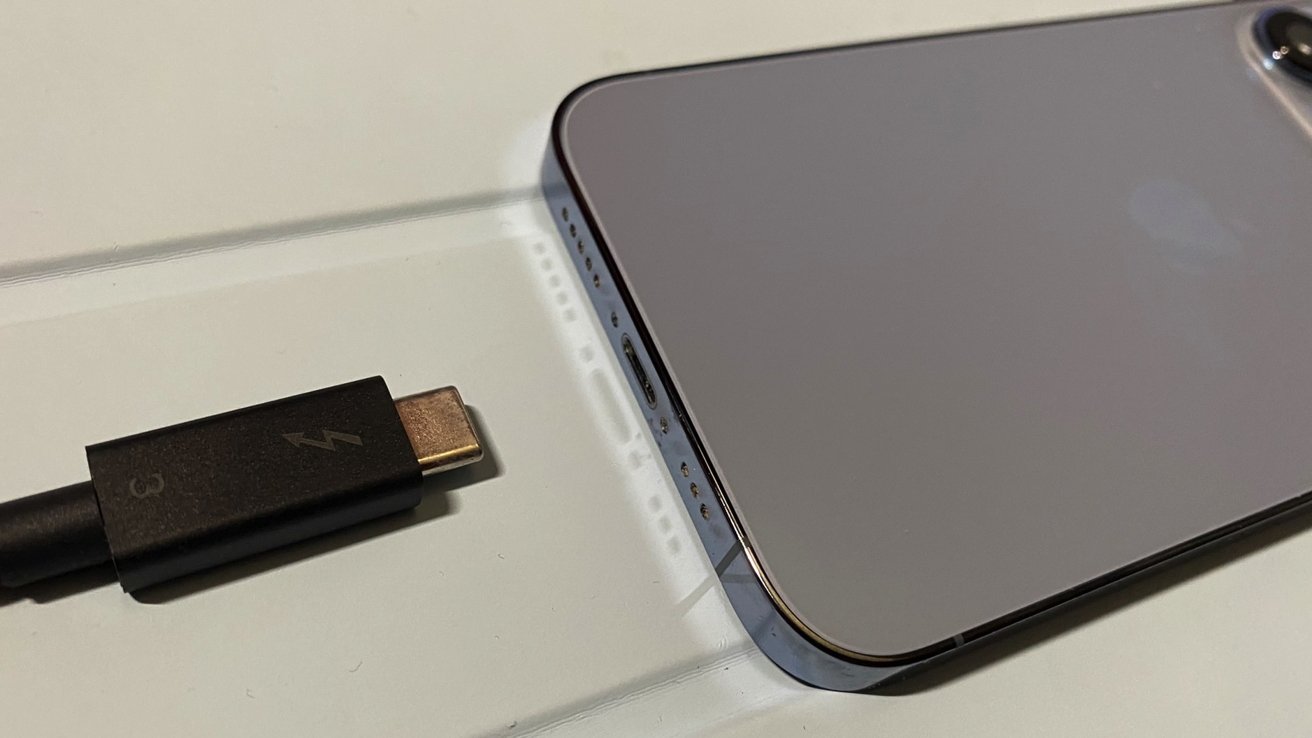 As part of a larger move to the USB-C connector for the iPhone 15 lineup, Ming-Chi Kuo is predicting that the Pro models might get speedy Thunderbolt connectivity.
While the iPhone has been able to shoot 4K video for a while now, getting the giant files off requires a great deal of patience. That may all change if what Ming-Chi Kuo is predicting for the iPhone 15 pans out.
In a series of Tweets on Wednesday night, the analyst and prolific leaker from Apple's supply chain says that his latest supply chain checks indicate that the entire iPhone 15 lineup will move to USB-C of some flavor or another.
(5/7)
My latest survey indicates all 2H23 new iPhones will abandon Lightning and change to USB-C, but only two high-end models (15 Pro & 15 Pro Max) will support the wired high-speed transfer, and the two standard ones (15 & 15 15 Plus) still support USB 2.0 same as Lightning.

— (Ming-Chi Kuo) (@mingchikuo) November 17, 2022
However, what he's calling the iPhone 15 and the iPhone 15 Plus will retain USB 2.0 speeds, the same as what shipped on the 2022 10.9-inch iPad — and the same as Lightning.
He's also guessing that the iPhone 15 Pro and iPhone 15 Pro Max will be at least the 20 gigabit per second USB 3.2 and possibly the 40 gigabit per second Thunderbolt 3.
Wednesday's Tweets are not Kuo's first prediction of USB-C on the iPhone 15. In May 2022, Kuo discussed it as a real possibility for the first time.
Apple has been periodically rumored to migrate from Lightning to USB-C for a forthcoming iPhone over the last few years. The EU has mandated it on all smartphones made by any manufacturer by the time the iPhone 16 rolls around.
If correct, a 2023 launch would mark the end of the Lightning connector as Apple's primary charging cable, after 13 years. USB-C was launched shortly after Lightning in 2012, but it wasn't until the 12-inch MacBook in 2015 that Apple used it in a shipping product.