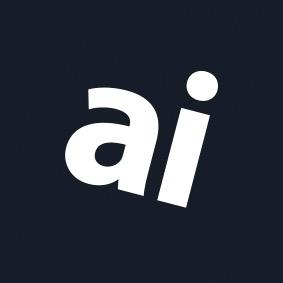 Why you can trust AppleInsider
Victrola Music Edition 2 review: Fill your small space with big sound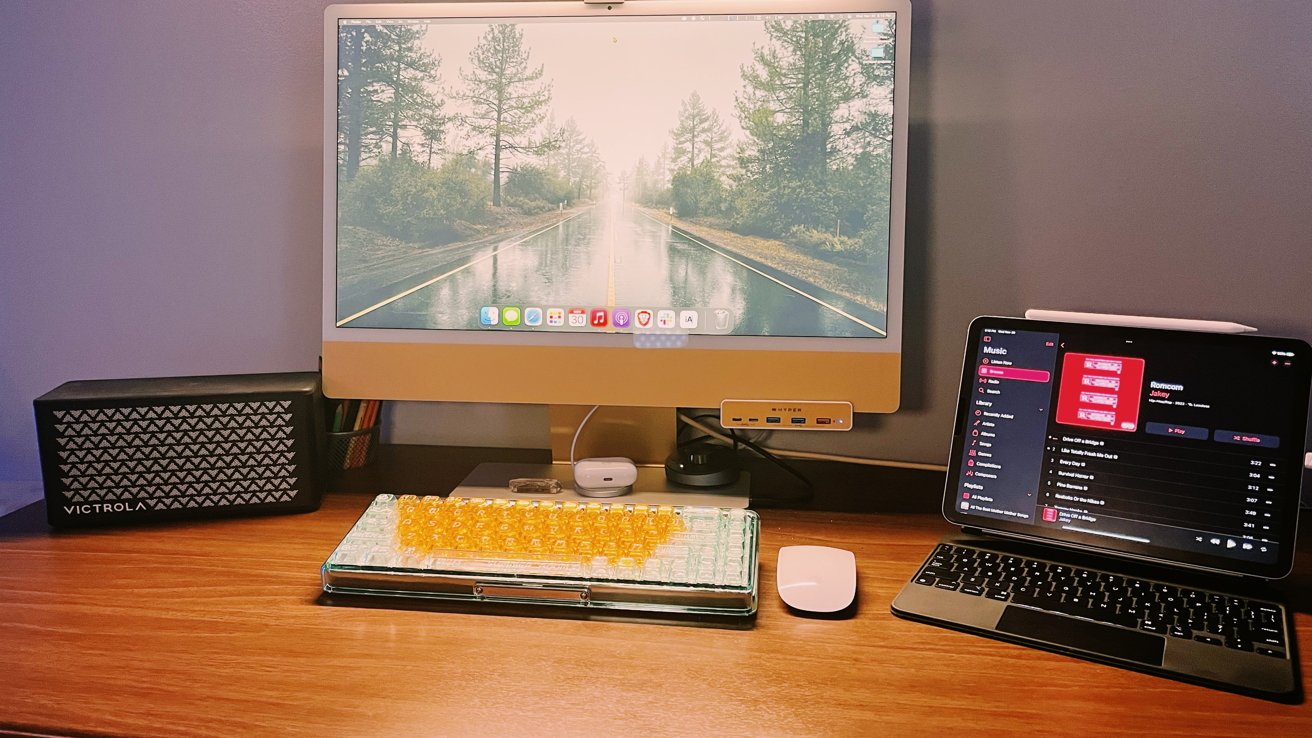 Victrola Music Edition 2
4.0 / 5
---
Victrola's new Bluetooth speaker makes a strong showing, offering impressive sound quality in a small package, perfect for hanging out on your desk near your Mac.
Victrola, known for its affordable modern turntables, has finally broken into the world of Bluetooth speakers. We're excited to check out the Music Edition 2, a tabletop speaker with ample battery life and built-in wireless charging.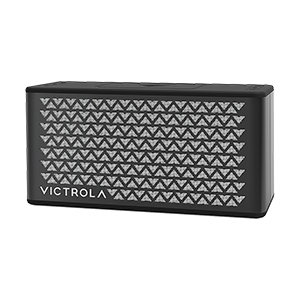 Victrola Music Edition 2
---
The Victrola Music Edition 2 is a premium Bluetooth speaker that has USB-C charging and up to 20 hours of playback.
Victrola Music Edition 2 - Design
The Music Edition 2 boasts a modern design that we feel would fit into most homes. In addition, we liked how the geometric pattern on the front gives a bit of visual interest without feeling too gaudy.
The metal exterior also makes it feel more substantial than many other portable speakers we've tried out. It has an IP67 rating, meaning that it's safe to take it poolside or to the beach.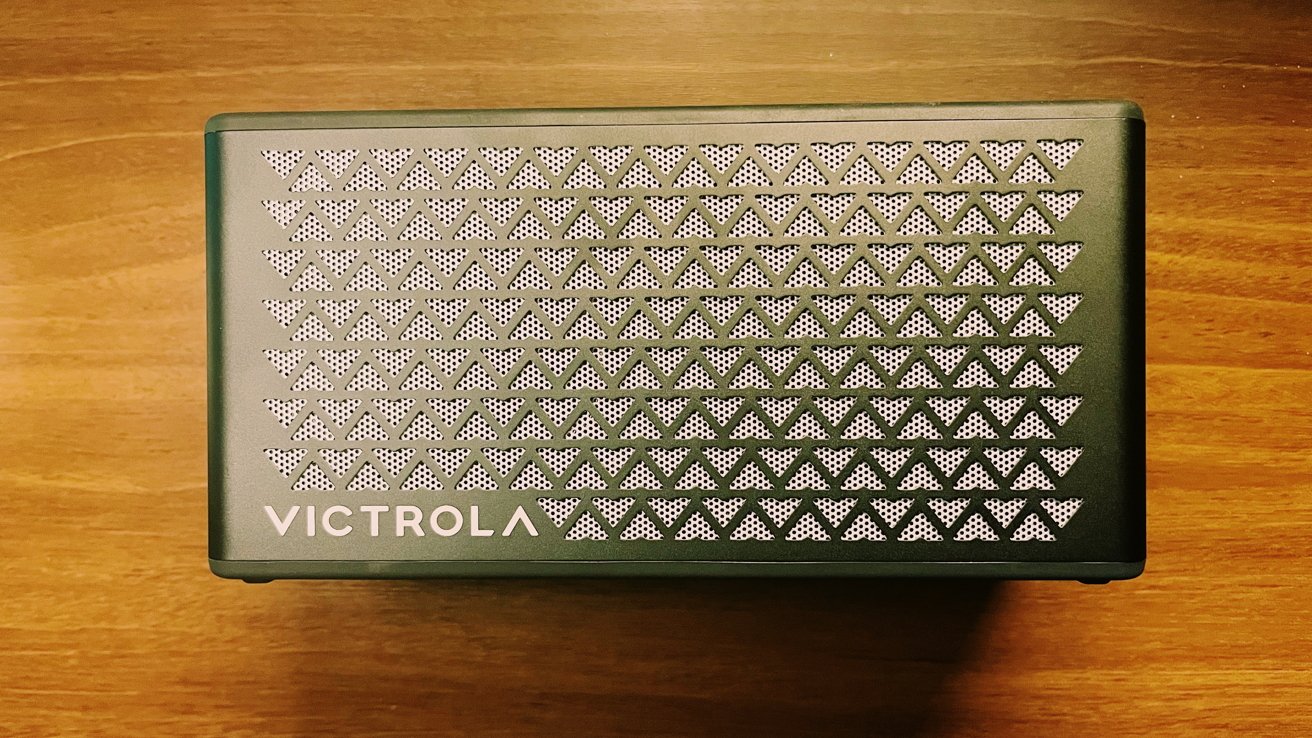 The ME2 that we received is a sleek, matte black, but it also comes in silver.
In it for the long run
Victrola says that the Music Edition 2 can get up to 20 hours of playtime before it needs to be recharged. Nevertheless, we got just about 19 hours at 50% volume before the speaker shut down. Close enough.
If played at a lower volume, you may still be able to get the 20 hours advertised.
The speaker charges via USB-C, and from empty, we found that it took a little over four and a half hours to charge fully.
But the Victrola Music Edition 2 is more than a tabletop speaker — it's also a convenient Qi charging pad. We tested it with our iPhone and a thin TPU case, and it worked with no issues. However, when tested with a thicker case, it was hit-or-miss if we could get it to charge.
Of course, using it as a charging pad will drain its internal battery faster, but it's still a nice feature to have. We think that this feature makes it an excellent dorm room or studio apartment accessory.
Victrola Music Edition 2 - Sound quality and performance
The Victrola Music Edition 2 features Bluetooth 5.0, which makes it easy to pair with smartphones, tablets, computers, or other Bluetooth-enabled audio devices. We had no issue connecting it to any device we threw at it. It does not feature AirPlay.
It also has a line-in, which means you can connect it to a legacy device or free up a Bluetooth slot on your Mac if you so choose.
It even plays MP3s from USB-C flash drives, which is a handy trick if you're going camping and don't want to drain your phone battery playing music.
When it came time to test the sound, we were surprised by how full it sounded. It's got a surprising amount of bass for a tabletop speaker.
The midrange also sounded good, and we're pleased to report that the high-end is crisp and seems to hold its own no matter the volume. There was no distortion, even at the highest volume.
Speaking of volume it can get surprisingly loud. It averaged about 78 decibels at maximum volume from three feet away during our testing, which seemed an appropriate distance for a desktop speaker. A few times, the speaker could average a little over 80 decibels, but this heavily depends on what you're listening to.
This is a bit lower than the HomePod mini and a lot lower than the HomePod.
Because it's a single speaker, the soundstage isn't particularly robust. However, you can pair two speakers together for true stereo sound at halfway between what pair of HomePod mini or original HomePods would cost.
Overall
The Victrola Music Edition 2 is an excellent option when space is at a premium. You can easily tuck it away on a desktop, a bookshelf, or a kitchen counter. As we'd mentioned before, it would make a fantastic speaker for a dorm room, a studio apartment, or a small speaker for a home office.
While it's not going to replace a high-end, multi-speaker sound system for audiophiles, for those who want a small all-purpose speaker with a few extra benefits, the Music Edition 2 is a solid choice.
If you'd like a smaller speaker, Victrola also has the Music Edition 1, which is half the size of the ME2, has a 12-hour battery life, and no wireless charging capabilities, and costs $99.99.
Pros of the Victrola Music Edition 2
Sleek design
Solid construction
Wireless charging pad
Decent bass for its size
Excellent high-end clarity
Cons of the Victrola Music Edition 2
Price is high if you'd like to pair two speakers for a better soundstage
Does not have AirPlay
Where to buy the Victrola Music Edition 2
The Victrola Music Edition 2 retails for $199 and can be purchased at the following retailers: