Chinese activists stage hunger strike at Apple HQ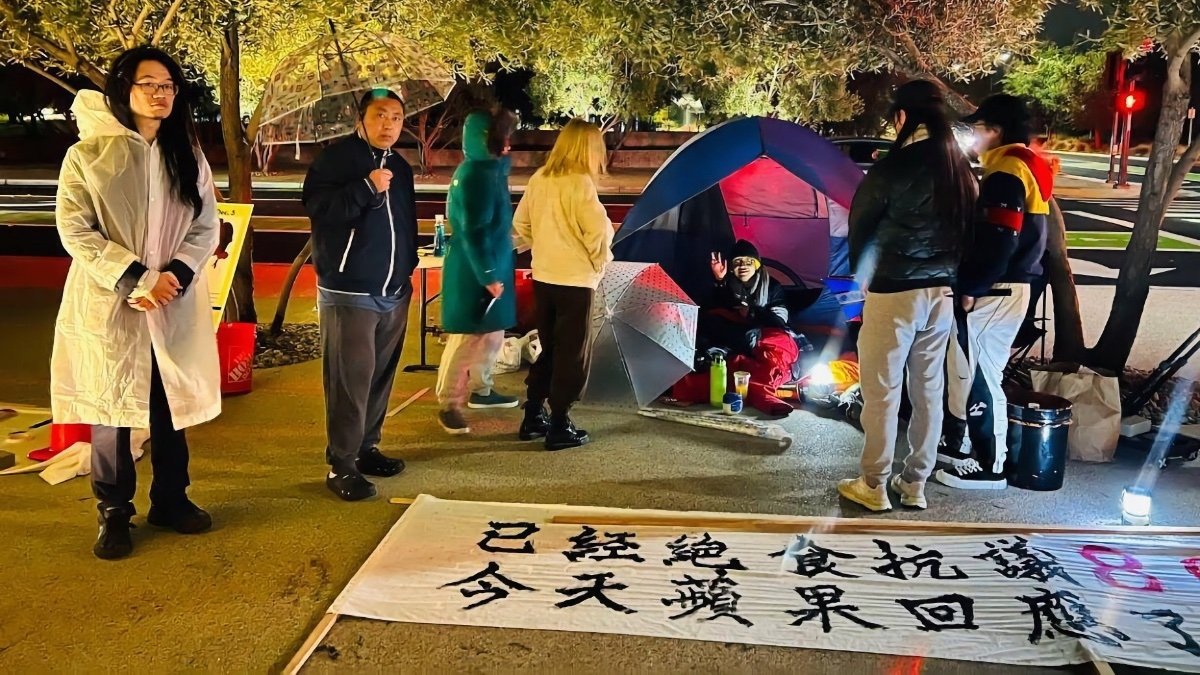 AppleInsider may earn an affiliate commission on purchases made through links on our site.
A hunger strike in progress at Apple's headquarters in Cupertino is protesting labor exploitation, recent AirDrop limitations, App Store censorship, and more.
Since early December, Chinese international students and activists have held solidarity vigils at Stanford, Berkeley, and San Jose. Two hunger strikers have also situated themselves at Apple Park, the company's corporate headquarters.
Han Wang, a Chinese student who attends the University of Southern California, began his hunger strike on Monday. He has only accepted water and will maintain the strike for as long as his health allows, according to the San Francisco Examiner.
Wang is calling on Apple to stop labor exploitation at its Foxconn iPhone plant, remove AirDrop time limitations to iPhones, stop censorship on the Chinese App Store, and publicly take a stance on China's persecution of Uyghurs.
VK, the other hunger striker, told Axios that their demonstration was inspired by the "white paper revolution," a series of protests in China where people hold up blank pieces of paper to protest censorship, COVID lockdowns, and Chinese President Xi Jinping.
"Privacy and freedom of speech is the foundation of a democratic society," he said. "The world including American consumers are not happy that Apple has bowed down to the [Chinese Communist Party]."
Protest goals
Alleged labor exploitation at Foxconn is among the topics of protest. In November, hundreds of workers rioted at the Apple supplier's iPhone factory in Zhengzhou.
They protested food and conditions that were part of China's strict COVID-19 lockdowns. Following the riots, Foxconn apologized and said pay problems were a "technical error."
Foxconn also said that it communicated with the affected employees and was doing what it could "to actively solve the concerns and reasonable demands of employees."
The activists at Apple Park are also protesting Apple's recent changes to AirDrop. Initially released in China and rolling out to iPhone users worldwide in the upcoming iOS 15.2 release, it sets a time limit for the "Everyone" setting.
The "Everyone" setting, the focus of the 10-minute limit, means that anyone with an Apple device can receive something through AirDrop. Before the change, the "everyone" setting was permanent until toggled by the user.
Critics claimed it was done to impede protesters who may share anti-government materials through AirDrop. Although Apple made the change before protests in China started, it didn't announce it or publicly comment until it said it was rolling out the change to all users.