Steve Jobs signed letter & Apple IIc prototype heads to auction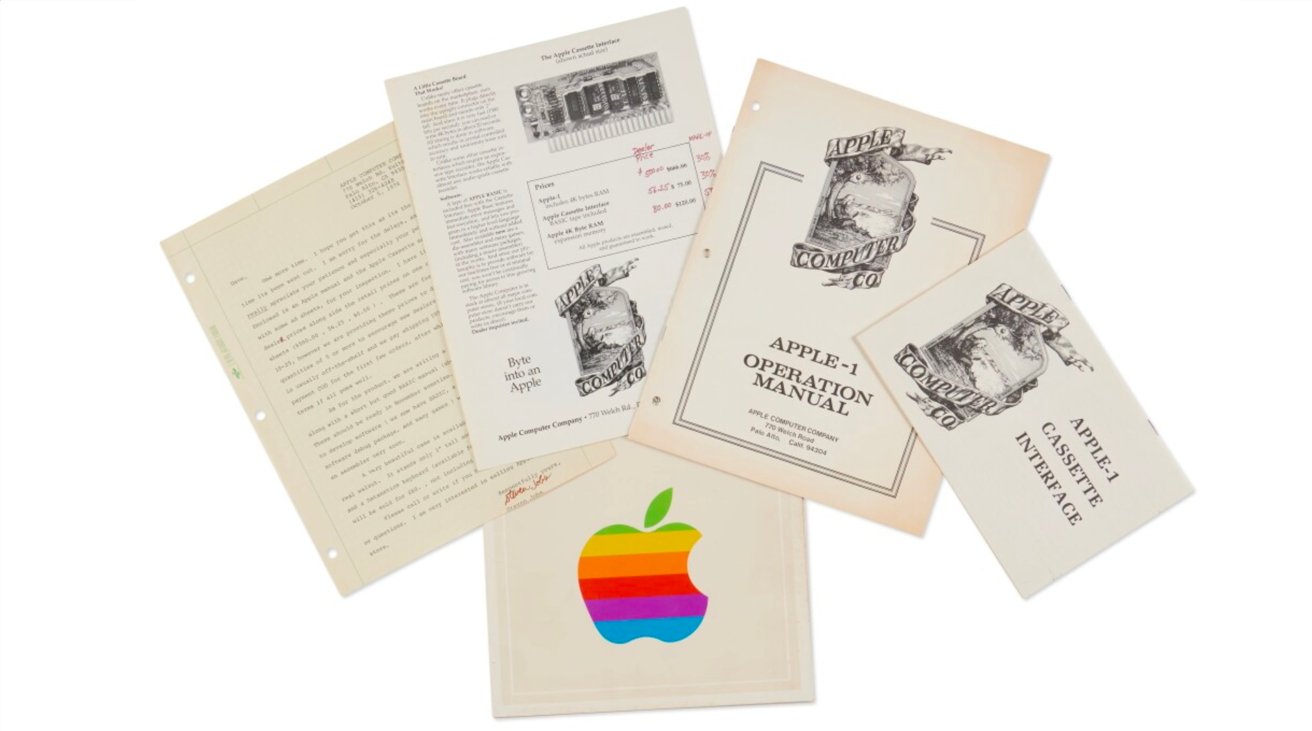 An auction featuring artifacts from Apple's history is closing on Tuesday, with a typed and signed letter from Steve Jobs, a Apple IIc prototypes, an original Mac motherboard, and lights bearing the Apple logo.
Set to close sometime after 8pm GMT (3pm eastern time), the Sotheby's auction titled "History of Science & Technology, Including the Life and Letters of Richard P. Feynman, and Space Exploration" offers a variety of items with direct links to Apple.
Arguably the biggest of Apple-related lots is for a letter from Steve Jobs to Dave Kominiak, dated October 5, 1976. The letter, a sales pitch for the original Apple-1 computers, includes a signature from Jobs in brown ink, as well as a corrected character.
It's joined by an operation manual and an Apple-1 Cassette Interface document, housed in original wrappers and held in the original Apple Computer Inc folder.
The lot has an estimate of between $20,000 and $30,000, and after three bids, rests at $16,000.
Lots featuring Jobs signature typically end up with high prices, in part due to Jobs' reluctance to provide autographs. One job application sheet signed by Jobs sold for over $222,000 in 2021, while a check for $9.18 signed by him sold for $55,000 in June 2022.
There are two hardware lots available, with one being an Apple Macintosh prototype logic board from 1983. Held in a wooden case with a plexiglass front, the prototype was a final pre-production board before the first production release.
The second hardware lot is for a prototype Apple IIc, complete with a carrying case and power adapter. Marked on the base with "Prototype," it bears a sticker with the name "Fruit II+," and a hand-drawn Apple in black ink.
The logic board is estimated to fetch between $20,000 and $30,000, while the Apple IIc is anticipated to reach between $6,000 and $9,000.
Forming part of the Apple lots is a pair of lights of the Apple logo. One is a large 90's era neon rainbow Apple logo inside a square acrylic shadow box, one that would've been hung outside an authorized Apple reseller.
The other rainbow Apple logo light, again from the 90s and meant to be hung outside a reseller's store, consists of a two-piece light with an aluminum frame and a solid plexiglass front.
The neon sign has an estimate from $10,000 to $15,000. While the two-part light is estimated to have reached up to $9,000 before the auction began, at the time of publication it sits at 15 bids and a price of $11,000.