Velotric Nomad 1 review: A reliable and fun e-bike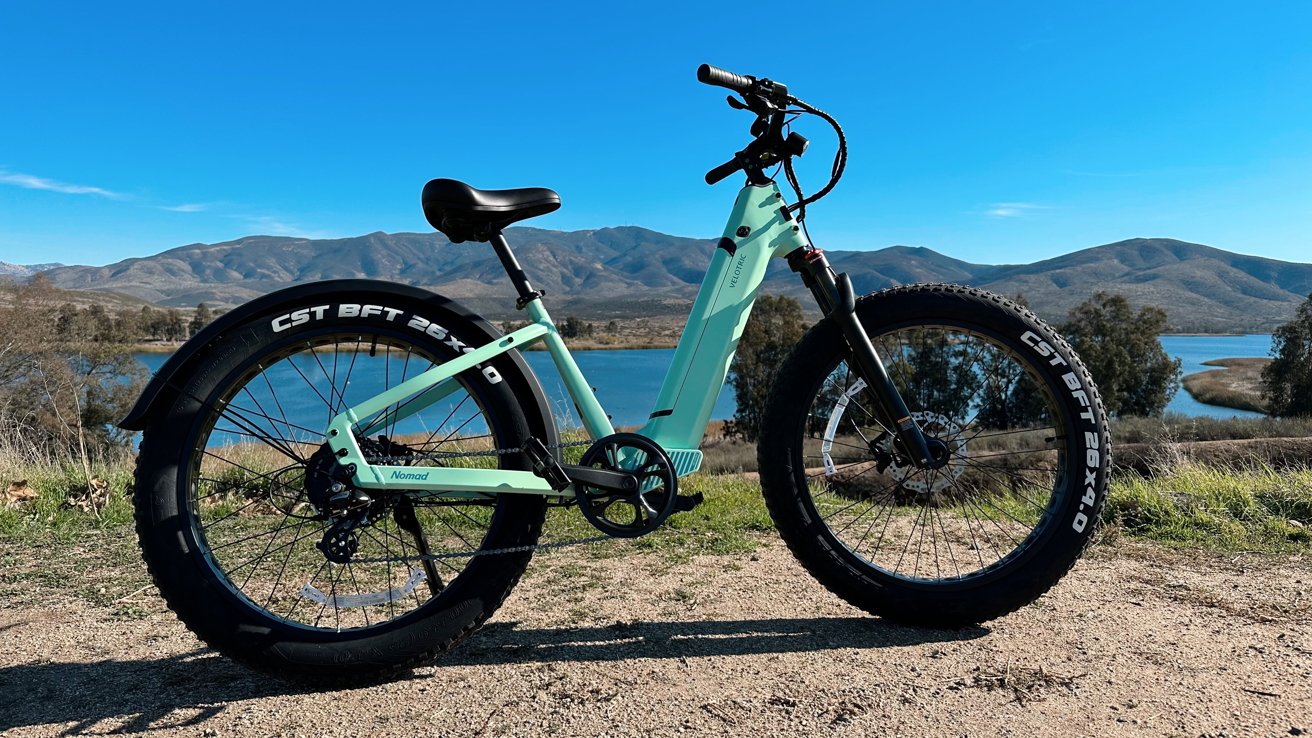 ---
AppleInsider may earn an affiliate commission on purchases made through links on our site.
The Velotric Nomad 1 e-bike manages to stand out in a crowded market thanks to its attention to detail, classic design, and comprehensive features.
Even with its 4-inch wide fat tires, the Nomad 1 isn't a flashy electric bike (unless you pick the yellow color). Instead, it nails all the fundamentals and provides a nice, pedal-assisted ride.
We've tested our share of e-bikes over the last two years and more times than not, vehicles are disappointing because they're trying to do too much with too low of a cost.
In our testing of the Nomad 1 we didn't see those same shortcomings. This bike isn't exactly inexpensive, but it's a good value. It delivers on the features it promises.
Velotric Nomad 1 features
The Nomad 1 is a class 2 e-bike with a 750W motor. It has a throttle that can be operated on its own without pedaling, but it has a top speed of 20 miles per hour. We thought it felt powerful enough for our suburban riding.
There are five levels of pedal assist (which feels unnecessarily nuanced). With ideal conditions, the battery can provide 55 miles of range. There's also a walking mode, though it moved swiftly.
The Nomad 1 has hydraulic disc brakes and 8 speeds. The bike comes with a UL 2271-certified battery which means it shouldn't explode or otherwise become dangerous if dropped, crushed, or exposed to fire, among other things.
We obviously didn't test the battery for those things, but we accidentally dropped it on concrete when removing it from the box. It subsequently worked fine.
Riding Nomad 1
The Nomad 1 arrived mostly assembled, but it did need the front wheel, handlebars, and a few other pieces to be attached.
The assembly required will be a piece of cake for anyone with knowledge of bikes. But even for someone who has only ridden a traditional bike, the instructions are easy enough to follow and all the tools needed are included.
Once we were ready to ride the bike it didn't take long to appreciate the comfortable seat, the easy-to-reach handlebars, and even the grips that provided support for our hands.
The LCD screen is simplistic but effective. It really only shows basic metrics, mostly focused on speed and the level of pedal assist. The display didn't wow us with its visuals, but it was certainly readable in bright light and backlit at night.
At 72 pounds for the step-through version, this is a heavy bike. It didn't matter much for riding, but it might be a consideration if you plan on putting it in a vehicle to take places.
Service
It can be tricky to test a company's support and service claims, especially when it's delivered as expected. We did email with a generic question about how to attach the front light, however, to see how and if the company responded.
In less than an hour, we had a response with a link to a YouTube video showing how to connect the front light. We responded and then two hours later we got a follow-up email asking if we were able to get the light installed.
We also had a family member with a different Velotric bike who experienced the same quick and helpful responses when they emailed with actual minor service needs.
If support is important to you, or plays a factor in your purchasing decision, our experience here is a promising one. Hopefully, these anecdotes are prevalent across the company's customer base and this type of service lasts well into the future.
Good power and speed for the money
After plenty of miles traversing city streets and dirt trails, we were completely satisfied with the Velotric Nomad 1 e-bike — simple as that.
The Nomad 1 didn't impress us with any advanced features, but it continually rode well and performed as expected. And when spending around $1,599 on an e-bike, that's what we expect.
While we do think the Nomad 1 is worth its full retail price, it has often been on sale which makes it an even better value.
Velotric Nomad 1 - Pros
Fat tires worked well on all terrain types
Powerful motor climbed hills with ease
Long battery life
Velotric Nomad 1 - Cons
A heavy bike at 72-pounds total weight
Very basic display
Rating: 4 out of 5
Even without GPS tracking, Bluetooth connectivity, or a fancy screen, the Velotric Nomad 1 e-bike provided a reliable ride each time. Its removable battery is handy for charging it wherever you need to. Even without advanced features, there is a palpable level of quality here that is refreshing.
The Nomad 1 is available for purchase at Velotric.