Oukitel Abearl P5000 & P5000 Pro home backup power generators offer power in a light package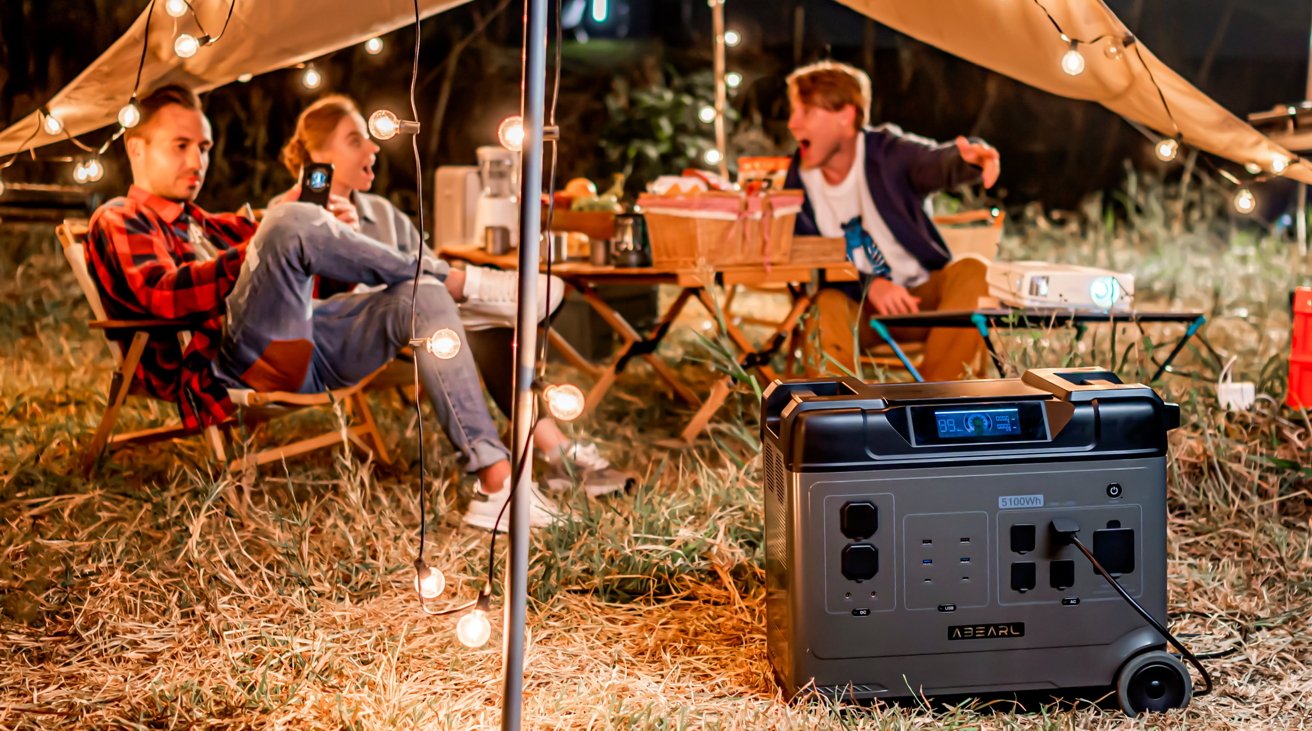 AppleInsider may earn an affiliate commission on purchases made through links on our site.
The Oukitel Abearl P5000 Pro and P5000 home backup power generators are great ways to get through a powercut or for off-grid vacations, and they're launching on Kickstarter.
Keeping the lights on at home is highly important during an emergency, especially if you have devices that you simply don't want to turn off at all. Having an alternative power supply is crucial in such cases.
There's also the need to have power while on vacation, though that's not always possible. If you're heading into a remote cabin or want to sleep in a converted van in the middle of nowhere, power may be minimal, or nonexistent.
Sure, power banks are handy, but sometimes your power needs are a bit higher than normal. For example, you're not going to run a minifridge off a power bank, so a more powerful option is required.
The Oukitel brand of home generators could be what you need in just these scenarios.
Oukitel Abearl P5000 Pro Home Backup Power Generator
Offering a massive 5,120Wh capacity, the Abearl P5000 Pro is a solar generator that uses a pure sine wave inverter to put out up to 4,000W of AC power on demand. It can also do so over a 120V/240V split phase, enabling it to work with high-voltage devices.
It can also be used as a 1,600W UPS, so you can be sure that you have power on hand from this home battery if your main supply suddenly cuts out.
Getting power back into the Abearl P5000 Pro is also fast, with it able to reach capacity in 1.8 hours, if you combine both AC power and solar to charge at up to 2,800W. This makes it a great balcony solar generator.
For getting energy out, there are five AC outputs, as well as four USB-A ports, two USB Type-C with 100W of power delivery, a cigar lighter port, two DC12V connections, and one DC24V socket.
The included LiFePO4 battery cells has a cycle life of 3,500 at 100% depth of discharge, and at six cycles per week, should last for up to ten years.
It's also a portable power station, with its 51kg weight making it light enough to transport without too much trouble. There's even a hidden slide-out handle that lets you pull it around like a suitcase.
Oukitel Abearl P5000 Home Backup Power Generator
The more restrained Abearl P5000 offers many of the same benefits as the Pro model, but in a more restrained package. For a start, it has the same large 5,120Wh capacity, LifePO4 battery and cycle lifetime, and super-fast recharging capabilities.
It's even lighter and more portable at 50kg, complete with the easily moved suitcase design.
Where the Aberl P5000 differs from the Pro is in its output, with it managing a highly usable 2,200W AC output. It too has a UPS function at 1,400W, which is more than enough for most users for their home battery backup needs, and while you do have up to 120V output, the split-phase is only available on the Pro model.
Recharging of the battery generator can also be performed using a balcony solar panel and AC power, though you could easily use a portable solar panel to top up the charge when on vacation.
Where to buy and a special promotion
Missed out on Oukitel's special coupons at the launch time? OUKITEL has unveiled a limited-time Spring Special price on Kickstarter. Grab this opportunity and you can get the ABEARL P5000 Pro portable power station when you pledge US $3,099 to the Kickstarter campaign, which is 48% off its retail price of $5,999.
Get the ABEARL P5000 portable power station when you pledge US $2,299 to the Kickstarter campaign, which is 54% off its retail price of $4,999.